Conference on "Annual Returns in Goods and Service Tax held : Federation of Indian Chambers of Commerce & Industry (FICCI)in association with strategic partner Tax and Trade Services organized "Conference on "Annual Return in Goods and Service Tax" in Hotel Park Grand, Chandigarh.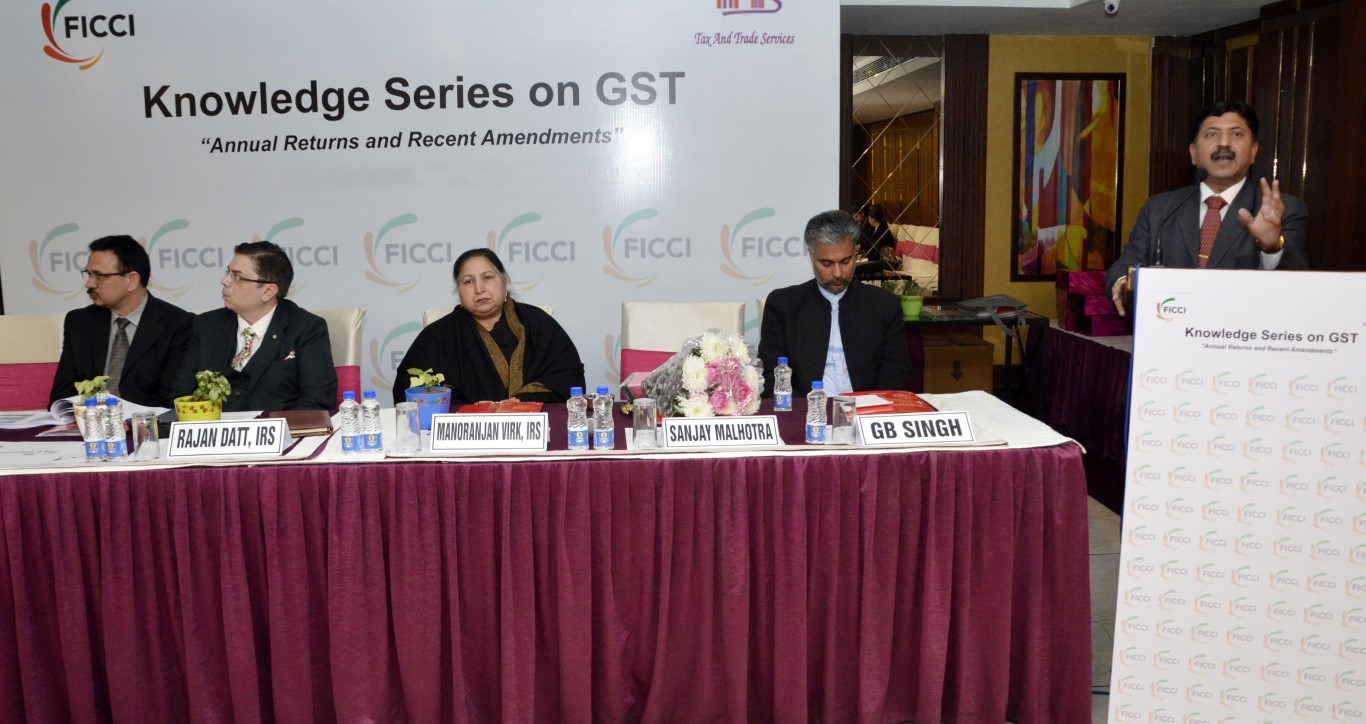 Mr. Sanjay Malhotra (Indirect Tax Expert and Practicing Company Secretary)& was the Key Note Speaker. He apprised Industry Members of the various aspects of GSTR-9, 9A, 9B and GSTR-9C along with the recent amendments in GST. He shared that Recent amendments in GST has made the Tax compliance easier and quick disbursal of Export Refunds have given relief from blocked working capital to Exporters. Industries personnel from Punjab, Chandigarh and HimachalPradesh along with senior officials from Central Goods & Service Tax participated in the deliberations.
Sh. G.B.SinghRegional Director-FICCI, Chandigarhhas given warm welcome to the Members from CGST Office and Industry. He shared that GST Council and all officers have been supportive to implement the suggestions given by FICCI.
Smt. Manoranjan Kaur Virk (IRS), Chief Commissioner Central Goods and Service Tax was the Chief Guest and Chairperson for the session. She alongwith Sh. Deepak Nanda (Managing Director-Trident Limited) honoured Members from Industry and Officers from Central Goods and Service Tax Office for their contribution in successful Roll out of GST.
Among the Officers honoured were Dr. Mandeep Batish(IRS), Deputy Commissioner, CGST Division Patiala (Punjab). Smt Daljit Kaur, Dy Commissioner- CGST Ludhiana, Sh. Sandeep Kamboj, Assistant Commissioner-CGST Chandigarh, Sh. B.S. Khara (Assistant Commissioner-CGST).Sh. RajanDutt (IRS) Additional Commissioner GST has been Master Trainer for both CGST Officers and Industry appreciated his Role in imparting sessions with them also in past to make GST roll out easier.
Others present in the session were Sh. Kishori Lal (Commissioner-CGST), Sh, Kumar Gaurav Dhawan (Additional Commissioner-CGST), Sh. RajanDutt (IRS) Additional Commissioner (CGST)-Chief Commissioner Unit, Chandigarh.
Mr. G.B Singh, Regional Director-FICCI, Chandigarh extended vote of thanks to all Industry Members and Senior Officers from Central Goods and Service tax.