Cook With Comali Season 4: Contestant List | Episodes | Timings | Promo: Cook with Comali 4 is the most awaited cookery show that is all set to air on Vijay Television. With massive success and rocketing TRP ratings, Cook with Comali (CWC) returns with a new season at the end of January 2023.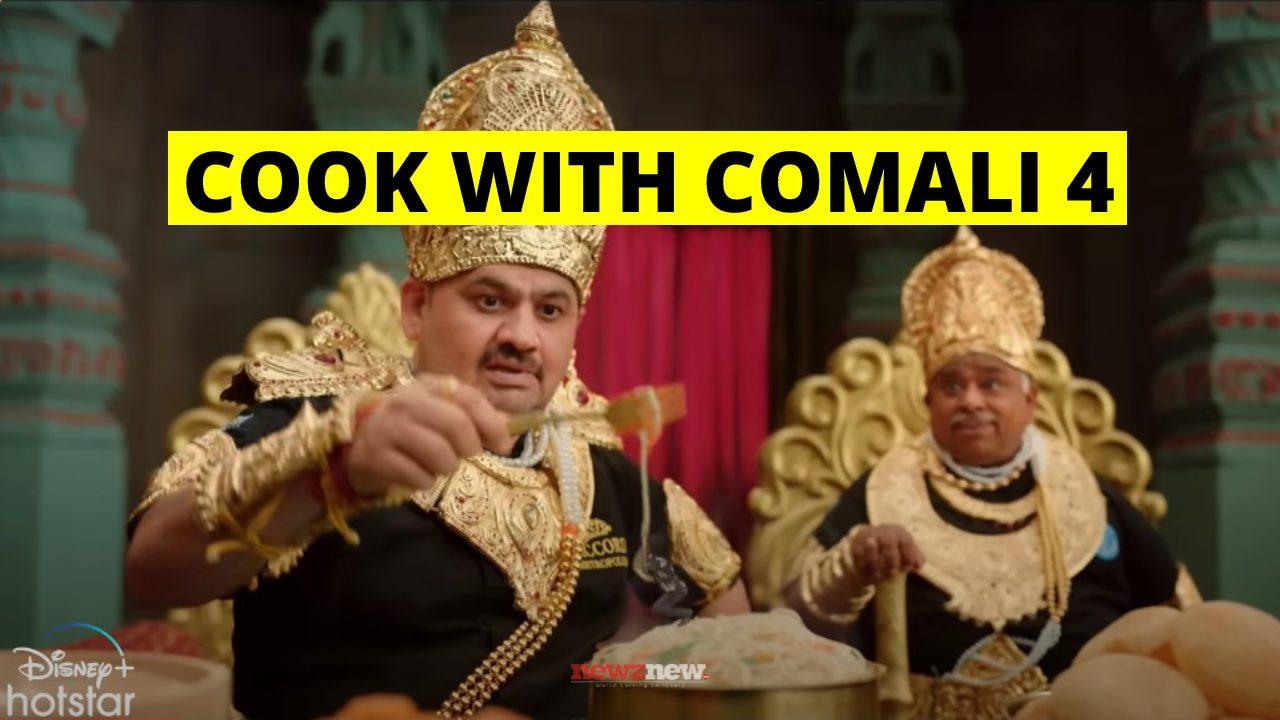 Cook With Comali Season 4 has new contestants and comali to entertain us.
The fourth installment of CWC is hosted by VJ Rakshan. The highly talented with a vast experience in culinary skills, Chef Venkatesh Bhat and Chef Damu are back for the judging panel. To spice up the show, some comedy artists like Gp Muthu, Manimegalai, Sunita, Singapore Deepan, and Otteri Siva are added to list of comali.
This highly acclaimed cooking comedy reality show has got colossal fans, from kids to adults, for its unique concept.
Watch Cook With Comali Season 4 episodes exclusively on Star Vijay TV only on Saturday and Sunday at 09:30 pm.
People can watch or download Cook With Comali 4 latest episode online on Disney Plus Hotstar.
Cook with Comali Season 4 Contestants and Comedians
Contestant
Cook With Comali 4 contestant list will be updated soon.
Comali
Check out the Comali list CWC season 4,
Sunita Gogoi
Manimegalai
GP Muthu
Monisha Blessy
Singapore Deepan
Otteri Siva
Cook With Comali Season 4 Promo
Watch all the latest Cook with Comali 4 promo here,
Cook With Comali Season 4 Winner
In this show, the cook pairs with comali to compete in the culinary challenge. The contestant who gains the lowest scores will be evicted for alternative weeks. Finally, the Cook with Comali Season 4 finale will feature 5 participants in which the season 4 winner will be announced.
Cook with Comali 4 winner will bag the title and a whooping cash prize of Rs. 10,00,000.
Cook With Comali 4 Details
Check out the Cook with Comali 2023 full details
| | |
| --- | --- |
| Show Name | Cook With Comali |
| Season | 4 |
| Genre | Cookery Show |
| Channel | Star Vijay TV |
| Streaming (OTT) Platform | Disney Plus Hotstar |
| Timings | Saturday and Sunday at 09:30 pm |
| Release Date | January 2023 |
| Winner | Yet to be updated |
| Language | Tamil |