The Westin Hyderabad Mindspace hosted 'SuperChefs' a week-long cooking course where youngsters honed their culinary skills. Participants from all over town gathered together to show-off their culinary expertise in a cook-off during the third week of June.
A total of 25 participants between the age group of 9 to 16, took part in this fun filled class of laughter, excitement and general cheer. Each day highlighted a different cuisine, ranging from Italian, Indian, Oriental and Mediterranean to delectable confectionary. The chefs assisted them in a hands-on experience and encouraged them to cook. The participants put on their thinking caps but were inspired to be innovative in their styles of plating.
Some of the dishes taught included Chicken Parmigiana, Palak Anardana Tiki, Hummus, Baba Ganoush, Kung Pao Vegetables, Blueberry Cheesecake, etc. When it came to recreating these dishes, the children not only learned the process very quickly but also followed suit and made them with very little deviation.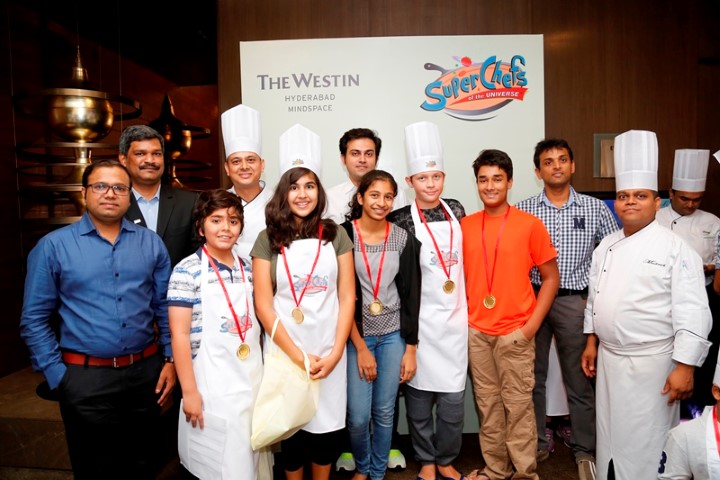 This week long course ended in a nail-biting competition on the 24th of June, all the participants were briefed at 10 am, with a lucky draw where they were allotted their teams. Each team of 4 was given a one hour time slot to prepare a different set menu which consisted of a three course meal. The competition began at 10:30 am, with their parents happily moving to and fro observing each table's style of operation. Chefs of The Westin Hyderabad Mindspace were allotted to each table to assist them and guide them for safety purposes.
The teams worked systematically by deciding who would prepare each dish from their menu. The room was filled with excitement and the parents cheered as the children bustled around preparing their dishes. Each team worked well within their one hour's time slot and prepared their 3 course meals.
A judging panel of five evaluated each team's dishes based on taste, appearance, cleanliness at their work station and their interesting team names. The judges were astounded with each team's effort and creativity.
On the occasion, Chef Rakesh Singh, the Executive Chef of The Westin Hyderabad Mindspace said, "This year's SuperChefs at The Westin Hyderabad Mindspace has seen an increase in the number of kids participating in the competition. Each team recreated iconic dishes and showcased their culinary talents beautifully. We aimed to share the joy of food with the children and we are really overjoyed to see that they enjoyed the entire culinary experience thoroughly. A majority of the children have also demanded to come back again for next year's SuperChefs as well!"
Post the intense competition, Team Phoenix was declared the winners of the SuperChefs 2017. They had prepared a delicious Falafel with garlic yoghurt, Stir fried chicken with vegetable noodles in Kung Pao sauce and Blueberry cheesecake. Each participant was handed a participation certificate and a box of Westin Hyderabad's specialized chocolates. The winning team was awarded gold medals while the runner up team got silver medals.
The event is held every year at The Westin Hyderabad Mindspace. SuperChefs 2017 proved to be a great success, as several children who had participated in last year were part of the competition this year as well.