COVID 19 brings telemedicine to fore, could be the new normal in rural areas: Telemedicine has proven to be a boon for patients in rural areas during the COVID-19 pandemic, and as many as 32000 patients in rural Punjab including areas adjoining Chandigarh have benefited so far under a pioneering project – 'Strengthening Management of Hypertension Services Project' (SMHSP).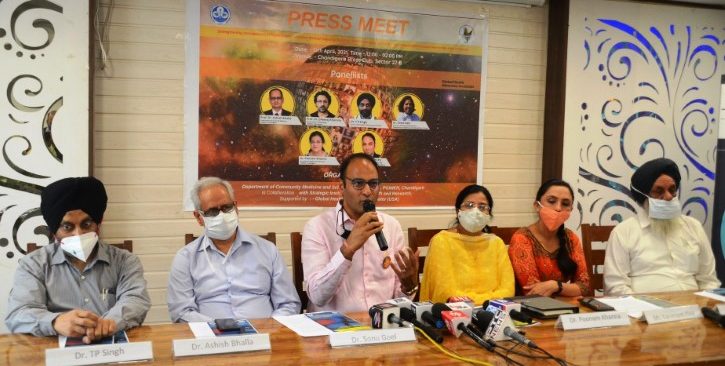 The first of its kind project was launched by the Department of Community Medicine & School of Public Health (DCM & SPH), PGIMER a year ago. The 1-year report card of the innovative project was shared by those behind the project and senior doctors from PGIMER on the anniversary of 'SMHSP' during a press conference held at Press Club, here .  
A beneficiary of telemedicine too was present.
Dr Sonu Goel, Professor at DCM & SPH, & Principal Investigator, SMHSP said, "The aim of the project is to provide technical support to Punjab government's initiative e-sanjeevani – a telemedicine OPD portal, to mitigate the rising health care challenges in the unprecedented times of COVID-19 pandemic. Strengthening & empowering health and wellness centres in this belt, eliminating trans-fat from food cycle etc were also undertaken as part of the project."
Added Dr Goel, "With its implementation, 'telemedicine' has proven to be very effective for thousands of people who were suffering from hypertension and other ailments, with hardly any access to medical facilities in the rural areas of Punjab at the time of COVID-19 lock-down & restrictions."
In this endeavour DCM & SPH provided technical support to strengthen health & wellness centres (HWCs') in Punjab. 400 Wi-Fi dongles were distributed to enhance the internet connectivity in addition to regular supportive supervision. 'Hub and Spokes' model was followed to promote the telemedicine services at HWC. The hub is at Sec 11, Chandigarh.
Dr. Areet Kaur, Director, National Health Mission, Department of Health & Family Welfare, Punjab & who also has additional charge, HWCs', Punjab said, "Capacity building of community health workers(CHWs') and community health officers(CHOs') was done. Screening of non communicable diseases (NCD) was done at HWCs' by CHOs'. After screening CHOs' connected to the doctors at the hub for teleconsultation through e sanjeevani software to initiate the treatment and provide free medicines at the HWC itself." 
Community Health Officer, Health & Wellness Centre, Bhadonjian Kamaljeet Kaur, was also present at the press meet.  
Till date, 32000 teleconsultations have been done at HWCs.
Dr. Ashish Bhalla, Professor, Department of Internal Medicine, PGIMER said, "Punjab  has the highest prevalence of hypertension in India, as per the NFHS-4, 2015-16. Hypertension prevention and treatment are possible and it can be managed through lifestyle modifications and medications. I am happy that under SMHSP and e sanjeevani 15 lakh hypertension screenings were done."
Dr Dheeraj Khurana, Professor, Department of Neurology, PGIMER said, "I am happy to be associated with the project as a resource person and all help possible is being extended by me to the team behind SMHSP to make the project a success. Telemedicine is a boon as highlighted by the project and also a new normal for the people particularly in rural areas." Dr. Khurana also shed light on the association between hypertension and stroke.
Dr. Poonam Khanna, Associate Professor(Nutrition), DCM & SPH, PGIMER said, "Trans-fat is the worst type of fat that one can consume in a diet & is having a negative impact on cardiovascular health. Trans-fat intake leads to more than 60,000 deaths annually. For achieving the broad aim of eliminating trans fat, a month long virtual 'Trans-fat Free Diwali' was launched in Punjab and Chandigarh."
Dr. T P Singh Senior Cardiologist, Max Hospital, Mohali said, "I am happy that under the project an online portal – 'Resource centre for cardiovascular health' 'www.rccvh.org' has been set up, and a bimonthly theme-based newsletter 'Cardio-Health'  is also being taken out as part of the SMHSP."
The press meet also saw the unveiling of the latest edition of newsletter 'Cardio Health'.