Cremica Food Park with largest Fruits & Vegetables processing line inaugurated : The Government's endeavor of providing exponential growth opportunity to the food processing industry and agriculture sector got another impetus today with the opening of Cremica Mega Food Park.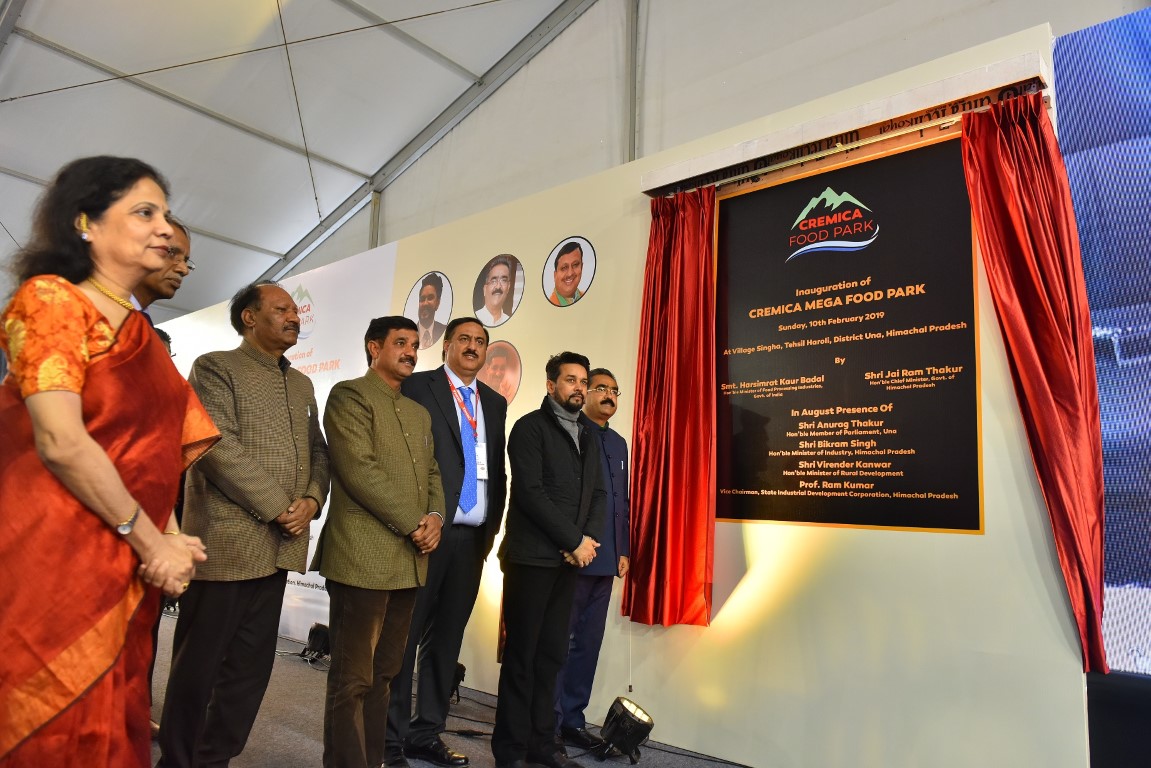 Spread over 55 acres of untouched landscape in Una district of Himachal Pradesh, this mega food park was inaugurated by Smt. Harsimrat Kaur Badal, Union Minister of Food Processing Industry and Sh. Jai Ram Thakur, Chief Minister, Himachal Pradesh, in the presence of Sadvi Niranjan Jyoti , Minister of State State for Food Processing Industries,  Mr Anurag Thakur , MP Una, Sh. Vikram Singh, Industry Minister, HP,  Sh. Virendra Karwar, Rural Development  Minister, HP, and other dignitaries.
Envisaged to function as a decentralized structure with world class infrastructure and technology, Cremica Food Park will have INDIA'S LARGEST FRUIT PROCESSING LINE HAVING CAPACITY OF 1,50,000 TONNES OF FRUITS AND VEGETABLES PER ANNUM. This mega food park hasbeen set up at a project cost of Rs100+ crore and boasts of the finest food processing infrastructure facility in the country. It will also provide a platform for establishing backward and forward linkages covering the entirefood processing value chain and implement best practices in post-harvest management.
Cremica Food Park will help realize the Government's aim of linking agricultural production to the market by bringing together farmers, processors, and retailers so as to minimize wastage, increase farmers' income and create employment opportunities in the ruralsector.
As per this scheme, common facilities and enablingin frastructure is created at Central Processing Centre and facilities for primary processing and storage is created near the farm in the form of Primary Processing Centers (PPCs) and Collection Centers (CCs). Under the Scheme, Government of India provides financial assistance up to Rs 50.00 Crore per Mega Food Park project.
"In the absenceofproper storage and transportationfacility near farmlands, we have seen immense wastage of agriculture produce. Creating a modern infrastructure for primary process and storage was the need of the hour, observed Mr. Akshay  Bector, Managing Director, Cremica. Appreciating the Government's initiative, he said, "Setting up of Mega food Park will have a multiplie effect in the region, and it is a praiseworthy effort of the Government which will not only facilitate food processing industries like us but will give a new lease of life to our farmer brothers. Our food park aims at influencing more than 10000-15,000 farmers in the zone of influence through its linkage efforts.
Cremica Food Park has already got investment for setting up Jam and Squash line, pickle and dehydratedfruits and vegetables. He invited other entrepreneurs to take advantage of the infrastructure and various schemes of Govt under the Mega Food Park scheme. Our food park has a well-developed social, physical and industrial infrastructure and virtual connectivity and it will immensely benefit  the people of Una district as well as nearby towns of Himachal Pradesh and Punjab. "