Architects, professionals felicitated for their excellence at INT-EXT Expo : Architects from the region were felicitated here at the four-day expo INT-EXT Expo at Parade Ground, Sector 17. In all 15 architects and professionals were given away awards for their excellence in different categories of architecture.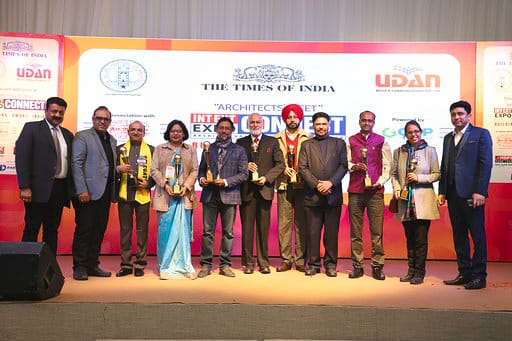 The INT-EXT Expo 2019 which took off on February 8 is on till Monday at the Parade Ground. he four-day interior-exterior show, INT-EXT Expo 2019 was inaugurated by V.P. Singh Badnore, UT Administrator and Punjab Governor. This mega show is being organized by Indian Institute of Architects, Punjab Chapter, and Udan Media & Communications Pvt Ltd.
Those felicitated included the following: Savneet Kaur (Sustainable Architecture), Aradhana Jindal (Architectural Education), Sangeet Sharma (Architecture Literature), Munir Khan (Religious Architecture), Gaurav Raheja (Barrier-free Architecture), Surinder Singh Sekhon (Rural Architecture), Nilesh Chavan (Contribution to Indian Institute of Architects), Namita Singh (Best Female Architect), Sanjay Kothari (Residential Architecture), Harbhajan Singh (Structural Design), Surinder Singh (Government Projects), Nilanjan Bhowal (Conservation), Navdeep Asija (Traffic Planning), Rajesh Mehta (Town Planning), and Bandana Singh (Interior Design).
Savneet Kaur, has been practicing over two decades with more than 200 projects to her credit and is an Alumni of Chandigarh College of architecture (CCA) with a Masters in sustainable development. Prof. Aradhana Jindal is currently Principal at MM School of Architecture, MM University,Sadopur, Ambala.
Sangeet Sharma is an architect based out of Chandigarh. Architecture is his profession and has widely published and featured in prestigious journals in India and abroad. Munir Khan after acquiring degree in Architecture from Corbusier's city of Chandigarh in the year 1977 he did his Post Graduation in Town and Country Planning from School of Planning and Architecture, New Delhi and has also worked as Chief Architect in 2008 in Jammu and Kashmir. Dr. Gaurav Raheja is an Associate Professor of Architecture at the Indian Institute of Technology (IIT), Roorkee with over thirteen years of teaching and research experience.
Nilesh Chavan is an architect with 19 years of experience in Architectural Allied Services has many awards and is a Columnist / writer of infra issues in various print media. Namita Singh, who did her Bachelors in Architecture with honours from CCA, Chandigarh has handled multiple projects besides being awarded on several occasions.
Sanjay Kothari has designed and executed numerous works of architectural quality and design value in India & abroad, In the practice of reasonably long span, designed residential, institutional commercial, industrial and cooperate offices. Harbhajan Singh, did his B.Tech from Ludhiana, and joined as SDO in 1988, and later after completing M.Tech from Jalandhar worked with the Government for 20 years, after which he started his own consultancy which is now empanelled with several Punjab Government projects.
Surinder Singh is a B.Arch. from Chandigarh College of Architecture, (Panjab University)
Working as Sr. Architect in Department of Architecture, Punjab. Nilanjan Bhowal, has worked on multiple projects in the country and abroad.
Navdeep Asija, Traffic Adviser, Punjab, got national award of excellence from the Ministry of Urban Development from Government of India for Ecocabs in 2011.  Rajesh Mehta has taken up several projects in the country and abroad. He specialisation is in urban design, sustainable planning and application. Bandana Singh, has worked in Chandigarh based firm as a Senior Architect and is a visiting faculty with Chandigarh College of Architecture since 1995.