newznew (Chandigarh) : HCL Foundation through pan India Symposiums "CSR for Nation Building: The HCL Grant: Pan India Symposiums" is visiting 10 cities. Objective of these nation-wide symposiums is to drive inclusive development models that are innovative, add equitable value and help NGOs gain better understanding on the CSR law and CSR Grants. The second in the series was held today, May 2, 2017 at Chandigarh Press Club.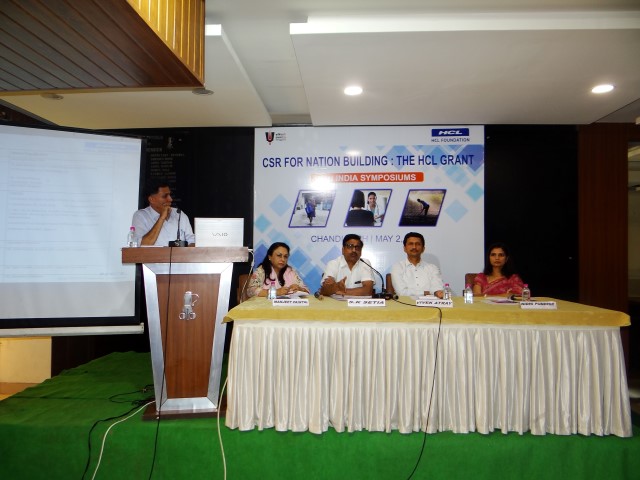 These symposiums have been designed to cover everything from section 135 C of the CSR Law, to sectoral gaps, insights and opportunities across Education, Health and Environment to all the details of the HCL Grant application process right from process to proposal to methodology. These would help enable more awareness for maximum reach and deeper penetration into the rural areas, thus strengthening the fifth estate – the NGOs and thus contribute to nation-building.
The finale of first and second edition of HCL Grant in the year 2015 and 2016 witnessed the presence of Honorable President of India,   Shri Pranab Mukherjee and Honorable Minister of Finance and Corporate Affairs,   Shri Arun Jaitley, respectively who felicitated the winners and also complimented HCL on the institutionalization of a mechanism for Corporate Social Responsibility through HCL Grant.
Nidhi Pundir, Director – CSR Lead, HCL Foundation said, "These capacity building symposiums have been designed to educate and strengthen the NGOs that strive for transformation by doing commendable work in rural India in Education, Health and Environment sectors. The main objective of HCL Grant is meant to support such NGOs that reach out to marginalized, poverty-struck, isolated and underdeveloped rural communities, and achieve sustainable socio-economic development".
HCL Grant has announced the call for entries for its third edition in 2017-18 for the categories Education, Health and Environment. The winning NGO in each of the three thematic categories, will receive a grant of up to ₹5 crore.  The HCL Grant application portal is open http://hclgrant.hcltech.com/#Apply.
There are an estimated 3.3 million NGOs in India. Many of these are doing commendable work in rural India in various areas aimed at inclusion and development. However, the social development ecosystem in India is highly unstructured and the NGOs lack institutionalized processes and frameworks.  The HCL Foundation is the CSR arm of HCL Technologies who envisions to contribute to rural development by strengthening NGOs through deep institutional involvement and commitment.