NewZNew (Chandigarh) : D-Rev, an award-winning US NGO – a non-profit product development company,  launched its ReMotion Knee for the Indian market. The ReMotion Knee is D-Rev's fourth product to reach the market, and the first product in its Mobility product line. Designed to provide high performance mobility for all amputees regardless of income, the ReMotion Knee sells for a retail price of $80 USD, approximately one fifth of equivalent performance products on the market. More than 750 orders for the ReMotion Knee have been placed by clinics in 21 countries, including 480 in India.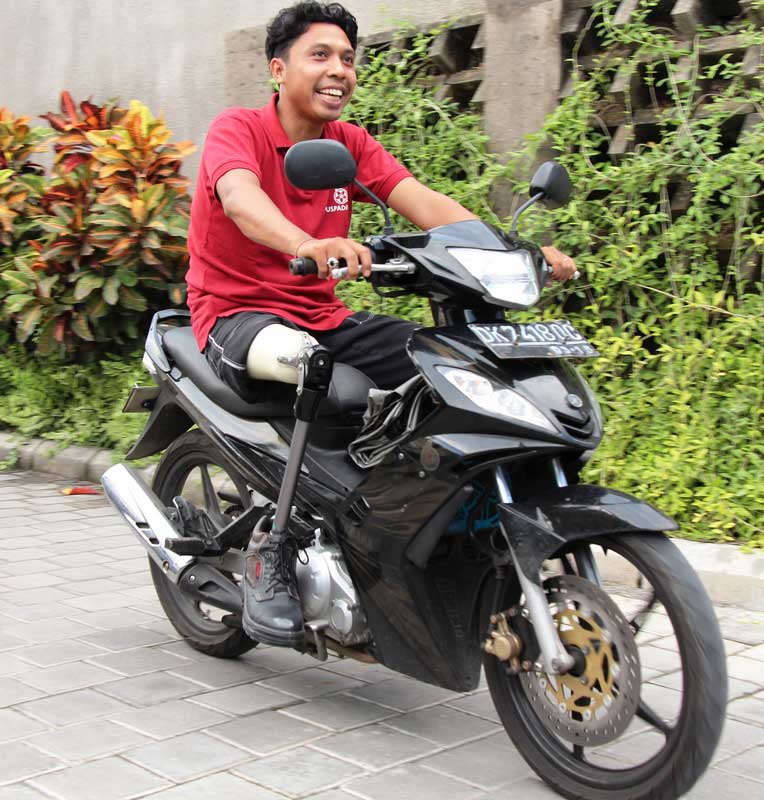 "The ReMotion Knee makes it easy and affordable for clinicians to deliver high-performance knees in their clinics," says Vinesh Narayan, ReMotion Knee product manager. "D-Rev's dedication to product quality is complemented by our awareness of the needs of patients. With the ReMotion Knee amputees will have an affordable prosthetic that can keep up with their activity levels and required flexibility."
Approximately 95% of above-knee amputees lack access to quality prosthetics, impeding employment, education, and social interaction. Many are even forced to make due with a simple bamboo staff, leading to calloused hands and in some cases spinal curvature from constantly leaning to one side. D-Rev spoke with one such patient named Prakash, fit by the JaipurFoot Organization BMVSS, about how his prosthetic device had already transformed his life. Prakash recounted the story of how he was destitute and depressed following his amputation, feeling that he would not be able to participate in society. After receiving his prosthesis and earning his mobility, Prakash had the confidence to prove himself to a skeptical store manager by working for free for an hour as a stocking clerk to show that he could perform the job effectively. He was promptly hired. The goal of the ReMotion Knee is to help many more of the millions of amputees in India write their own story, as Prakash has.
The ReMotion Knee was designed specially with the Indian amputee in mind. D-Rev worked extensively with clinical organizations around the world to design the ReMotion Knee, and over 40 earlier prototypes were fit in India since 2013 by the JaipurFoot Organization BMVSS to study durability in Indian environments. D-Rev learned that the ability to squat, kneel, and ride a bicycle was critical to patients in India and accordingly designed the ReMotion Knee for a high range of motion (160 degrees) to allow these activities. To maximize stability on uneven terrain, the ReMotion Knee's polycentric design resists buckling on heel-strike while still swinging freely in swing phase. Constructed from highly durable plastic and water resistant steel, it withstands daily use in heat, humidity, and dirt.
"What it takes to have something available to amputees in the developing world, more than cost is that it should be designed for the social, cultural, and environmental needs where the people live. This is what the ReMotion Knee does," says Dr. Pooja Mukul, Technical Director at BMVSS – Paul Hamlyn International Center for Prosthetics & Orthotics. Dr. Mukul has been a D-Rev partner since 2010 and was the first clinician to fit the ReMotion Knee in India at BMVSS Jaipur.
"D-Rev's goal is to ensure that all amputees have access to a high quality prosthetic device, regardless of income. The ReMotion Knee is one measure towards the goal, though full realization requires that the government, private, and NGO sectors take additional steps to place a priority on quality prosthetic fitting services above cheaper, poor performing devices" adds Dr. Krista Donaldson, CEO D-Rev.
For more information about the ReMotion Knee or to place an order, please email [email protected]