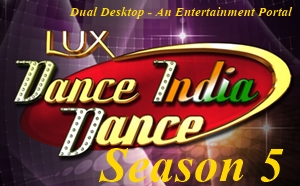 NewZNew (Chandigarh) : Rajasmita Kar the winner of DID Season 3 visits the city of Chandigarh to encourage Youngsters to audition With each successive season, Zee TV's top-rated dance reality show Dance India Dance has consistently outdone itself in terms of showcasing brilliance and innovation in dance. So, as the show that has revolutionized the world of dance in India returns with its 5th season, it goes without saying that the dance challenge will be bigger and better than ever before.
So if you think you have the spunk and were born to dance, have the passion and the craving for recognition and have spent endless hours practising to get those moves right, it's time to take the definitive test as ZEE TV announces nationwide auditions for the baap of all dance reality talent hunt shows. An aggressive blitzkrieg of multi-city auditions across 14 cities in India begins this April.
The nextpit-stop for auditions isChandigarh,
on Friday
, 17th AprilatThe British School, Sector 44-B, Chandigarh – 160044.  Starting
8 AM
on Saturday
, DID Season 5 will open its audition gates to every dance enthusiast in and aroundChandigarh.
In Chandigarh today to encourage the young talents of the city to audition, Rajasmita Kar winner of DID Season 3 said, " Winning DID season 3 was a dream come true for me but what was more enriching was the journey. I saw myself growing as a dancer and as a person.I grew more confident and outgoing. Dance India Dance is a prestigious platform that has, season after season, unearthed some of the finest talent in the field of dance. I got the opportunity to train in various dance forms like hip-hop, jazz, freestyle, salsa and samba and ofcourse was showered with love and adulation from our mentors and the audience. I am thankful to ZEE TV for conceptualising such a show that gives people like me a chance to live out our dreams and showcase our talent to the world. I want all the talented dancers in Chandigarh to come forward, put on their dancing shoes and participate in the auditions as this is the time to shine and prove your mettle".
While Zee TV is conducting auditions for DID season 5, it's time for the exceptionally talented dancers across India to come to their nearest centres- Mumbai, Kolkata, Delhi, Hyderabad, Patna, Guwahati, Raipur, Ranchi, Siliguri, Bhubaneswar, Indore, Chandigarh, Dehradun, Lucknow and Baroda. All participants are required to carry proof of age and nationality like a voter's ID, Passport, Driving License, etc. In addition, the participants also need to bring along an audio CD with the track number, on which they wish to perform. So, put on your best dancing shoes and land up at the venue to floor the judges!