Petrol pump owners join ranks for the statewide agitation, raise slogans against Punjab govt for causing Rs 2,000-crore revenue losses per annum on account of diversion of business and smuggling caused by higher VAT
Petrol Pump Dealers' Association of Punjab warns it will intensify agitation by shutting down petrol pumps across the state if demands not met
The Petrol Pump Dealers' Association of Punjab (PPDAP) today launched a statewide agitation by going on an indefinite hunger strike to press the Punjab government to bring VAT on petrol and diesel on a par with neighbouring states.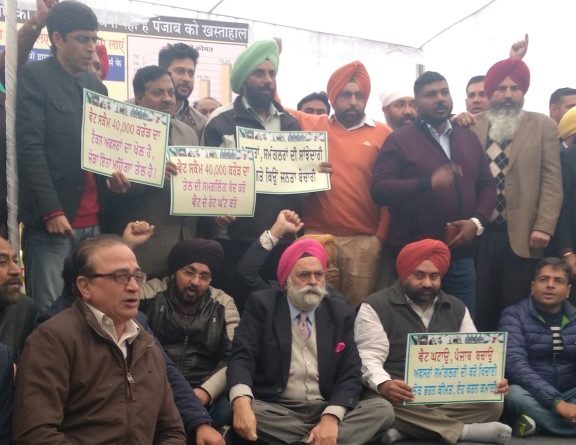 Raising slogans against the Punjab government for causing huge revenue losses to the tune of Rs 2,000 crore per annum on account of diversion of business and smuggling caused by higher VAT rates, petrol pump dealers from all over the state joined the agitation at the Chawla petrol pump in Phase VII here. Day one of the agitation saw PPDAP President Paramjit Singh Doaba along with fellow dealers Mr Sohan Lal and Mr Monty Sehgal sitting on the hunger strike.
Asserting that the hunger strike would continue till the government accepts their demands, Mr Paramjit Singh Doaba and Mr G.S. Chawla, Spokesperson, PPDAP said the government had turned a blind eye to their pleas, compelling them to resort to a statewide agitation. "We have submitted numerous representations to the government, but to no avail. If our hunger strike also fails to move them, we will intensify our protests by shutting down petrol pumps," they warned.
Claiming that a higher VAT in Punjab has set the state exchequer back by Rs 40,000 crore in the past 17 years, Chawla termed it a "scam of enormous proportions being operated at taxation authorities' behest". "Punjab's revenue from VAT on petrol and diesel has declined by Rs 190 crore in the first half of 2017-18 in stark contrast to Haryana, which has recorded a Rs 308-crore increase in VAT receipts. The only beneficiaries are taxation authorities and unscrupulous elements, including dealers, who continue to work in collusion to rob Punjab of its rightful revenue through smuggling and diversion of business to neighbouring Haryana, Chandigarh and Himachal," he said.
The PPDAP Spokesperson said a lower VAT will attract an additional revenue of Rs 2,000 crore per year by bringing smuggling to an end and pushing up sales. He said the Petroleum Planning and Analysis Cell has analysed that if VAT and other state levies on petrol are reduced from 37.54 to 25 per cent, there will be a loss of 12.54 per cent, but the sales will go up by 100 per cent.
Chawla said this open scam has also hit their businesses hard. "It is threatening the livelihood of thousands of petrol pump employees across Punjab. We are staring at layoffs. Among Punjab's border districts, Mohali is the worst affected as it is right next to Chandigarh, where petrol is cheaper by Rs 8.24 per litre and diesel by Rs 2.23 per litre," he said.
Chawla said the Congress government has done nothing to reduce VAT, though it was one of their election promises. PPDAP members had also gone on a hunger strike in April 2016 against the exorbitant VAT, but they called off the agitation after Congress leaders led by former Patiala MP Preneet Kaur assured them that the party would effect a desirable cut in VAT if voted to power. Chawla, who had then spearheaded the hunger strike at his Mohali Phase VII pump, was hospitalised on the third day.
Reiterating PPDAP's resolve to take the fight for petrol pump dealers' rights to the end, Doaba said, "As a veteran dealer and leader of Punjab's petrol pump owner community, I will lead the fight for the rights of my fraternity till the government meets our demands."