Dental Clinic gets National accreditation, sets the benchmark in the dental sector of the city: Dr. Kochar's House of Smiles, a state of- the- art dental clinic located in Sec 21, Chandigarh, has achieved a National milestone.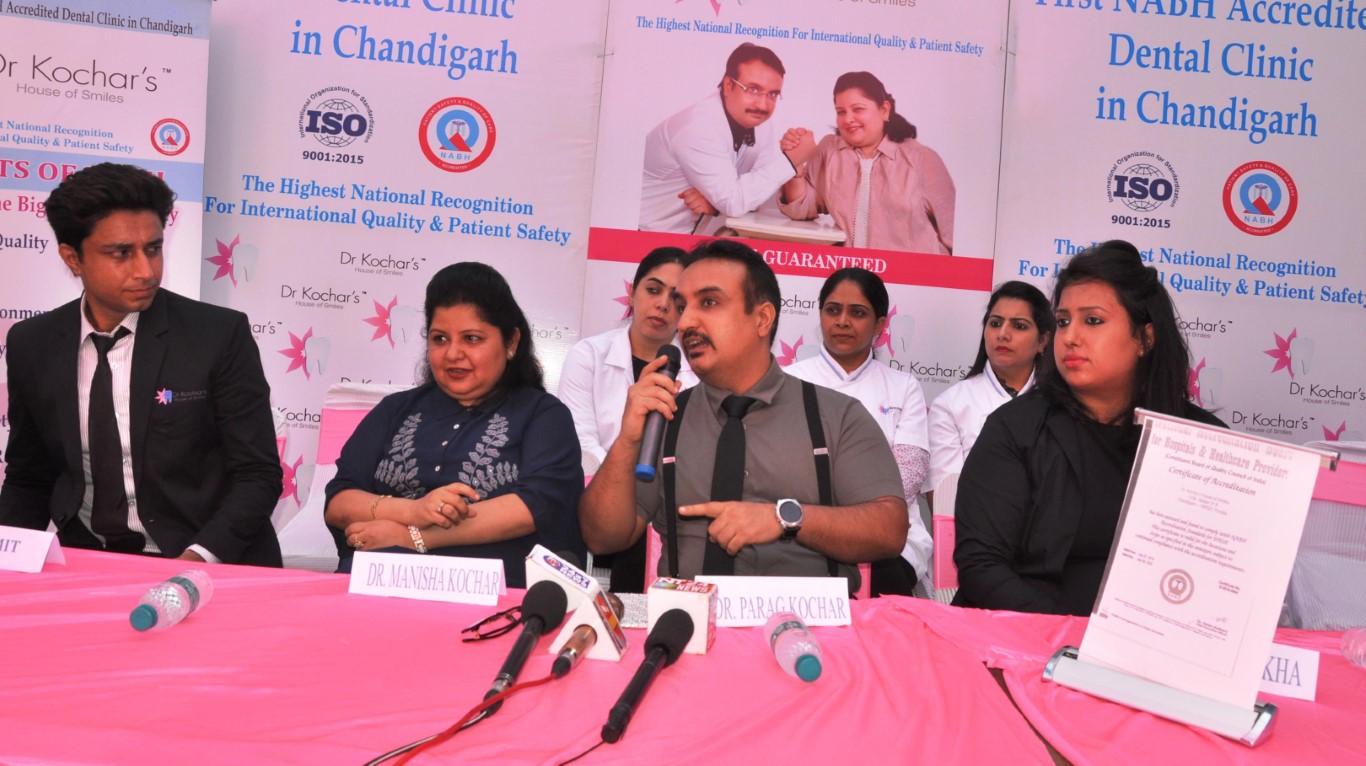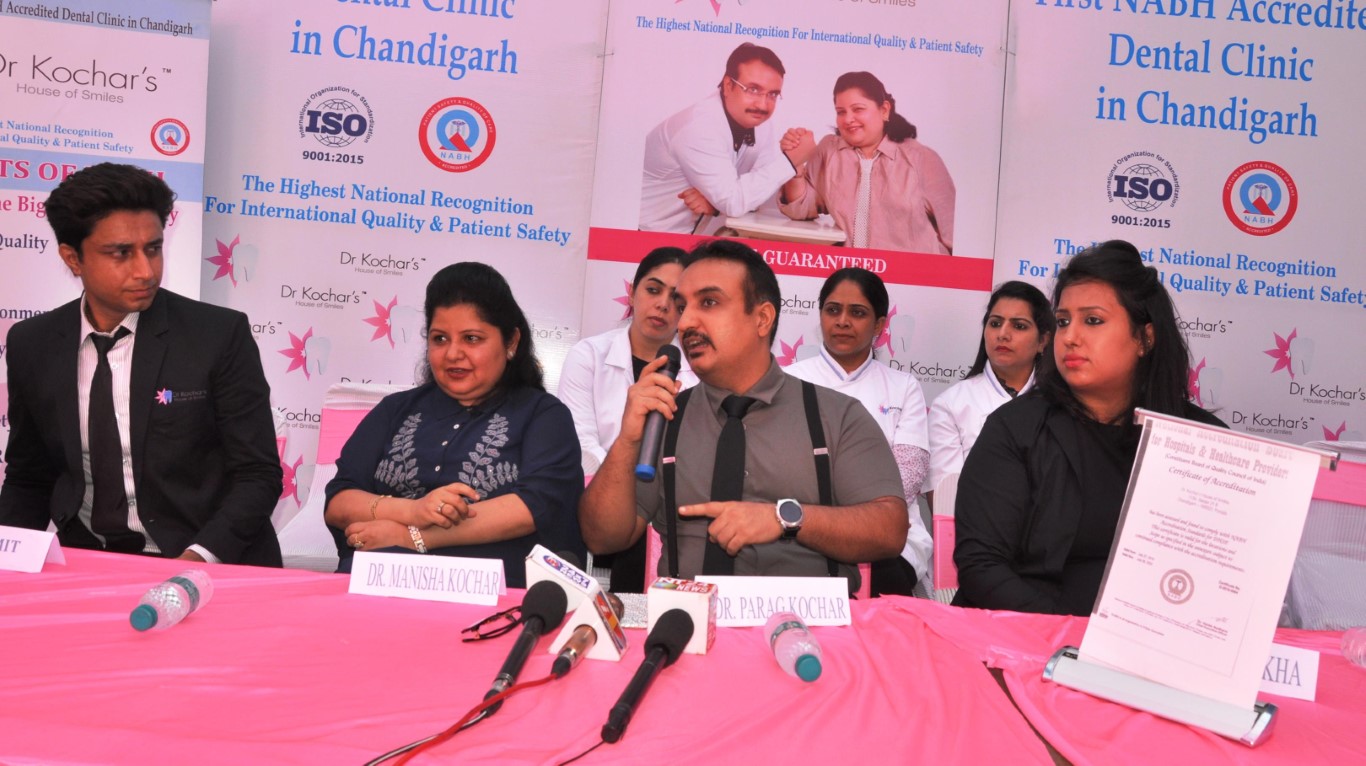 The clinic has been given the coveted NABH (National Accreditation Board for Hospitals & Healthcare Providers) accreditation, which is the highest National Recognition for International quality and patient safety.
Dr Kochar's House of Smiles is the first dental clinic of Chandigarh to have got this recognition.  
Dr. Parag Kochar, CEO & Principal Dentist and Dr. Manisha Kochar, Owner of Dr. Kochar's House of Smiles and senior members of the management announced the details of accreditation during a press meet held at the clinic's premises.
It is noteworthy that NABH is a constituent board of Quality Council of India, set up to establish and operate accreditation programmes for healthcare organizations.
Speaking on the occasion Dr .Parag Kochar said, "We are all feeling proud on becoming the city's first NABH accredited dental clinic. It was a very challenging journey for us but the hard work and efforts of the staff members have made this dream come true. It was a very tough process as we had to meet all standards and policies of the accreditation system."
He further added, "The parameters which we had to meet were usage of CE- certified materials, training for various medical and non-medical emergencies, X-ray machine registration with BAR, regular air and water quality checking and maintenance, 24 hours backup of electricity etc."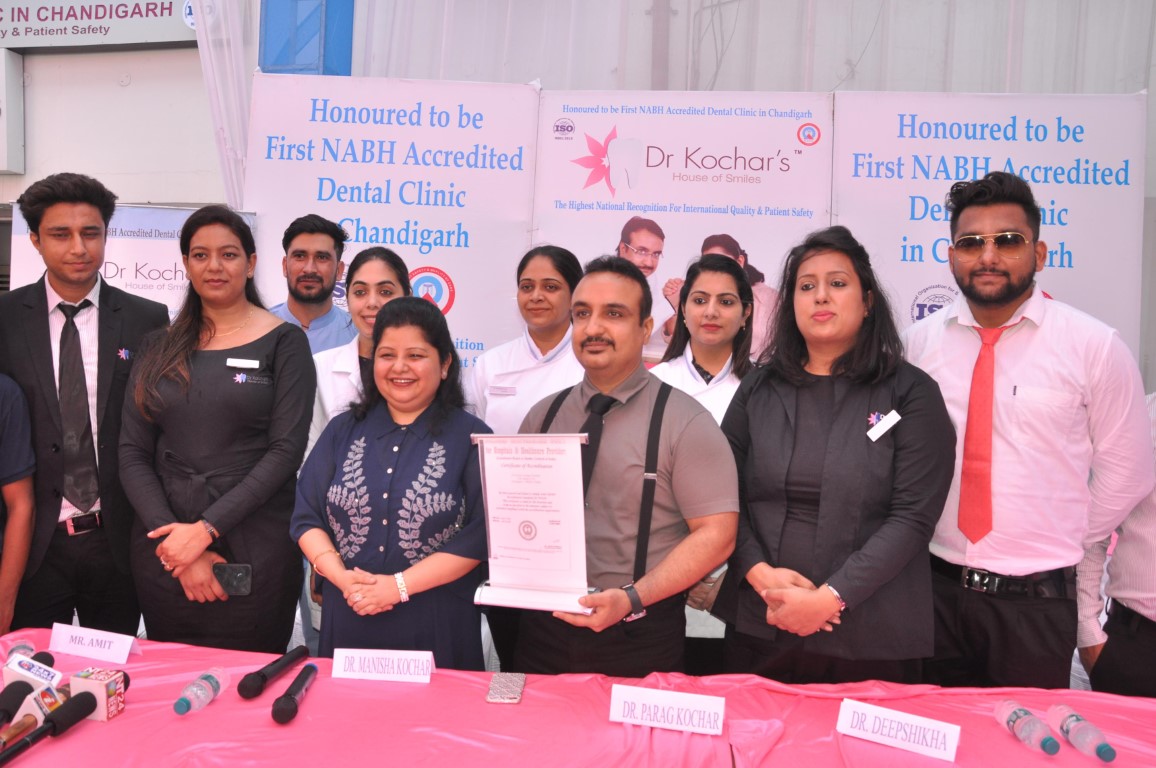 The clinic also conducted regular training and meetings to follow the standard operating procedures, even the housekeeping staff was trained to save a life through fire mock drills and BLS mock Drills.
Dr. Manisha Kochar said, "The International level best practices already in place at our clinic made the accreditation smooth for us. We have been adhering to strict quality standards. We have a hygienic environment, and we check air and water quality, before and after every surgical treatment. The operatories are fumigated to reduce the chances of infection and we use only CE certified materials."
The experts also shed light on how a prestigious accreditation like NABH helps the patient community to choose the right clinic for treatment.
Dr Manisha explained, "NABH is the accreditation, which gives a clinic or hospital a certification of higher standards of quality in providing healthcare. What also helped us get the accreditation was the high level of sanitisation we have in the clinic.  Our USP is the B class Autoclave we have for instrument sterilization, this makes all procedures safe and there is no fear of infections."
During the press meet, fthe irst time in cthe ity, latest & unique technologies were also showcased. These included Mouth tour – an intra-oral camera for a mouth video tour, J Morito endomotor- a hand-piece through which a dentist can work subtly and sensitively and 'Shape scanner', which records the shape, size and color, of the tooth & one can get the denture or implant the same as your natural teeth in later ages or when required.
The ambiance of the clinic also helped it in its endeavour to get NABH accreditation. The white décor makes the clinic's interiors soothing. There is even a meditation room at the reception. For patient comfort, a massager, refreshing beverages and IPads etc have been catered for.
"We are really happy with this achievement and would like to share our happiness with visitors, who will get 25 percent concession on all dental treatments for one month." Summed up Dr. Parag Kochar.