NewZNew (New Delhi) : From Kabir bhajans, to the distinct bhakti music, to Sufiana kalams from Punjab! The stupendous diversity and variety of multiple traditions of devotional music of India will be on full display at the Bhakti Sangeet Festival that opens on April 24 in the national capital.
The festival being presented by Sahitya Kala Parishad and Department of Art, Culture & Languages, Govt of Delhi, will see nine individual and group performances of Bhakti and Sufiana renditions over three days at Nehru Park, Chanakyapuri.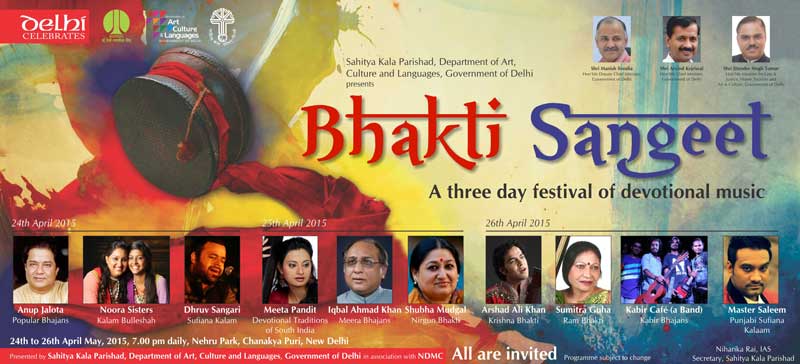 No matter what language we speak or which culture we adhere to, there are certain elements of human consciousness that transcend all tangible differences. Devotion to the Ultimate Being is one of those universal sentiments that find expressions in multiple forms. Be it in the form of bhajans or qawwalis or Gospel music, devotional music is one form of expression that does not fail to strike the chords of believers.
The annual Bhakti Sangeet Festival serves the purpose of unifying and bringing together the multiple traditions of Indian devotional music at one stage. For people who love devotional music, the festival is a platform to look up to.
The festival will bring together a wide range of devotional singers who practice and perform 'bhakti' music in their own different cultural forms – be it through Krishna bhakti, Meera bhajans, qawwalis or Sufiana kalams.
"Every individual soul finds its own way to connect with the eternal reality. Some perceive the Creator as a formless transcendent reality; others conceptualize Him in a human form. In different cultures and languages, people develop and nurture their own devotional traditions. Each region borrows from the saints that roamed in their lands. Music is a form that resonates with people across the world by aligning the mystic frequencies of a mind to verbal expression of love," says Ms. Shubha Mudgal, who will perform on the second evening of the festival.
The festival will begin on April 24 with popular bhajan singer Anup Jalota opening the musical evenings. Other performers of the opening day will include the impressive Nooran sisters of 'Patakha Guddi' fame who will present the Kalam Bulleshah, and Dhruv Sangari, who will render Sufiana kalams.
The second evening of the festival will feature Meeta Pandit, Iqbal Ahmad Khan who will render Meera bhajans; and popular singer Shubha Mudgal who will chant her devotions to the 'Nirgun' or formless Creator.
The last day of the festival will see four performances including one by Kabir Café, a band dedicated to Kabir bhajans. Others who will perform on the last day include Arshad Ali Khan (Krishna bhakti); Sumitra Guha (Ram Bhakti) and Master Saleem (Punjabi Sufiana Kalaam).
"We are a country known globally for its spirituality and we have multifarious ways of professing our love to God. The Bhakti Sangeet festival is a unique platform that brings together people from different genres of music and unites them by their love for the devotional music," says Shri Anup Jalota.