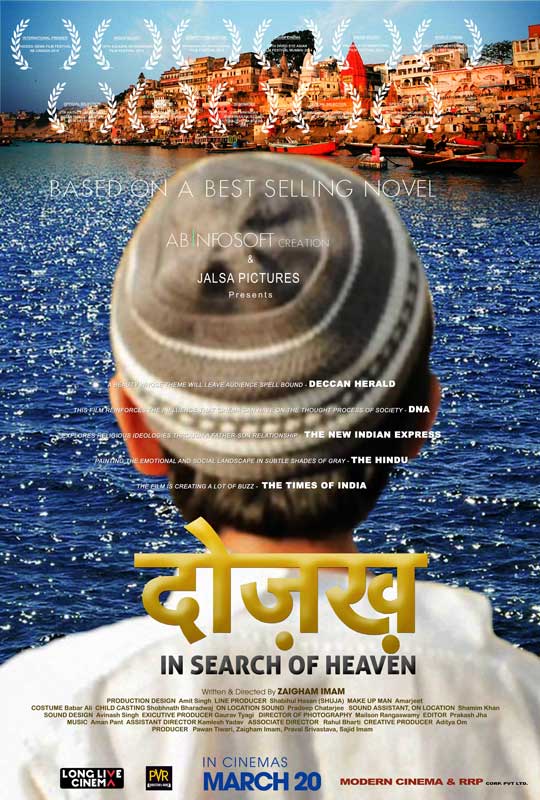 NewZNew (Mumbai – Kulbir Singh Kalsi) : Being from a Muslim family himself, Zaigham Imam through his debut film "Dozakh" has portrayed the unity between Hindus and Muslims and the complexities of their families very well. Born and brought up in the city of Banaras wherein lies the core of the Hindu civilisation, Zaigham Imam has aptly based the background of the story on Banaras itself.
Zaigham Imam believes that it's high time that the differences between Hindus and Muslims be resolved. Now the question that arises is who will initiate this? "I believe that both the sides should come forward together. The condition of Muslim communities is surely not as pathetic as they portray in the movies, television and media. And
neither is the gap between Hindus and Muslims so deep. I have personally witnessed an environment where both these communities are united with great love. If this wouldn't have been true then no Saleem would ever play the role of Hanuman in Ramleela, no Muslim would play Holi and no Sameer Srivastava would celebrate Eid and give Eidee to little kids. India is the result of mixed cultures. Neither the Hindu families have any problems with their maid being a Muslim nor does a Muslim family have any problem with their maids being a Hindu. People need to become sensible and understand that politicians say things for their own benefits, it should not be taken to heart!" explained Zaigham Imam.
Directed by producer director Zaigham Imam "Dozakh" is a social movie inspired by religions. It's a story about a Muslim father and his son. Father is a cleric and a true follower of the Islam. He doesn't like the fact that his son is friends with a Hindu priest. This results in him losing his son and realising that he needs his son and not the religion. The main characters of the film are played Lalit Mohan Tiwari, Nazim Khan, Pawan Tiwari, Garric Chaudhury, Ruby Saini, Irfaan Rizvi, Jugendra Singh and Khushboo Seth. After winning a lot of film festivals internationally Dozakh will release in the theatres of India on 20th of March.