Different Ways to Style Your Daily Wear Gold Bangles: In the world of fashion, a gold bangle is a piece of jewellery that will never go out of style; it is still the top accessory option for women of all ages.
The appealing, timeless, and opulent appearance of gold bangles has long been recognized as a mark of sophistication and wealth. When more elaborate accessories seem out of place, bangles are a classic choice for accessorizing. With the proper styling and choice, a gold bangle can turn even the simplest outfit into something special.
This is why we've compiled a list of fantastic ideas for turning a simple bangle into a fashion statement. We selected some brilliant designs from Mia by Tanishq's extensive collection of daily wear gold bangles. We will provide you with some tips for wearing and using bangles effectively.
Put on a classy watch with your daily wear gold bangles
This 18-karat yellow gold bangle has a beautifully textured edge and a sleek, on-trend linear pattern.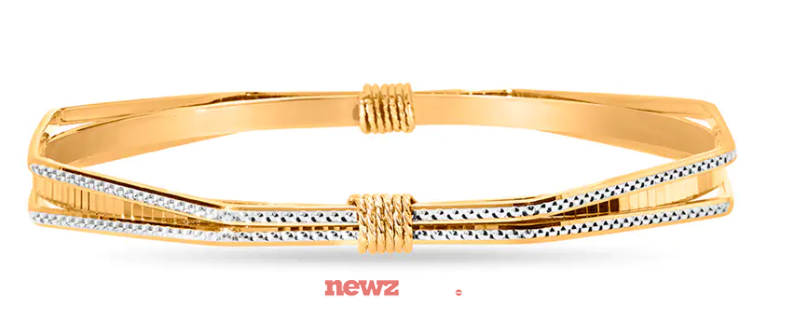 A beautiful bangle with a variety of beautiful linear patterns looks great with a watch. Watches are already a timeless accessory, but when paired with gold bangles, they look even better. If you're seeking accessories to liven up your formal wear or just want to draw attention to your delicate dress, this outfit combination can be perfect for you.
Make A Bangle Stack with This Beautiful Diamond Bangle with Gold Jaali Patterns
The beautiful gold jaali motifs and lines that are intertwined and covered with brilliant-cut diamonds are meant to go well together. This magnificent piece, which has a gorgeous yellow-gold finish, is really amazing.

Stack these daily wear gold bangles to make a statement in the easiest way possible. When it comes to festival attire and accessories, this diamond bangle adds a splash of colour to your ensemble.
Shiny, Slender Bangles Fashioned Of 22-Karat Yellow Gold in The Elegant Minimalist Style
These slim bangles made of 22-karat yellow gold will add a touch of sparkle to your regular look. These delicate and fashionable daily wear gold bangles can perfectly complement the cuff bracelets.

On one wrist, put on a single cuff bracelet with these bangles, leaving the other naked. This styling tip is ideal for anyone who wants to achieve a hippie chic or traditional exquisite look.
Target the moon with this 14- karat rose gold diamond bangle
This 14-karat rose gold, the diamond-studded bangle is delicate and stunning, taking its design cues from nature's most exquisite shapes.

This daily wear gold bangle with a stunning circular-cut diamond is a surefire hit if you enjoy the traditional and hip. We encourage you to go for it if your personality is strong and bold. This bangle alone will speak for your strength.
Mix And Match This Chic Bangle In 14-Karat Yellow and White Gold
This 14-karat yellow and the white gold bangle is stylish and sophisticated. It was made to match your adaptable personality.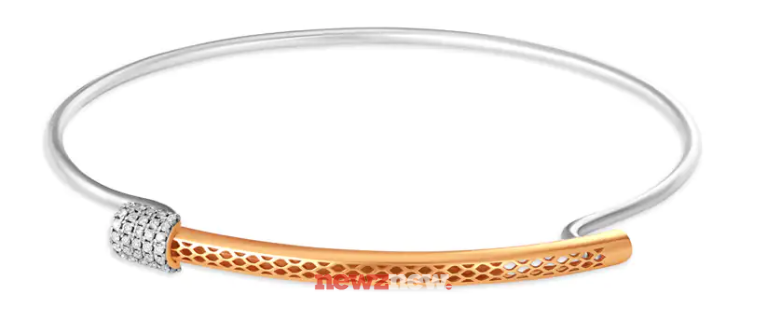 If you're looking for a traditional or classic look, this daily wear gold bangle's flexible design is a tried-and-true style that is simple to pull off. With this gold accessory on, you can go about your normal activities looking elegant and sophisticated.
Uplift The Style of Daily Wear Gold Bangles by Pairing Them Smartly
The best thing about gold bangles is how versatile they are and how many different ways you can wear them. Additionally, mixing and matching different patterns may be a lot of fun. This is a great technique for transforming your appearance from ordinary to outstanding. These daily wear gold bangles by Mia by Tanishq can be paired with other bracelets and jewellery or worn alone to create a contrast that adds a little edge and intrigue to your outfit choice. You can quickly jump onto their official website to find more such outstanding designs that can speak loudly about your personality.