realme begins official rollout of realme UI 4.0 Early access for realme 9: realme, the most trusted smartphone brand, has started early access rollout of realme UI 4.0  for the users of realme 9 following the realme Android 13 roadmap.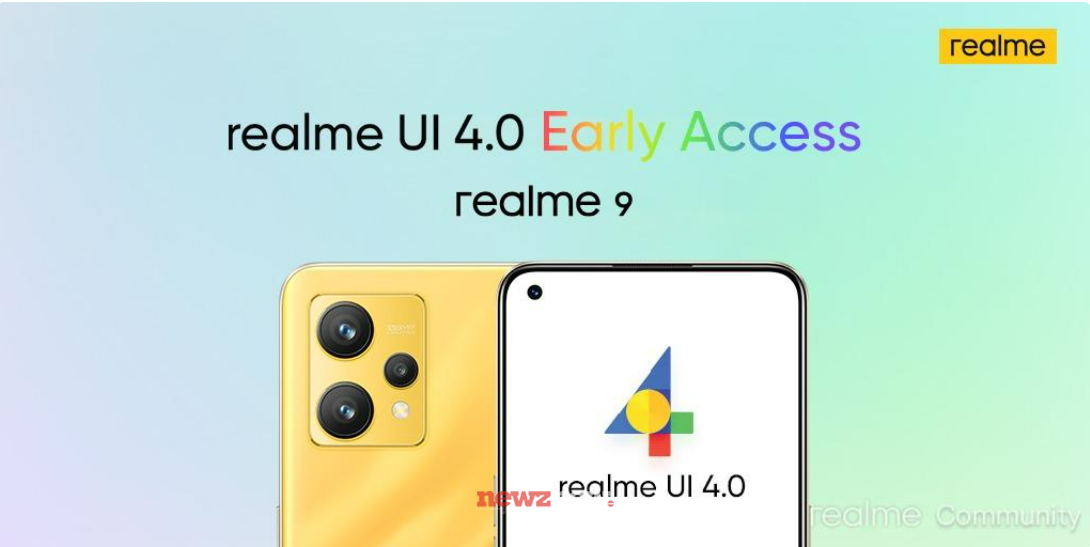 realme UI 4.0 based on Android 13 brings unlimited customization options to meet Gen Z's rich imagination and creativity. The early access program aims to invite fans to experience the realme UI new features based on Android 13 for the first time.
The update also reaffirms realme's commitment to providing regular and timely updates to its devices. And continuing the trend realme 9 is now fetching the January realme UI 4.0 early access and applications will be accepted in batches beginning on 13th January 2023. The update will be available for a limited set of users initially.
As one of the first operating systems based on the newly released Android 13, realme UI 4.0 incorporates a number of key Android 13 features while improving four key areas: design, interaction, fluidity, and security, to provide a comfortable and seamless user experience.
realme UI 4.0 will stay true to the product's inspiration of seamless fun while also improving functionality, fluency, customizability, security, and privacy, all of which are important to young users. realme UI 4.0 based on Android 13 brings unlimited customization options to meet Gen Z's rich imagination and creativity.
For more information:
Know More About realme
realme is a technology brand that specializes in providing technology products with a comprehensive superior experience for global users. The brand was officially established on May 4th, 2018 by its founder Sky Li and Madhav Sheth in India, together with a young and strong team that has rich experience in the smartphone industry.
Committed to creating a smart, connected and trendy lifestyle for the youth, we democratize cutting-edge technology to provide the best technology products in each price segment.
As per the IDC Q2 report, realme climbed to the second slot for a second time, with strong YoY growth of 24% (highest among the top five brands) in 2Q22. It cemented its second position in the online channel with a 23% share with affordable model offerings in the C-series.
realme has introduced a new marketing strategy consisting of cultivating marketing, eCommerce and simply better strategy. With the marketing cultivation strategy, realme is building local teams to use their experience to make engagement more local to the users.
In eCommerce, realme is closely working with existing online partners and will be exploring more opportunities with leading eCommerce platforms to expand its reach across regions. In addition, the simply better strategy will continue to explore the future of tech and design with the GT series, and the Number series will focus on advanced tech innovation, making it more accessible to our consumers. For more information, please visit www.realme.com/in/