Cheshire Homes Chandigarh gives awards to two organizations and two individuals
NewZNew (Chandigarh) : Governor of Punjab and Haryana, and Administrator of UT Chandigarh, Prof Kaptan Singh Solanki underlined the need for caring for the people with disabilities.
Speaking on the 4th Cheshire Homes Awards for 2016 at Bal Bhavan here today, Prof Solanki said that differently-abled persons are part of the society and ignoring them makes us more disabled and handicapped than them.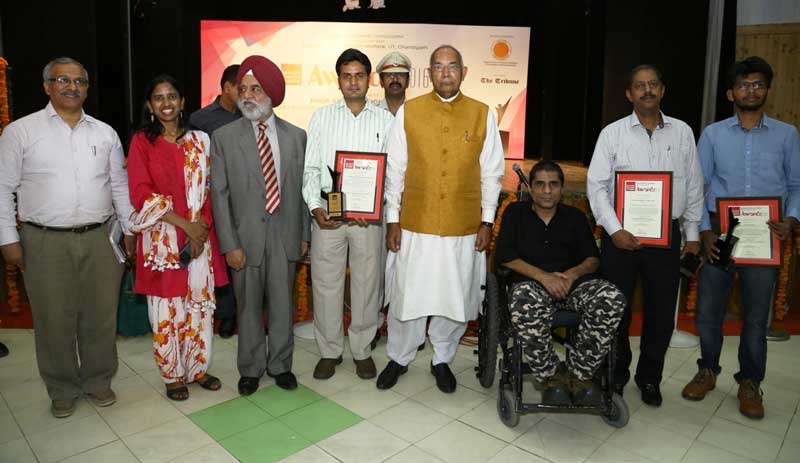 He said that the Chandigarh Administration is already working on auditing the accessibility issue, and all government officers would be made disabled-friendly.
On this occasion keys of Activa three-wheeled scooters modified for the physically challenged persons were handed over to eight beneficiaries, along with hearing aids to the needy.
Gurdip Singh Deep, Chairman of the Cheshire Homes Chandigarh informed that the awards were instituted in association with the Social Welfare Department of UT, Chandigarh, to recognize the individuals as well as the organizations working for the upliftment of the people with disabilities, from Chandigarh, and the states of Punjab and Haryana.
With the support of Social Welfare Department, Cheshire Homes Chandigarh is managing a 20-bedded Home in Sector 21 of Chandigarh since 2002 where physically challenged get complete care, health checkup, and opportunity to learn new skills to be gainfully employed, he informed.
Secretary Social Welfare Bhawna Garg commended the efforts of Cheshire Homes and said that the Awards keep the motivation levels high amongst NGOs to continue to bring the differently-abled persons into the mainstream of society.
She said that the Administration has recently done door-to-door survey of 4000 homes in Sector 25 colony to identify people with disabilities, so that they can avail various benefits available to them under various Government of India, schemes.
The awards in the Institutional category went to Himachal Pradesh based Chinmaya Organisation for Rural Development, Sidhbari, Dharamsala, which had been engaged in rehabilitation of disabled persons for last 30 years, and has also been recognized in Japan with the 'Global Development Work Award'
Punjab's Vocational Rehabilitation Training Centre at Ludhiana, also received the award for doing pioneering work for rehabilitation, skill development and employment of disabled persons for the last more than 40 years.
In the individual category, Cheshire Homes recognized the contribution of a bio-medical instrumentation scientist at CSIO and an innovator, Deepak Kumar, who has developed a virtual intelligent system for motor rehabilitation of children in cerebral palsy at Prayaas, the Rehabilitation Centre for Handicapped Children.
While working with the Indian Spinal Centre in New Delhi, he helped develop a low-cost EMG-controlled prosthetic hand, besides a Tenodesis Splint for Quadriplegic patients.
Cheshire Homes also conferred an award on Navin Gulia, a former Army Officer, who got a spinal injury in an accident and was rendered quadriplegic, but has excelled in various fields as an author, orator, trainer, adventure sports enthusiasts and social worker.
Despite his restricted mobility, he has been working tirelessly for orphans and disabled persons through an NGO, Apni Duniya Apna Ashiana  (ADAA)
The jury for the selection of awardees included former Vice Chancellor of Baba Farid University and a noted orthopedician, Dr. S.S. Gill, Chairman of the Institute for the Blind Gen Rajinder Nath, Director Social Welfare UT Chandigarh Nishu Singal, SOREM's chairperson Promila Chandra Mohan, and Cheshire Homes Chairman Emeritus  Maj.Gen A.S. Kahlon.