NewZNew (Chandigarh) : Want to buy a book or a car or simply find out the place where you can have a relaxing meal with family, at the best price? You don't need to go out to different merchant establishments to know who's offering the highest discount, a new Discount Exploration App, will do all this and much more for you.
Two 21-year-old youngsters from tricity — Amit Arora & Rajat Bansal, have made a path-breaking & unique App– 'Wowfer'. It is for the first time in the App Space, that a holistic discount exploration App, which will simplify the way tricity residents, find out about discounts in various categories of products & services available at different outlets, has been developed.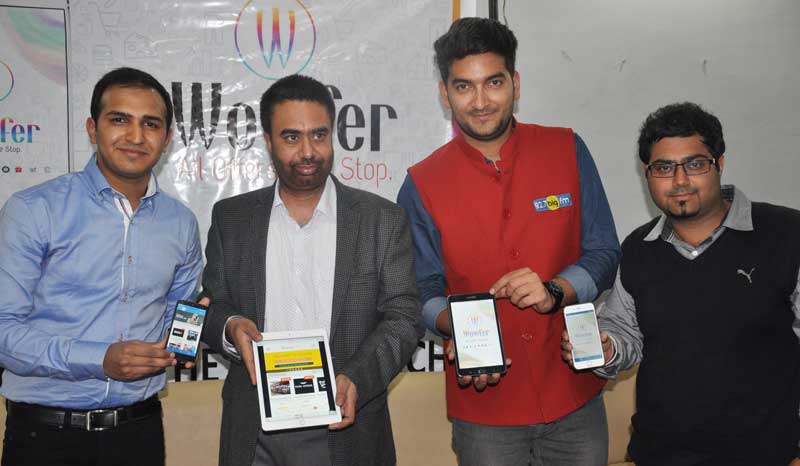 The App was launched by K. S. Bhatia, Founder & CEO Pumpkart.com. It's noteworthy that Pumpkart received praise from Google CEO Sundar Pichai recently during the Digital India Summit in Sillicon Valley. "Young Entrepreneurs like Amit & Rajat are an asset for our country. I congratulate both for this innovative App and am sure that they & others like them will be instrumental in giving jobs to our youth in the future."  Said K. S. Bhatia.
"I had always dreamt of stepping into Entrepreneurship by introducing an innovate project that would work for the betterment of consumers. Wowfer's idea came into being in 2012, when me & Rajat were classmates in School. We always saw our parents looking out for the best prices for any product or service they wanted to buy & for this they had to visit multiple markets, we therefore worked on a Discount Exploration app: 'Wowfer', which can be downloaded free on any Android and iOS based cell phone. With the app you have the power to find the best discount in the category you want, at the tap of your finger tip." Said Amit Arora
"I had an intense desire to set up my Startup and so Wowfer Infotech was born. We have a wide ranging variety of products & services which are divided into 23 categories. There are discount listings of lifestyle, baby care, books, groceries, medicines, pet accessories, hospitality services among many others. All the data in the App is absolutely free & the user need not spend even a rupee. Wowfer's future vision is to gain market share in tricity and then gradually attain a National footprint. Wowfer will also work on bringing more innovations & improvements for overall customer benefit." Said Rajat Bansal.
A very convenient option of the App is 'the navigation & nearest feature' that helps users to explore all discounts of any particular category in a market nearest to them irrespective of where they are. The App lists never before categories like Kitchenware, Hardware & Sanitary, Electronics & Accessories, Real Estate & Finance, Vehicles & Accessories etc.
Sum up both the Co- Founders brimming with confidence, "We are sure the App will give benefit to not just consumers, but even the offline market comprising of shops, which are feeling the brunt due to the emergence & growth of E Commerce."