NewZNew (Chandigarh) : Discover the taste of authentic old Delhi cuisine with Master Chef Mohammed Mofid, at the Serenade Pavilion, our all day dining restaurant at WelcomHotel Bella Vista.
From the crevices of Delhi's prolific past, comes a forgotten culinary legacy, Dehlnavi. The uniqueness of Dehlnavi cuisine lies in its fascinating mix of traditions, geography, cultureand community influences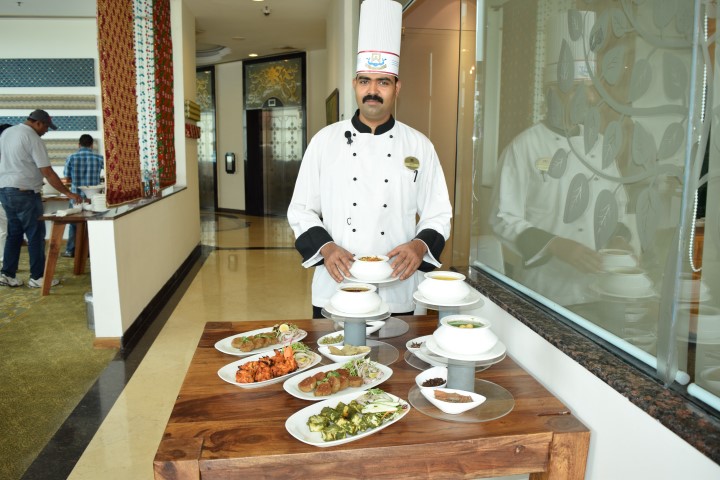 The Chef's eyes are intensely focused on the simmering kadai as he adds spices to fine tune the aromas emanating from within. Contended that the right mix is in the right place, he gently stirs the meat as it marinates within the irresistibly inviting flavours… until it was time to sample it for approval.
What he has inherited as a priceless gourmet repertoire was long forgotten and hidden away in the annals of Delhi's turbulent past, its narrow lanes and alleys, Mohallas and old homes, relegated to oblivion…well almost. Chef Mohammed Mofid has now revived the fascinating delights of Dehlnavi cuisine, ancient Delhi's own gastronomical saga. Recasting and reviving this culinary heritage once enjoyed in Mughal courts and by royalty, "Kitchens of India" has recreated these delicacies at ITC hotels.
Masterchef Mohammed Mofid  is in our city and will be featured exclusively at the WelcomHotel Bella Vista from 22 to 31 July 2016.
The cuisine promotion will feature Dehlavi dinner buffets at the Serenade Pavilion on the weekends from 22 to 24 July and 29 to 31 July. An A La Carte menu will be on offer from 25 to 28 July. Signature dishes being showcased at the promotion include starters like Paneer Tulsi Tikka,
Silbatte ke Shami, For main course there are specialities like Dilli ki Nihari, Hare Masale ki Machli, Paneer Lavang Latika, Kathhal ka Haleem and Sarai ki Biryani. For Dessert lovers,there are delectable favourites like Mango chenna payesh and Zafrani Zarda.
Avinash Deshmukh, General Manager, WelcomHotel Bella Vista says that "As a tribute to the Monsoon season, this is an opportunity to indulge the palate with the finest Dehlnavi cuisine handcrafted by Masterchef Mohammed Mofid, one of the finest craftsmen of his trade. As part of the Kitchens of India theme, ITC Hotels have a rich tradition of nurturing and showcasing excellence in Indian cuisine. With this promotion we are offering the diners from the tri-city of Chandigarh-Panchkula-Mohali, a fascinating mix of traditions, geography, culture and community influences, presented in the inspiring ambience of our hotel, paired with excellent service and value pricing complimenting the flavours of the Dehlnavi cuisine.
"Dehlnavi Dawat" at the Serenade Pavilion
Location
WelcomHotel Bella Vista, SM 8, City Center, Sector 5, Panchkula – 134109
Cuisine
Ancient Delhi cuisine
Dates 
22 to 31 July, 2015
Meals Served
Buffet Dinner on the weekends – 22 to 24 July and 29 to 31 July

Special Set menus from 25 to 28 July

Timings
Dinner : 1930 hrs -2300 hrs.
Average Cost of meal for two
INR 1600/- Taxes extra as applicable.