In sync with Digital India,  Land Acquisition Office, UT Chandigarh in association with Society for Promotion of Information  Technology, Chandigarh (SPIC) under the aegis of Department of Information Technology, Chandigarh Administration launched a unique Mobile App "Niyojan" which would keep track of illegal constructions in the various villages and outer periphery areas of Chandigarh as specified under the Periphery act.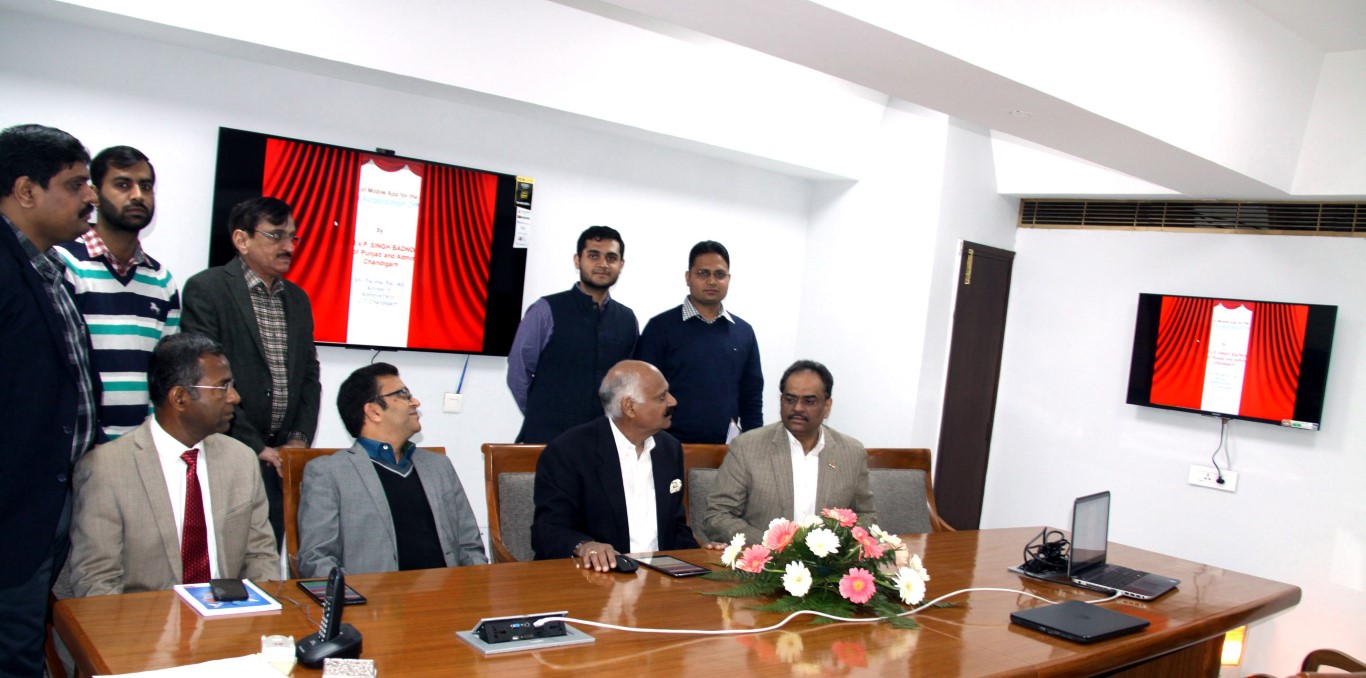 H.E Shri. V.P. Singh Badnore, Governor Punjab & UT Administrator launched the LAO Mobile app " Niyojan" today from Punjab Raj Bhawan in the presence of Shri. Parimal Rai, IAS,  Adviser to the Administrator, UT, Chandigarh, Shri. J.M. Balamurugan, IAS, Secretary to Governor Punjab, Shri. Anurag Aggarwal, IAS, Home Secretary, UT Chandigarh, Shri. Ajit Balaji, IAS, Deputy Commissioner, UT Chandigarh,  Shr. Jitender Yadav, IAS, Commissioner Municipal Corporation & Special Secretary Information Technology, UT Chandigarh & Shri. Arjun Sharma, IAS, Director Information Technology & LAO, UT Chandigarh & Shri Anil K Prashar, Centre Head-SPIC.
At present several violations go unnoticed in remote peripheries and villages of Chandigarh but through this "Niyojan" mobile app citizens can report any unauthorized constructions and dwellings on unauthorized lands to the Patwari of the area and further to Land Acquisition Officer, who can then take steps to keep said violations under check.
All complaints are logged and stored on the cloud, along with information such as the geo-location of the complaint, a photograph of the violation and other associated information. Patwaris can follow up on the complaint using the information and update the status of the complaint by mentioning the action taken. A timeline of 2 days from filing of the complaint is also applied for swift action on the same.  Niyojan Mobile app has been developed in-house by SPIC and can easily be downloaded from google play store. Following key features of the app will assist the citizen to address and escalate the issues of violation along with pictures directly to the authorities:
Citizen Dashboard
Citizen can view a list of all the complaints registered on the dashboard, along with their status and past actions taken on the complaint by authorities.
Citizen can Upvote on a complaint, or share the complaint information via various channels like text messaging, WhatsApp etc.
Citizen can register a complaint, attaching information pertaining to the complaint like the geo-coordinates of the place of violation, a photograph and any other additional comments they would like to add to the same.
Citizen can check on the status of any past complaints they have made and actions taken on the same by authorities.
Patwari Dashboard
Patwari can view a list of complaints assigned to the Patwari, with filters for Under Process complaints as well as complaints set on priority by higher-ranking officials like Tehsildar, Naib Tehsildar etc.
Patwari can post a resolution to a complaint that is Under Process or Reopened.
A Pre-filled list of resolution options are available, along with a photograph of the action taken, the notice number of any notice issued to the defaulters.
Administrator Dashboard
This Dashboard is a "Bird's Eye View" viewable to Deputy Commissioner, Land Acquisition Officer, Tehsildar, Naib Tehsildar Periphery, Naib Tehsildar Land Acquisition and Kanungo.