Fellowship of the Royal College of Physicians (FRCP) accorded to Dr Ashit Syngle
Dr Ashit Syngle, Senior Consultant, Rheumatology, Fortis Hospital Mohali was recently awarded with the prestigious Albert Nelson Life Achievement Award, 2017 by 'Marquis Who's Who' for his contribution to science and society in the USA recently. In addition, Dr Syngle was also awarded the prestigious Fellowship of the Royal Physicians (FRCP) at London. FRCP is an accolade held by some of the most exceptional and innovative physicians in the world.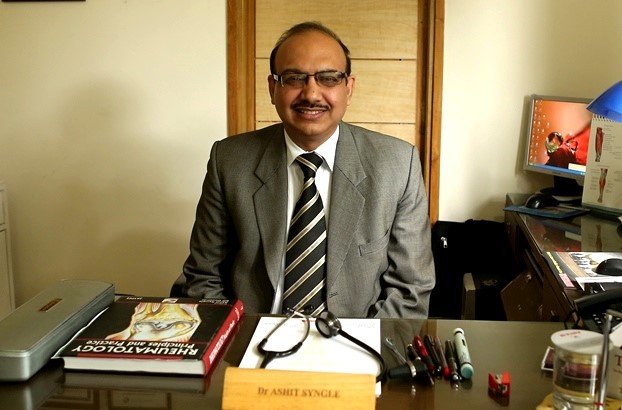 Since 1899, Marquis Who's Who has remained the standard for reliable and comprehensive biographical data. The Albert Nelson Lifetime Achievement award is awarded to individuals who has excelled in their field and showcasing their accomplishment on the website.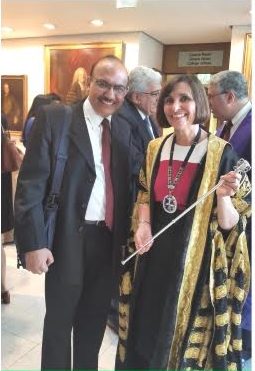 FRCP is a mark of one's achievement and skill as a doctor and recognizes one's contribution to the profession. The College will be celebrating its 500th years of existence next [AS1] year and is considered as the first to set up international standard in the classification of diseases. The decision was arrived at after a rigorous scrutiny and endorsement by colleagues of repute for Dr Syngle's contributions to medical science.
An astute and compassionate clinician, Dr. Syngle is also a passionate researcher who has introduced the world to several safe, economical and unique therapies to improve the life of patients with rheumatic diseases. Conceptualized by lateral thinking in challenging milieu, most of his innovative research work is available to the clinician for ready bedside application.
Speaking on the occasion, Dr Ashit Syngle said, "It is an immense honour to be recognized by the prestigious global bodies like The Royal College. I am humbled at this prestigious recognition bestowed to me. I hope, and believe, that my work has been beneficial to my fellow peers in treating patients. This would not have been possible without the constant support and encouragement that I received from my colleagues, team mates, my family and my patients."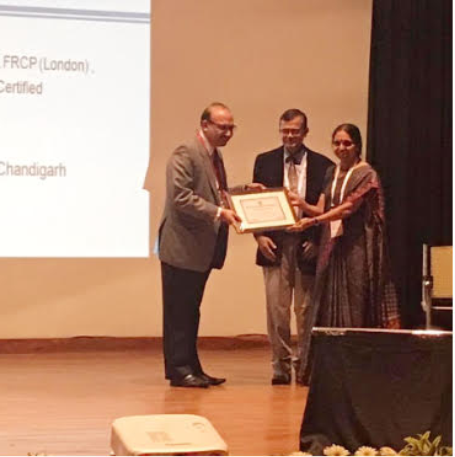 Speaking at the event, Prof. Jane Dacre, President, Royal College of Physicians (RCP) said, "The selection process is very rigorous with the bar set very high."
Dr Ashit Syngle's work has been published by international publishers like Springer, Europe; Wiley Blackwell, UK; World Scientific Publishers, Singapore; Elsevier; Thieme Medical Publishers, USA; Lippincott Williams & Wilkins &Jaypee, India. His Rheumatology research has been continuously cited in 'Top10 Articles' by BioMedLib since 2009, showcased by MDLinx and selected for presentation at various national & international conferences in US, Europe and Asia-Pacific.
Based on Dr Syngle's achievements, the editors of Who's Who in the World included his biographical profile in the Who's Who in the World 2011 edition, an international publication from USA. He was awarded the 'Best Doctor in Rheumatology' award at The 6th MT Healthcare Awards at Mumbai on 11th March 2016. One of his abstracts was chosen for APLAR 2016 Abbvie Best Abstract Award at Shanghai. He won the 2nd Best Paper prize for his innovative research, 'Endothelial Progenitor Cell Biology in Psoriatic arthritis patients in the absence of traditional Cardiovascular Risk Factors', published in Indian Journal of Rheumatology (published by Elsevier) at IRACON 2016, Kochi.
Dr Syngle serves on the advisory boards of several organizations. He is also the proud Editor of Rheumatology: Principles & Practice a multiauthor textbook especially for Asia-Pacific with contributors from 3 continents (Europe, Australia & Asia) published by JP Brothers Medical Publishers 2010. This book will soon be available as an e book.