DRecords an independent music label mentored by the stalwart performer, author and composer Daler Mehndi and run by his wife Taran Mehndi is set to release its first Sanskrit album performed by a 7 year old girl from Mumbai Lovely and her 10 year old brother Krishna.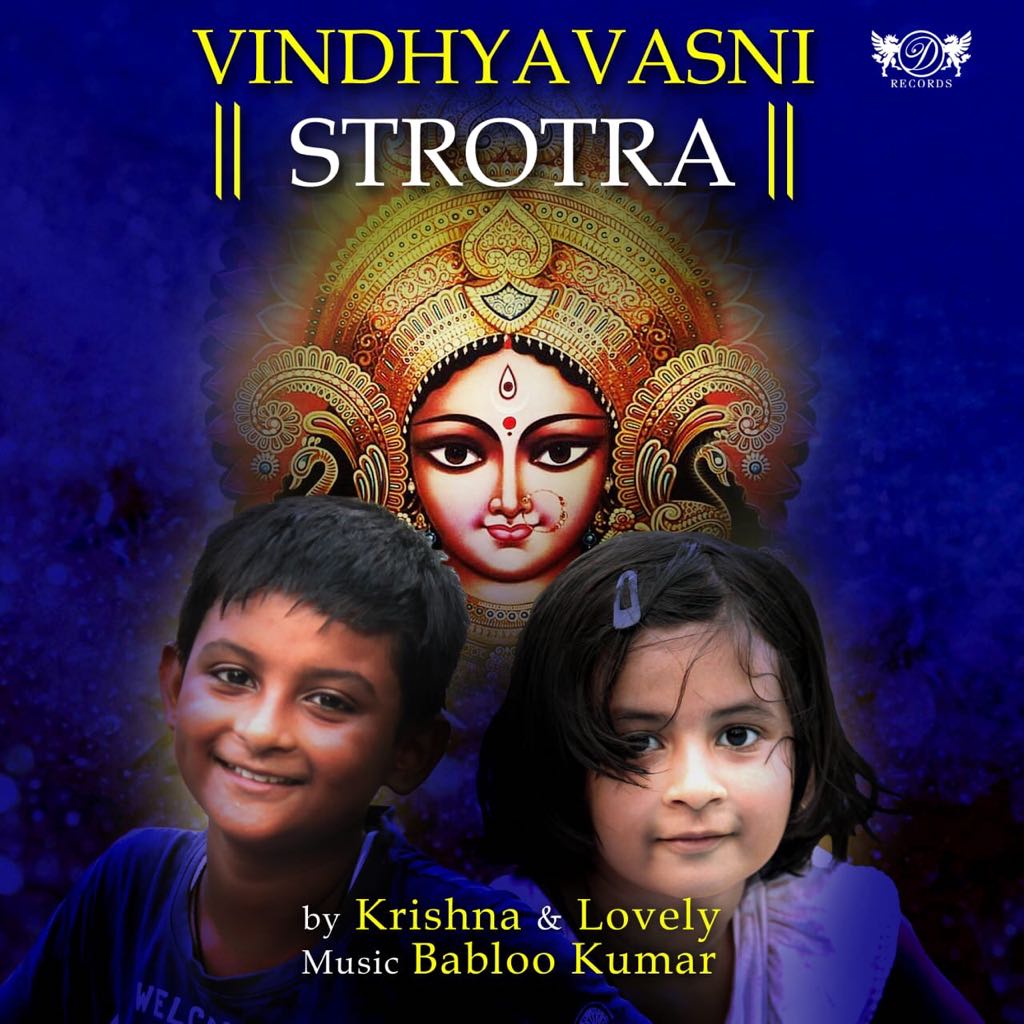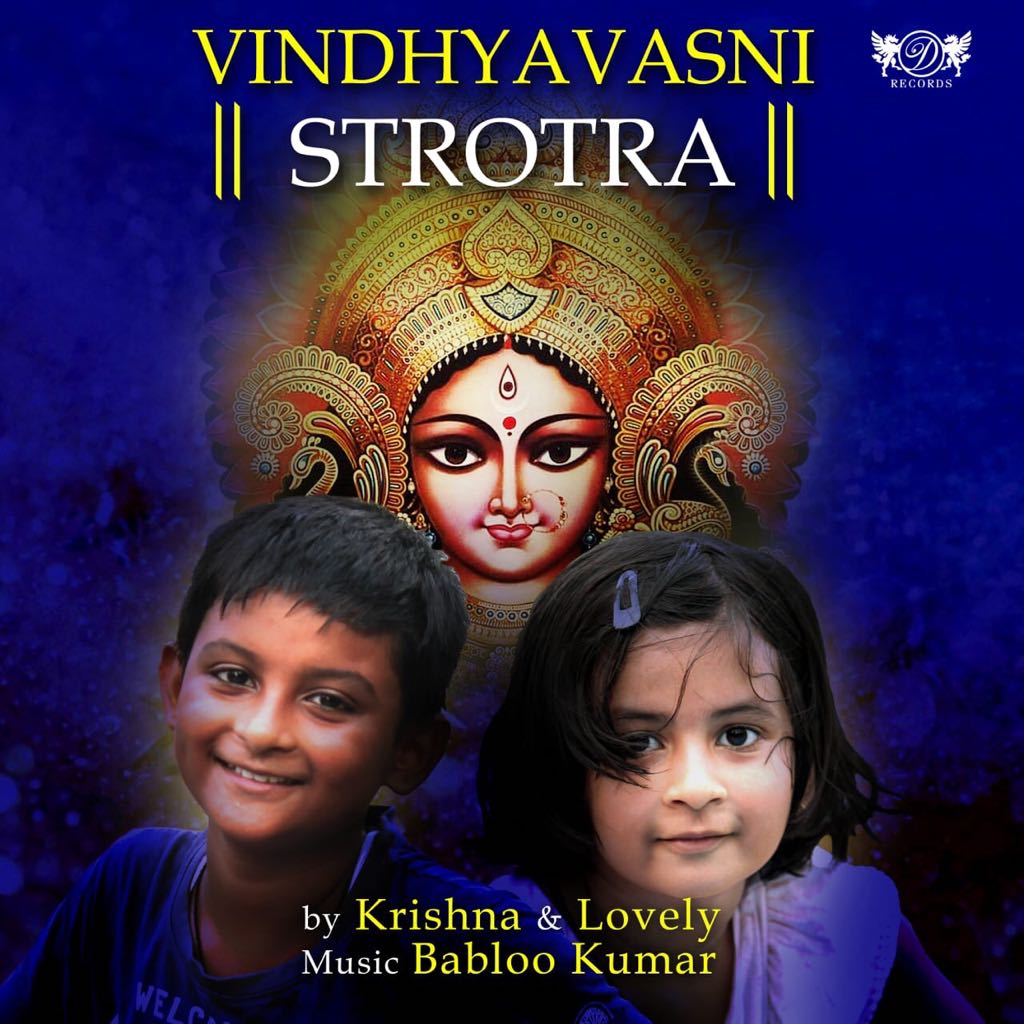 Lovely and Krishna perform the praise song or strotra of the Vindhyawasini Ma innocently with lots of love and dedication . The powerful devi, the daughter of Nand ji and Yashodha who mocked Kansa, slipped off his hands to reside in the astounding Vindhyanchal mountains revered today as one of the Shaktipeeths. The strot are praises of the  divine aspects of the Devi. The young Devi is considered an incarnate of Goddess Durga.
The song is composed by Babloo Kumar. Backing vocals are by Pandit Sagar Shende, Ashwani and a budding rapper from Indore Amit Mady.
The peppy strotam or strot will resonate with you and the innocent voices of the singers Lovely and Krishna will touch a chord.
The album is conceived and produced by Taran Mehndi for DRecords who heads the A&R and projects for the company.
"At DRecords we want to bring forth the talented youth of the country responsibly. India is brimming with talent. And this talent is focusing on and is being ushered, honed, nurtured into the done to death environs of popular music – the mainstream Bollywood way. We want to do things a little differently –
We belong to a culturally rich country, but how many of us know by hearts these strots or a beautiful ayat, nazm, or a shabad from Gurbani, or a tarana?  However we all have memorized consciously or sub consciously the galassies or  the kala chasmas. Our objective  is to secure and preserve our literary heritage, language and music through projects that entice the youth, the kids, the middle aged and the elders. In other words, there will be something for every age group. . It's a long way but we are enjoying every bit of this experience.
Continue providing a platform to budding artists and collaborating with established, renowned artists and create something spectacular.
We at DRecords just want to restore faith of our youth and even the middle aged into this rich heritage of culture and tradition and are seeking all the love and support from our audiences, " explains Taran Mehndi.
How did the children take to Sanskrit?
Lovely studies in class 2 and Krishna in class 5. They found the Sanskrit a little challenging especially the succeeding verses where Pandit ji, Ashwani and Mady  help. But their efforts are commendable and we at the label want to go all out to support their first venture.
This is our second such attempt. Our Company's first child performance and the youngest child's performance was by a 12 month old girl Rabaab Kaur Mehndi, daughter of Daler  and Taran Mehndi,  who debuted with her dad at that tender age with a lovely verse "Dhan Guru Nanak" from the album "Baba Nanak Mere Naal" .
On this auspicious occasion of the Navratras, we are pleased to present The powerful song of praise – the Vindhyavasini Strot featuring our new finds Krishna and Lovely.
Is it given that if you have a musician in the family, your child also would be one?
It's a misconception that a singer's child will be a brilliant singer. We have met talents who have no one in their families or generations in this field. Music like any art form is one of the most beautiful gifts from the Almighty. Those who embrace this gift with humility and work on it as though their life depended upon it, outshine.
We are extremely blessed and feel honored to work with such talented musicians, artists as they are a constant reminder of the Divine's presence.
What are Krishna and Lovely's next plans?
The kids are currently preparing for their next single, which will be dedicated to Shiva.
Other projects at DRecords
We have a series of releases lined up, Quwallis by legendary Imtiaz Ali and Riyaz Ali – it's a live studio recording which also has Daler Mehndi singing with them. Ghazals by the legendary Hussain Bukhsh Gullu, a rap album by two Delhi boys Dime and Spaceship, the famous you tube sensation from Guwahati, Acoustic Singh's first original album and many interesting projects.