ITI merit list 2017, DVET ITI admission list has been published. Directorate of Vocational Education & Training (DVET), Maharashtra today released the final merit list for admission to programmes offered in Industrial Training Institute (ITI) in the state colleges. While the provisional merit list was released earlier this week, the merit list which is final and will be considered by ITIs in the state for admitting students, has been published today (July 15), 2017. This is as per the notified schedule.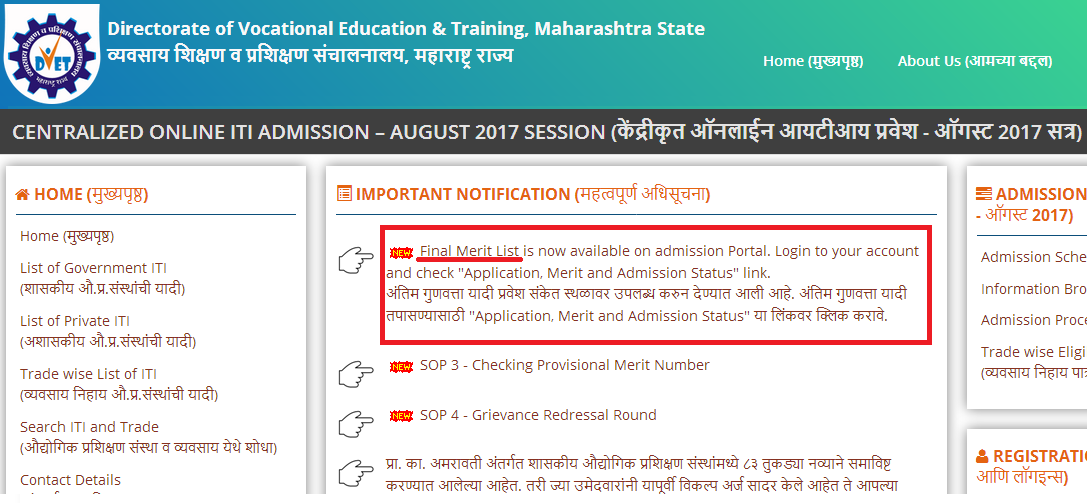 Candidates who have registered for DVET Maharashtra ITI admission – August 2017 session, may now visit the official website (admission.dvet.gov.in). The official website is displaying Final Merit List is now available on admission Portal. Login to your account and check "Application, Merit and Admission Status" link. To check DVET ITI list, the candidates will have to login to the admission portal (admission.dvet.gov.in) and check their details.
DVET had earlier published the provisional ITI list on July 11 and the candidates were instructed to verify the details mentioned in the admission list so as to rule out the errors. Considering the requests for corrections, DVET has revised and published the final ITI merit list at 11 am today. The Directorate is following the revised admission schedule dated 2nd July for ITI admissions in Maharashtra.
DVET manages vocational ITI courses across Amravati, Aurangabad, Nagpur, Nashik, Pune and Mumbai regions There as as much as 1,33,084 seats across 79 trades for which DVET is holding the Centralised Admission Process (CAP). The courses are being offered at around 417 government and 496 private ITIs.
As much as 3.10 lakh students have applied for ITI admissions this year in Maharashtra. This represents double the number of students when compared to the number of seats available in ITIs. Anil Jadhav, Director, DVET said more seats have been made available as new private ITIs were established and existing ones introduced new courses. The intake of the welder trade course increased by most margin with 1,029 more seats.
ITI list/ merit list 2017 has been released by DVET today, while the first allotment list is expected to be published tomorrow. The allotment of seats in ITIs will be done in five rounds, as per the last year's admission process.