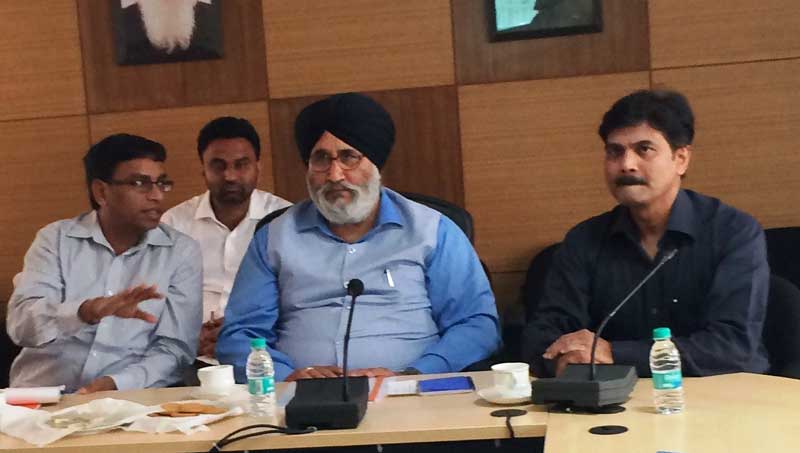 NewZNew (Chandigarh) : The Education Minister, Punjab, Dr. Daljit Singh Cheema today held meetings to speed up the educational reforms in new academic session, run the schools with less than 10 students more efficiently and giving final shape to the rationalization policy. In a slew of meetings held at Punjab School Education Board Complex, Principal Secretary, School Education, C. Roul,   Director General School Education Mr. Pradeep Aggarwal, Special Secretary Mr. Gurdeep Singh, D.P.I. (Secondary Education) Mr. Balbir Singh Dhol, D.P.I. (Elementary Education) Darshan Kaur, S.C.E.R.T. Director, Mrs. Pankaj Sharma and all the District Education Officers (Secondary Education and Secondary Education) were present.
During the meetings Dr. Cheema said that a policy would soon be put in place for the purpose of better utilization of resources, relaxation for special priority teachers, catering to the interests of all. He also appealed to the all the teachers, officials, organizations to make people living in the rural areas aware about sending their children to the Government schools. He also gave an assurance that promotions from head teacher to centre head teachers would be done by 30th April. He also assured that the promotions of senior officials would also be done soon.
Dr. Cheema also said that like promoted 665 head masters were given choice stations on the spot similarly head teachers and center head teachers would be allotted stations after promotions.
Today, First meeting was held with the teachers of 245 primary schools having less than 10 students. During the meeting, all the District Education Officers (Elementary Education) were also present. After listening to all the teachers, Dr. Cheema assured them that the decision regarding these schools would be taken after keeping in mind their opinion and academic education. He also assured them that even if a decision is taken to transfer the teachers of these schools, then these transfers would be done before the general/routine transfers.
Dr. Cheema while addressing the teachers also said that if a school is situated at a distance of less than 1 K.M. from anyother Government school then they should try to link these after consensous at local level. He said that the Government gives mid-day meal facility along with free education facility. During the course of the interaction, it came to the fore that the number of children in the age group of 6-11 years is very less in some villages having schools. There are 140 such schools, near which other government primary schools are situated. Moreover, children of migrant labourers study in these schools and after they migrate the number of children is reduced.
Apart from this, representatives from various teacher organizations, District Education Officers (Secondary Education) were also present and their suggestions were invited before finalizing the policy of rationalization. The department gave a briefing about the approved, filled, actually needed and surplus posts of each subject. After this, suggestions from all sides were taken. After listening to all the suggestions, Dr. Cheema said that the policy of rationalization has been framed after considering the academic needs of the state, welfare of the students and their number. He assured that during the finalization of the rationalization policy, the final data would be considered.