The two-day 'House of Desserts' festival this weekend has choicest Indian and global dessert brands offering hundreds of exclusive sweet delights
Ranging from international favourites like Belgian Wafles and Spanish Churros to authentic traditional sweets like Maal Makhan and Gohana Jalebi, House of Desserts makes room for every palate
It can't get any sweeter than this! Elante Mall, the region's favourite destination for shopping, food and fun, is indulging your sweet tooth like never before this weekend with the Tricity's Biggest Dessert Festival, "House of Desserts", where choicest dessert brands from across the country and around the world will overwhelm your senses with an exclusive spread of hundreds of sweet delights.
Showcasing the best in international trends and Indian tradition at one place, House of Desserts is a dessert lovers' paradise, where a lavish array of blissfully sweet delicacies promise a heavenly experience.
Ranging from international favourites like Belgian Wafles, Spanish Churros, Turkish Baklavas and French Entremets to authentic traditional sweets like Maal Makhan, Rabdi and Gohana Jalebi, House of Desserts makes room for every palate with 20-odd purveyors vying to inspire a sugar rush in you with their mind-boggling variety on Saturday and Sunday.
While Churiosity is offering Spanish Churros, a crispy and crunchy dessert best relished with a chocolate dip, in an all-new avatar—dipped, filled and glazed with your favourite chocolate flavour—Le Gaufres is all set to bowl you over with its amazing variety of Belgian Wafles and Strawberry Hop Scotch.
A delightful affair awaits chocolate lovers with exquisite handmade chocolates and gluten-free chocolate pies from Rae's Bakery, chocolate sandwiches from I Love Daddy Waffle and dark chocolates from Mammoth serving as temptations that are hard to resist.
People who love to experiment with their food and are open to freaky variants should not miss the Ice-cream Pakoda from Best Burps, a breaded scoop of fried ice-cream which is cold and creamy inside with a warm and crispy shell around it.
Another highlight of House of Desserts is The Last Course, a first-of-its-kind European concept of Café and Creamery with 24 flavours of natural ice-creams. If too much of sweet is getting too much for your taste buds, you can go for the salted ice-cream here to balance it out.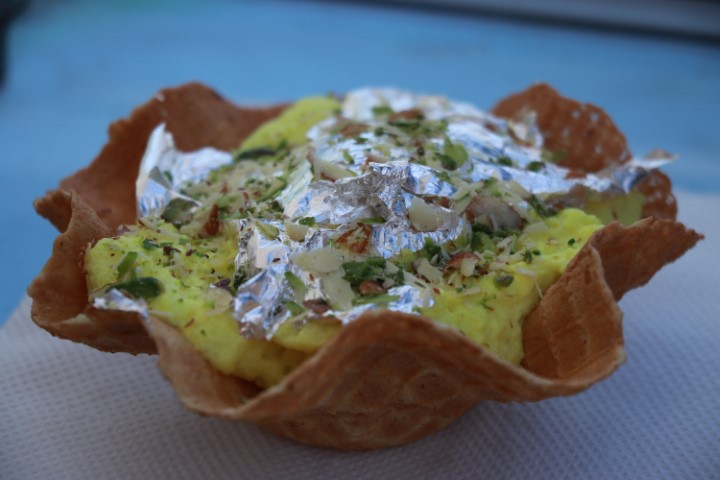 But for those who simply want to let go and indulge, the list goes on…from chocolate waffles, red velvet waffles, brownies, centre-filled Cupcakes, cookiewiches, meringues and waffle sticks to freaky shakes, donuts, marshmallow sundaes, chocolate eclairs, cookie dough, dessert jars and candy floss…
House of Desserts also has delightful surprises in store for those who love their sweets the traditional Indian way. While Maal Makhan or Nimish, a sweet made of milk cream, from Moolicious is a must-have, you can also try out their rich Rabdi. The famous Gohana Jalebi dripping with desi ghee from Gurgaon-based The Jalebi House is also worth a try. Interestingly, The Jalebi House is famed for its extra-large jalebis with just one jalebi being more than enough to fill the entire family.
If you happen to be a fitness freak looking for healthier options, the Greek Yoghurt from Epigamia is just for you. This yoghurt gives a makeover to the good old curd by using a Greek straining process.
Incidentally, Elante is organising this Dessert Festival as part of its fifth anniversary celebrations. "Celebrating five years of Elante, we decided to mark the occasion on a sweet note. Sweet is the taste of success. This dessert festival, the biggest the Tricity has ever witnessed, symbolises our grand success. We take this occasion to share our joy with our patrons and acknowledge their contribution to our success," said Mr Anil Malhotra, Executive Director, Elante.