NewZNew (Chandigarh) : A giant stride has been made in the field of Multicompartmental Knee replacement (MKR) as well as hip replacement in India. The concluding day of the Elite Arthroplasty Congress (EAC) being organised by Max Elite Institute of Orthopaedics & Joint Replacement at Hotel J W Marriott, witnessed the India launch of a Robotic Assisted Joint Replacement specifically designed for Multicompartmental Knee Replacement. This technology was unveiled Nationally at EAC by Dr Jeffery A. Geller from USA, who is also an expert at minimally invasive hip & knee surgery & complex revision surgery. Dr Geller conducted a Multicompartmental Knee Replacement surgery at Max Hospital, Mohali, which was shown live to delegates assembled at J W Marriott.  The surgery also showcased for the first time a path breaking new Multicompartmental Knee System, Journey II UNI which is set to bring a paradigm shift in the way knee replacements are done.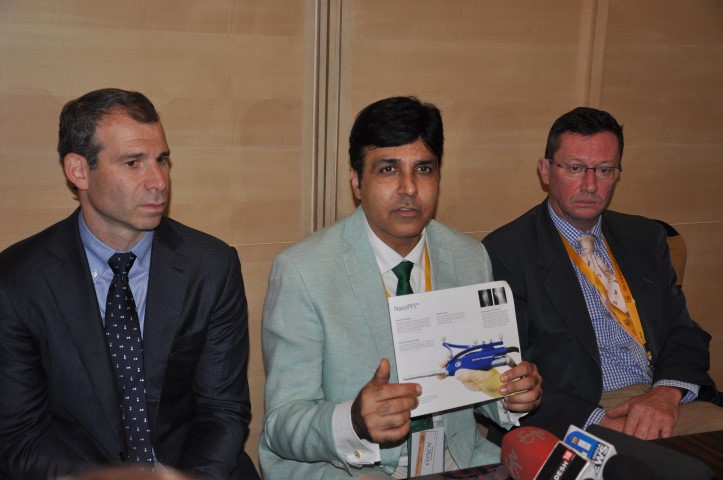 It is noteworthy that in Multicompartmental knee resurfacing options, only the damaged portion of the knee joint is replaced & remaining surfaces of the joint & ligaments, soft tissue can be pristine and preserved.
The Multicompartmental Knee System's advantages were showcased along-with the hand held Robotics Technology – "The hand held Navio Robotics system is certain to provide surgeon precision for a technically demanding procedure which is being done by a handful of surgeons across the World. The technology has been showcased for the first time in India at Max Hospital, Mohali, for display to surgeons from across India. The technology can result in smaller incision, least trauma to body & great precision. This can reduce patient stay in Hospital to an unbelievable 1 day." Said Dr Manuj Wadhwa, Course Director.
"This is a big leap & transformational shift in the era of rapidly exploding volumes of joint replacements. It will make technology an aid to improve accuracy, durability & lower pain for a patient." Said Dr Geller who performed the Robotic Surgery.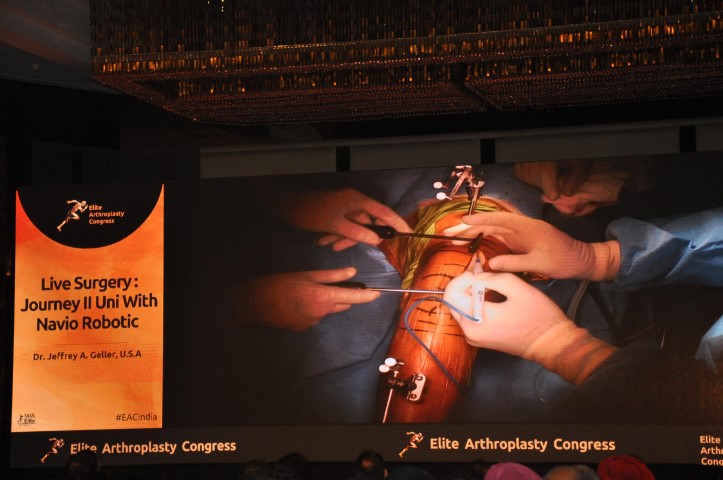 India's joint replacement scenario received another big impetus at the Congress– Pan India launch of Mako Robotic Arm Assisted System. Unveiling of the Robotic Arm Assisted System was done by a surgery conducted by Dr Frederick Buechel Jr, of USA who is an expert in outpatient Robotic Assisted Multicompartmental Knee Replacement.
The results have been very encouraging in the Western world where 50,000 Robotic Assisted Hip & Knee procedures have been performed since 2006.
The launch of Robotics' systems has been hailed by International Surgeons attending the Congress. "Robotic joint replacement will provide benefits like lesser blood loss, fewer complications which includes less risk of infection." Said Dr Ross Crawford, A Robotic Surgeon from Australia.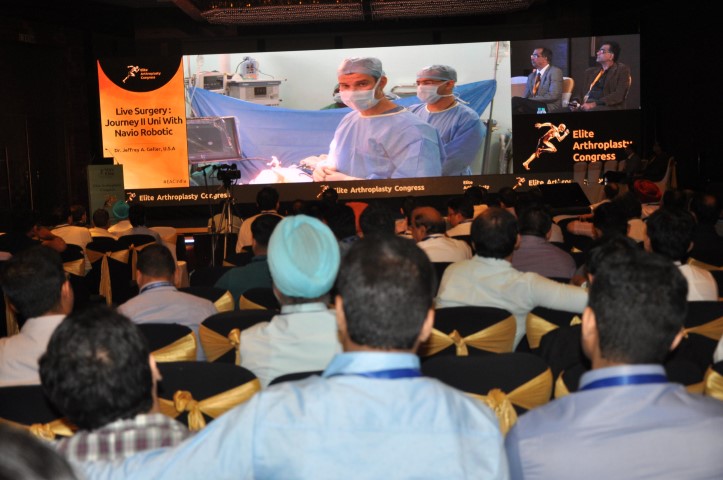 The launch of the Robotic systems in India is certainly an epoch creating event. Surgeons' conducting   joint replacements manually, do have that stress of 'human error' playing on their minds, which with use of the Robotic Device will become a thing of the past. This will usher in a new era in 'Joint replacement' and is sure to revolutionize how Knee & Hip replacement procedures are conducted in the country.