Eminent Orthopaedic Surgeon Dr Harpreet Gill Wins Two Trophies at Ludhiana District Table Tennis Meet: Dr Harpreet Singh Gill, Senior Orthopaedic and Joint Replacement Surgeon and Director of Advanced Orthopaedic Institute Ludhiana won two trophies at the recently concluded Ludhiana District Table Tennis meet.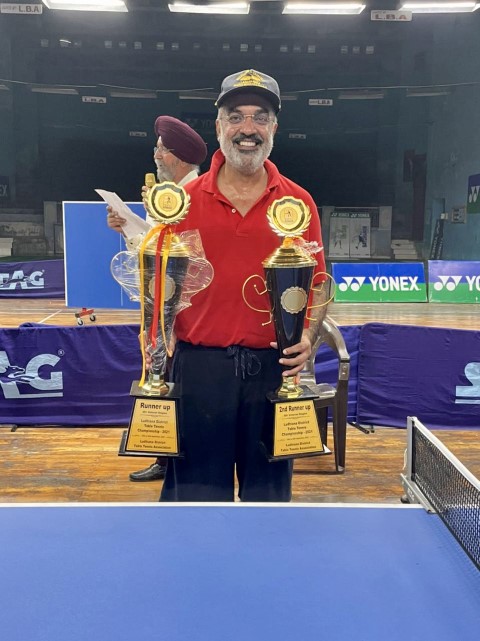 He was the runner-up in the of 39+ and 49+ categories. He was the only player in 39+ and 49 to win two trophies.
Dr Gill has been playing table tennis for many years now since long and has won many titles. Practicing what he advises to all his patients Dr Gill has been advocating that for a person to remain fit and to keep their bones and joints healthy, some sporting activity is a must.
"Usually people stop playing or exercising when they are past 50 years of age, thus leading to various bones and joints problems. Hence one should be striving to play some sport for a healthy body and mind,'' he said.
Dr Gill, who specializes in shoulder and knee joint replacement surgeries and sports injuries, further says that injuries can occur in veteran sports but if treated at the right time one can overcome these and play sports again. "Age should not hold you back to play your sports,'' he states.
The tournament was organized by Ludhiana District Table Tennis Association. The winners were given prizes by Mr NK Chand IRS, Principal Commissioner GST.
Also present were Secretary Punjab Table Tennis Association, Mr Pankaj Sharma. Past Champions of the state Manmeet Singh, Harjinder Singh, Fang Jen, Sanjeev Sood, Ramakant, H S Singh were present too.