Enjoy a Brunch Date With Your Dad This Father's Day at Sahara Star: Much goes unsaid and unexpressed, when it comes to conveying feelings and emotions to fathers. Celebrate this everlasting bond of love you share with your father over a perfect brunch date and create an unforgettable experience for him at Sahara Star.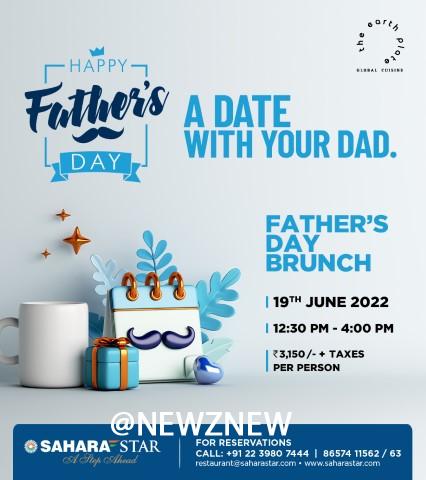 Enjoy contemporary and classic cuisine combining the freshest ingredients. From local delicacies to a wonderful selection of your international favourites hand-picked by the Chefs at Earthplate: the global cuisine restaurant.
Live Asian,
Mediterranean
and grills station with a superior bar and live music just adds to the overall vibe and feel of the experience followed by an express pampering session by our experts from the newly opened
Jean Claude Biguine Salon
. This session would include a hand or a foot massage for them to feel relaxed after a customized and flavourful tasty brunch.
All fathers can avail of a 30% discount on the brunch offer and much more.
It's time to appreciate this revered relationship and have your father spoilt for choice only at Sahara Star.
FATHER'S DAY OFFERS
Date: 19th June 2022
Timing: 12:00 noon to 4:00 pm
Price: Rs.3,150 plus GST
At: EARTHPLATE – Global Cuisine Restaurant, Sahara Star
KNow More About Sahara Star Hotel
Sahara Star, the flagship hotel of Sahara India Pariwar, is one of India's most desirable destinations. The 5-star deluxe hotel strategically located near Mumbai's domestic airport magnificently blends Indian mysticism and culture, while personifying the country's progressive spirit blending peerless hospitality with ultra-modern technology.
Creating a paradigm shift, Sahara Star showcases world's largest-pillar-less- clear- to- sky dome, an architectural landmark blending hospitality and entertainment to cater to one of the most individualized hospitality experiences. Hotel Sahara Star features 354 well-appointed luxurious guest rooms with 25 elegant suites. Four specialty restaurants with unique concepts and 1 inimitable journey.
Hotel Sahara Star brings together a sumptuous array of delicacies from across the Globe. The hotel features an unbelievable external façade made of glass and steel post-completion. Here, the culture, mystique & hospitality of India blend with modern facilities & services to create the finest business and leisure hotel in the country.