Families of deceased advocates receive financial aid: Chandigarh, The Bar Council of Punjab and Haryana dispersed financial assistance to the dependent of the deceased advocate at a function held at Law Bhawan, Sector 37.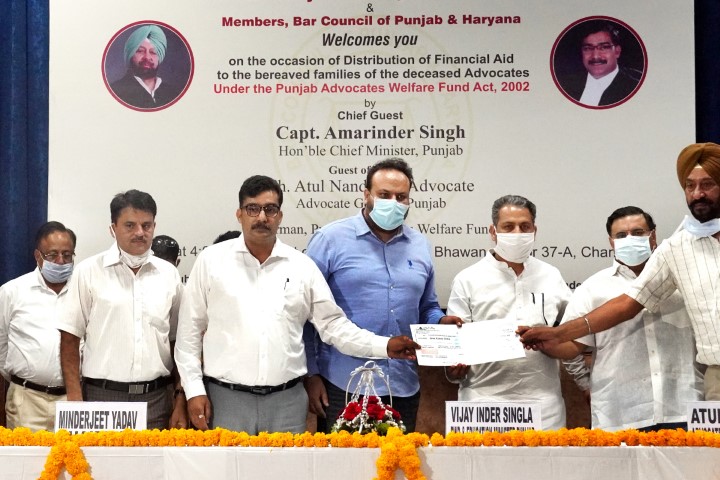 Minderjeet Yadav, Chairman, Bar Council conveyed his gratitude to the Chief Minister Punjab Captain Amrinder Singh for releasing One Crore Rupees to the Bar Council and financial aid to the families of 42 deceased advocates.
Cabinet Minister Vijay Inder Singla and Atul Nanda, Advocate General, Punjab graced the occasion who applauded the Bar Council's efforts for the welfare of the legal fraternity.The event was organised keeping in view of guidelines laid by state Govt.
"Apart from statutory, enrolment and disciplinary functions, the Bar Council has always worked for the welfare and betterment of the legal fraternity. Before the enactment and implementation of "The Advocates Welfare Fund Act" the Bar Council used their own resources for providing financial assistance to the families of 574 deceased advocates. But with the increasing inflation every year, the implementation of the welfare fund acts became necessary" urged Yadav.
"With the assistance of the welfare fund Act the State of Haryana has already disbursed more than Rs. 70 lakhs and the Bar Council has already disbursed more than Rs. 2.56 Crores as Covid-19 financial assistance to the affected members of the legal fraternity, in total comes to Rs. Three Crore 28 Lakh." Informed Yadav