Fashion Extravaganza THAT'S VOGUE in Ludhiana on December 19-20, 2021: AAB Productions announces the event THAT'S VOGUE in Ludhiana. Scheduled for December 19 and 20, 2021, the two-day event will see the whose-who of the celebrity world coming to Ludhiana. The event is being organised in association with FICCI FLO Ludhiana.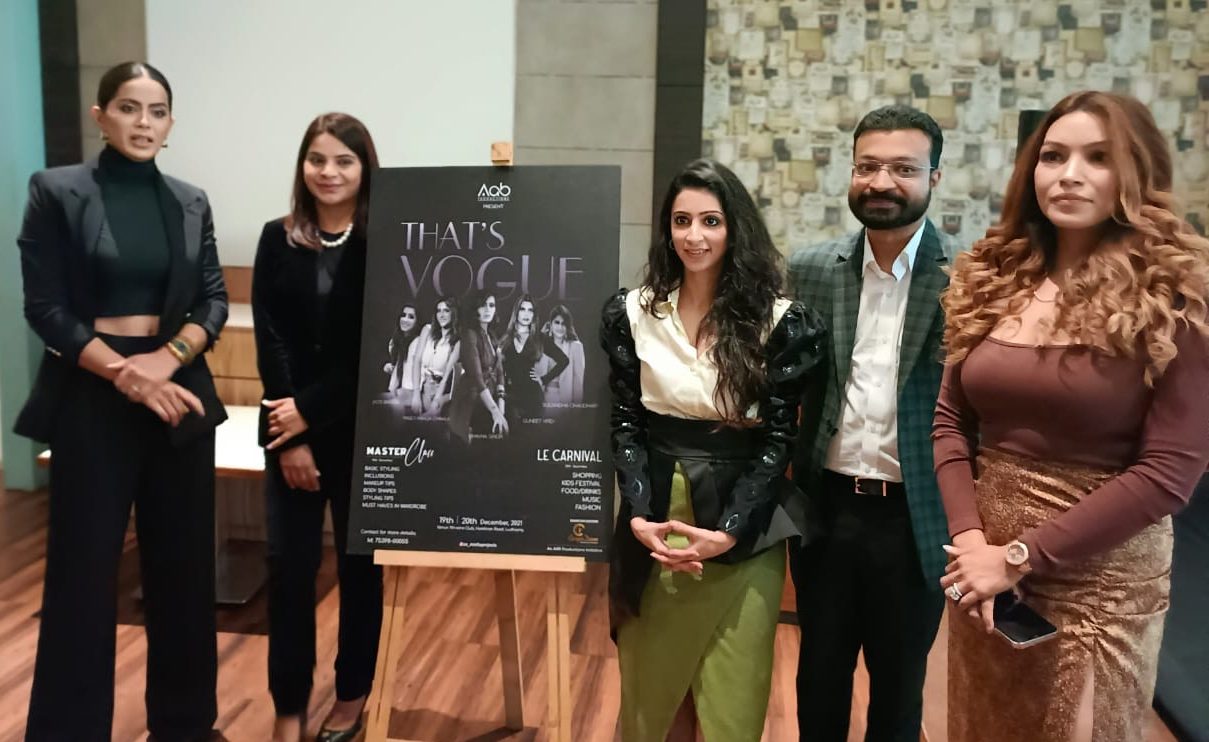 THAT'S VOGUE is an event which is a combination of entertainment with learning. December 19 will see a master class conducted by Celebrity Stylist Bhavna Singh, Make Up Artist Guneet Virdi and Social Media Influencer Preeti Pahuja Chawla.  An exhibition which shall be attended by 25 fashion and lifestyle brands shall be held on December 20.
Talking about Aab Productions and their initiative THAT'S VOGUE, Aneesh Bansal Director stated: "Being a strategic event company, Aab Productions tries to bring the best together and THAT'S VOGUE is also one such initiative.''
Speaking about her tie up with THAT'S VOGUE, Bhavna Singh states: "Being a well known name in the glamour industry with over 17 years of experience, I have worked with many national and international brands. Recently I was the chief guest to the Indian Pageant Queen of the World where I shared the stage with Malaika Arora, Isha Koppikar and Madhu Chopra. With over 190k followers on instagram, I am hoping to bring to Ludhiana the best of the best.''
Speaking about THAT'S VOGUE, FICCI FLO Vice Chairperson Neha Gupta stated: `It's a privilege to be associated with an event of this stature. We are glad to be able to get to Ludhiana this scintillating event with an array of good brands and celebrities.''
The two day  (December 19-20) event also involves expertise from:
GUNEET VIRDI: A beauty influencer and makeup artist, she is known for her phenomenal   makeup skills. She was recently the showstopper at the Delhi Times Fashion Week. She is followed by most makeup enthusiasts on social media and has over 700k instagram followers.
PREETI PAHUJA CHAWLA: An instagram influencer/blogger, Preeti is the founder of Hawtlash. She has over 150k instagram followers.
SUGANDHA CHAUDHARY: Director Carpe Diem, Sugandha deals with most upscale brands in the country. She is getting leading brands to Ludhiana through THAT'S VOGUE.
URMI BORUAH: Former Mrs India Galaxy 2011, a fitness and lifestyle instructor, Urmi is Director of Queen of the World, India, a beauty pageant which involves celebrities, stylists and models from all over the country. Urmi aims at working for women empowerment.
JYOTI BANSAL: A leading Ludhiana-based designer, Jyoti is the creative director of AA Event Projects. She also runs a charitable organisation PINK EARTH, where financially weak women come together and make bags from old newspapers.
ANEESH BANSAL: The sole distributor of Raymond's and JK Files Tools in North India, Aneesh has over 35 retail stores. Founder of AA Media Projects, he has a vast knowledge of lifestyle, entertainment, fashion and politics.