Software Engineer couple Indu Chauhan and Apurav Chauhan made an app Feelsafe Maps & won Rs. One lakh award in Appmyindia hackathon organized by MapMyIndia
newznew (Chandigarh) :
Feelsafe Maps uses technology to allow over 15 million visually, speech and hearing impaired people to take advantage of MapMyIndia APIs to become independent and stay safe in ever growing crime oriented society. It acts like a personal secretary and a virtual friend to its consumers.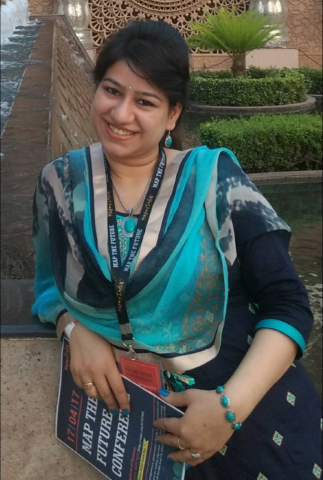 Creating an example of women empowerment IT Professional Indu Chauhan says that it will integrates with National Crime Record Bureau to gather crime data and will use Artificial Intelligence to tell users about suspected crime location that they can avoid and stay safe. On its roadmap it will also try to open new doors of advertisement technology to travel industries and at the same time making the journey of 1 billion Indian population more interactive and enjoyable. Indu Chauhan says that with the use of this simple app, aims to making everyone enjoy a safe journey and for people with special needs, the aim is to empower them to become independent in every way.
Indu Chauhan added that this app was declared as the winner for Appmyindia hackathon organized by MapMyIndia Company. It was recognized for its social impact and won award of Rs. 1 lakh.
While describing its technical part Indu Chauhan says that it comes in Speak mode and Feel mode. In Speak mode, any user can interact with the app directly by speaking then telling it which location to search. It will give the result in the same mode by speaking up the distance between the two locations and the time it will take you to reach the final destination. The app will start giving directions when the user asks it to navigate. While navigating the app will caution the user about any possible crime location nearby based on the crime history of the location. This mode is very useful for blind persons who can't see, can use this mode to become independent.  And it will also for normal people to go hands-free while travelling to unknown locations with the use of mapmyindia map apis.
While describing the second mode, she tells that this is a special mode built for those people who can't speak, hear and see. This mode uses proprietary implementation of Morse code which is very easy for people with the knowledge of Braille language. These users can communicate with the app with the combination of long and short taps to ask for directions to a location and the app communications the message via mores code transmitted via your phone's vibration. This is a breakthrough technology revolution which works without requiring any special hardware. 
The beta version is live on play store and open for feedback. It can be downloaded from Google play store via following link:
https://play.google.com/store/apps/details?id=com.webilm.apps.feelsafemap&hl=en