FICCI along with CropLife India and ACFI organize 8th Agrochemicals Conference 2019: The subcommittee on Agrichemicals, Federation of Indian Chambers of Commerce and Industry (FICCI), today organised a conference on "Role of Agrochemical in Sustainable Farming'.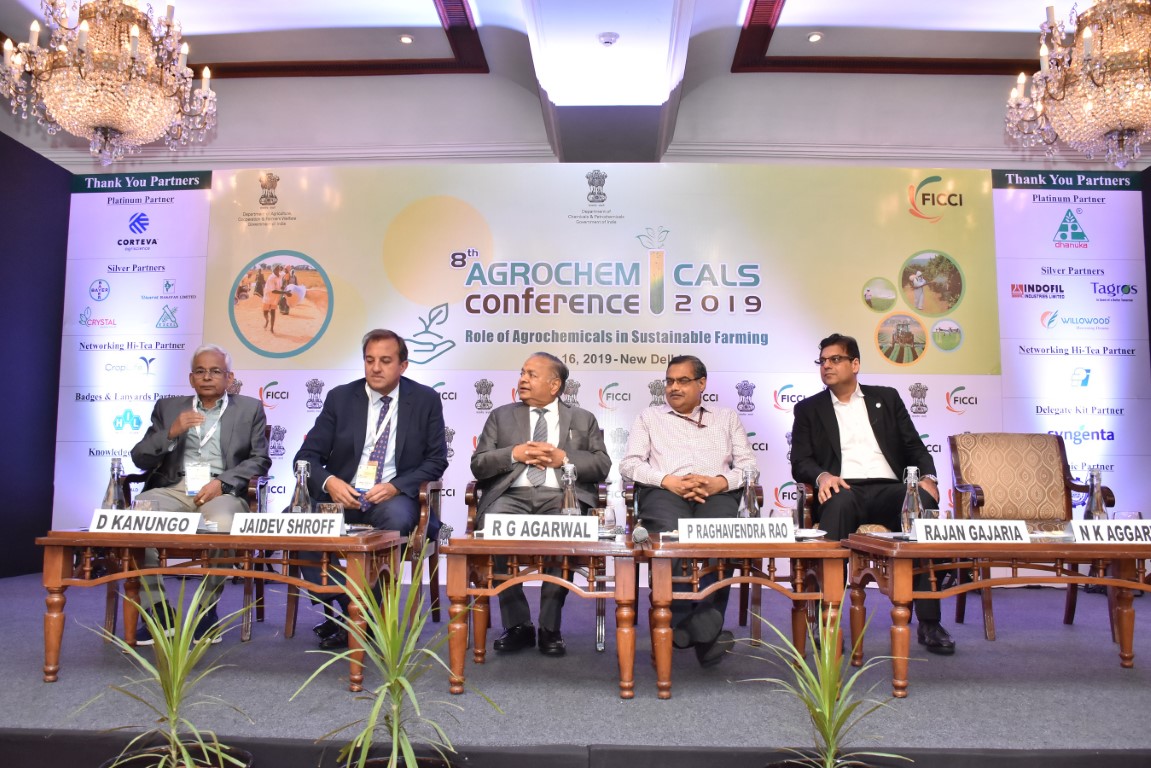 Shri P. Raghvendra Rao, Secratory ( Chemicals & PetroChemicals), Dept of Chemicals and PetroChemicals , Govt of India, inaugurated the event, which was attended by senior officials and heads of agrochemical companies, scientists, academicians, technocrats, corporates, policymakers and farmers. Prof. Ramesh Chand, Member NITI Aayog also attended the conference.
Representatives of the agrochemical industry expressed their views on making agricultural practices in India more climate resilient and profitable for farmers. Among the topics discussed at the conference were a reduction in timelines for registration for new molecules (first time to country), protection of regulatory data (PRD) and implementation of international best practices. They discussed ways to help bring new technologies to Indian farmers, reduction of GST on crop protection chemicals, and to curb the proliferation of spurious agrochemicals.
Shri R.G. Agarwal, Chairman, FICCI Subcommittee on Agrochemical and Dhanuka Agritech Ltd said, "Crop protection is vital for ensuring a better yield which will bring healthier returns for farmers. Though the government committee on 'Doubling farmers' income' accounts mere 0.4% as the cost of agrochemicals in entire agriculture process, if inferior or spurious pesticides are used, then the rest 99.6% of investment in agriculture may go waste. As such special focus should be to ensure supply of quality pesticides to farmers. The discussions among all industry stalwarts today have brought out many insights which will help the industry bring the latest and best products to farmers."
Mr. Rajan Gajaria, Executive Vice President, Busines Platforms, Corteva Agriscience said, " For the growth of this sector, we need to focus on customer trust, conversion of technology and collaboration with all stakeholders. Innovation is the answer to sustainable agriculture.As a leading international company we can work with govt to bring best technologies to india. Only by working in collaboration with govt, NGO's , other companies in our industry and also by having dialogue with people who are non believers, we can provide the required reach in agriculture sector/ development".
Shri, P. Raghvendra Rao, Secratory ( Chemicals & PetroChemicals), Dept of Chemicals and PetroChemicals , Govt of India said , " India's positioning in world's chemical sector is 6th but the contribution is mere 3% to overall chemical market in the world. Whereas China's contribution is 39%.In last 15 years the import of chemicals in our country has risen 100 times. It is now important that we must work towards, reduce dependency on imports and improve our contribution to the world in this sector. I am glad that such events are organized to bring more facts about the challenges in this industry. Dhanuka Agritech has been highlighting the issue of duplicate/ spurious pesticides since long, now we can assure of organizing a meeting with agri official to address this issue soon".   
The conference further stressed modern farm management in India by encouraging R&D, innovation, application of New Age solutions and adoption of innovative technologies.