NewZNew (Chandigarh) : There is good news for cycling enthusiasts. The 5th Edition of Chandigarh Cyclothon is being held in the city on November 27. There will be many competitive races organized as part of the mega Cycling Event. The main race at the Cyclothon will be a National Pro Race in which as many as 100 professional cyclists will show their cycling skills. This will be a 60 kms race. The Cyclothon is giving a chance also to amateurs — an Amateur Race of 20 kms is being organized which will be open to all ages.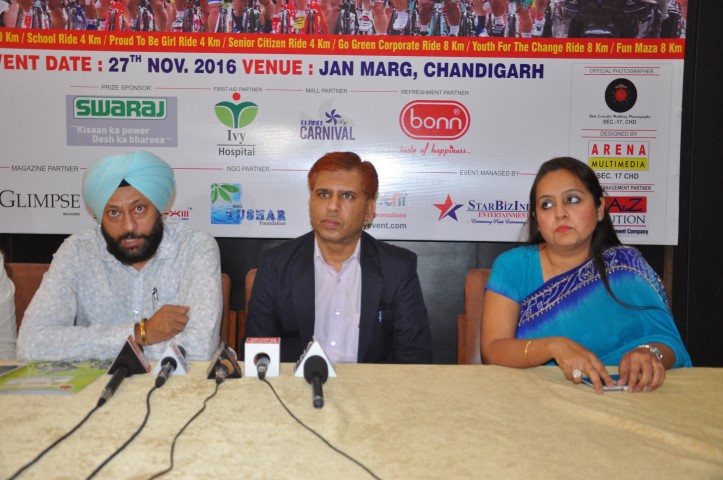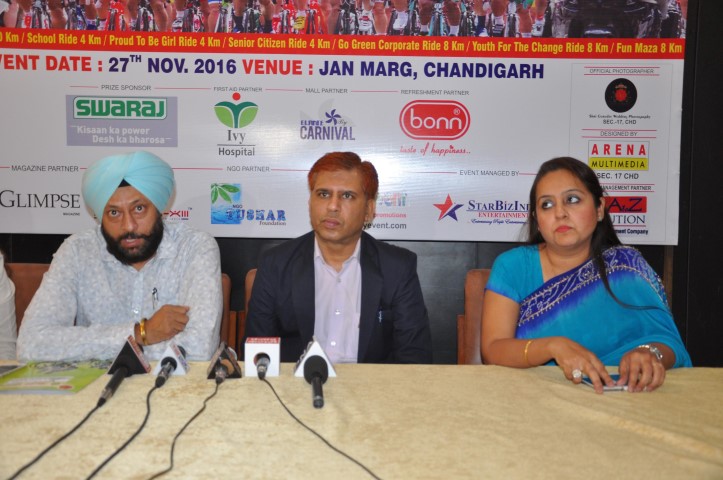 In the Non Competitive section a 4 Kms 'School Ride' for School Children in the age group of  7-17 years, an 8 Km 'Fun/Maza ride' for people from all age brackets and a 4 Kms 'Senior citizen Ride' (Age 50 years & above) are planned. This time the Cyclothon will be giving social messages also through its rides. 'Youth for Change' an 8 Kms ride for College & University students is being held. 'Proud to be a girl ride' of 4 kms for Women (20 years & above) will give a message of women empowerment. What's more, the importance of safeguarding the environment will be given by the 'Go Green Corporate Ride' of 8 Kms.
A press meet was organized to announce the start of registrations of the Chandigarh Cyclothon.  Yadvinder Singh, Director Consultant, Sports 13 – the Company which has conceptualized the event said, "Those desirous of participating in the Amateur Race & Non Competitive rides can register for these by simply logging onto www.bookmyevent.com & following a simple registration process. One can mail at   [email protected] or [email protected] or contact 9815409107f for registration. Information can be obtained from our website www.chandigarhcyclothon.com. We have also put up information & registration kiosks at Elante Mall,Sukhna Lake, Near tourist Information centre Sec 17, Leisure Valley Sector-10 & CITCO Restaurant,  Sector -34 & Students Centre PU." Sharing more information about the event, Kiranjot Kaur – MD Star Biz India said, "Chandigarh Tourism is hosting the 5th season of Chandigarh Cyclothon. This is happening under the aegis of Sports Authority of India, Cycling Federation of India and Chandigarh Amateur Cycling Association. The event is an initiative by Sports-13 a Sports Management Company and is being professionally organized by StarBiz India. His Excellency Hon'ble Governor of Punjab has consented to be the Chief Guest at the event."
The prize money to be distributed amongst the athletes will be Rs 2.5 lakhs for Pro Race & Rs 50,000 for Amateur Race. Said Mandeep Kumar – Section Officer, Chandigarh Tourism, "The city with its sprawling green belts is a paradise for nature lovers' and the sport of cycling goes well with this image. Adequate security, first aid and ambulances arrangements will be made." An expo to share more information with participants will be conducted on November 25 & 26 at Elante Mall from 11 am onwards.  "Our company has associated with the event as we have been in the forefront of promoting Cycling for a healthier lifestyle. We want to popularize Cycling as a mode of transportation looking at the environmental degradation due to pollution being witnessed in cities." Said Harish Ahuja, Manager , Publicity & Advertising, Avon Cycles.
The competitive races and non competitive rides, will be flagged off from Jan Marg in Sec 10 and will end at the start point.