Various development works for providing drainage, restoration of roads & streets and making arrangement for drinking water, initiated in the village.
Financial Grant amounting to Rs. 12 lacs issued for community centre to be constructed.
Reporting perverting comments to Local Legislator about development works is not objectionable.
Complaint lodged against the defaulters clogging the water supply pipeline with plastic polythene.
Lok Sabha Member Prof. Prem Singh Chandumajra reviewed the development works being carried out in historical village Daun.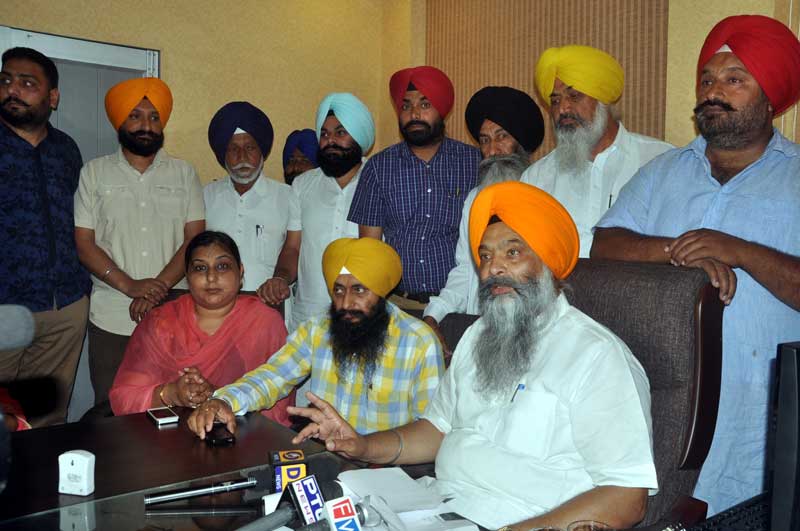 NewZNew (S A S Nagar) : Financial aid of Rs. 25 lacs have been released in six months for various development works to be carried out in historical village Daun and various development works such as providing drinking water facility, restoration of roads & streets, drainage facility are being carried out on first priority in the village, so that this village could be converted in to model village. This was stated by Prof. Prem Singh Chandumajra, Member Lok Sabha from Sh. Anandpur Sahib, while addressing the press at meeting hall of Mata Gujri nursing college Balongi after reviewing the progress of development works.
Prof. Chandumajra said that financial grant of Rs. 2 laca has also been issued for the community hall for which the work will get started very soon. He said that a drain worth Rs. 8 lacs is also being constructed at here and for making a cremation ground Rs. 3 lacs are also being issued. He said that approximate 1.5 kilometer concrete drains have been constructed so far and the remaining work will be got completed soon. He said that special grant has been issued for providing & installing dustbin at various prominent places. He said that under Swach Bharat Mission Seminar & special camps are also being organized to generate awareness about clean & green environment, good agriculture practices and about female foeticide. Loans at subsidized rates are also being provided by Punjab National Bank for encouraging self employment.
During this, Prof. Chandumajra condemned the perverting comments about development works done by local legislator Balbir Singh Sidhu. He said that instead of perverting comments he should be thankful for being chosen this historical village under Saansad Adarsh Gram Yojna. He said that instead of believing others and commenting one should know the factual position. He said that taking a look at previous 60 years this grant issued in just six months is a big amount. During this he said that complaint has been lodged against the defaulters for clogging the water supply pipeline with polythene and strict action will also be taken. In this regard, officials have been directed to explore the matter & bring out the actual report on overflowing of water. He said that each & every effort will be done for developing the village Daun & making it as a Modern Village.