newznew (Chandigarh) : Fire and Security Association of India, Chandigarh Sub-Chapter was launched here today. Fire & Security Association of India (FSAI) is a non-profit organization to promote and advance the use of fire safety and security systems, and to foster fire safety and security engineering education and awareness.
FSAI aims to work closely with the Government and all other stakeholders to enable the Indian fire and security industry to reach global pre-eminence with better regulatory framework.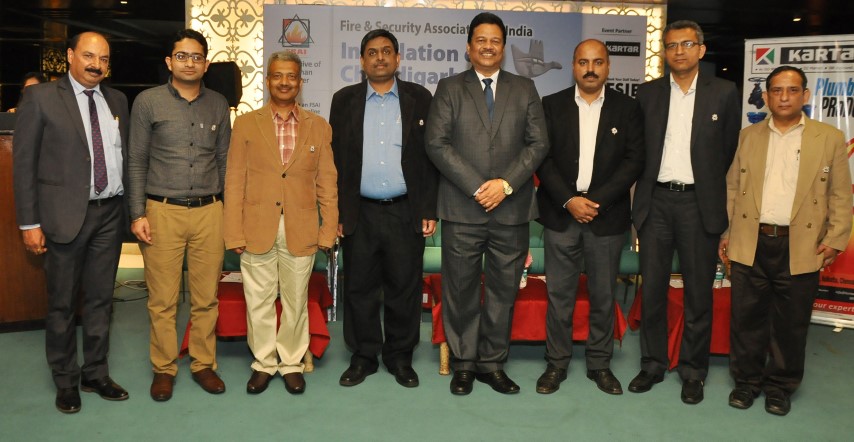 During the launch of Chandigarh Sub-Chapter at Hotel Shivalikview in Sector 17 here, a panel discussion was conducted at on 'Various Fire Safety Norms in India' where the eminent panelists from Chandigarh, and Punjab were present, including Mr. Surinder Bahga, IIA Chandigarh-Punjab Chapter, Mr. P.S Saini, Superintending Hospital Engineer, PGIMER, Chandigarh, Mr. Gaurav Pajni, GM Civil Projects at Sushma Buildtech Pvt. Ltd., Sh. Rajan Mittal. They shared their views on various fire safety norms which need to be implemented while construction of buildings.
Among other prominent who spoke on the occasion were Mr. D.K Shami, Fire Advisor to Government of India, Mr. J C Sharma – Chief Fire Officer from Shimla ( H), Mr. Rakesh Arora, Chair – Chapter Promotion and Membership, Mr Balwinder Sandhu, CFO Punjab and Ms Jyoti Manaktala, Regional Head – North & East.
During the launch event, Mr. Anuj Agarwal took the oath as Joint Secretary of FSAI Chandigarh Sub-Chapter and CWC Committee was also constituted which includes Mr. Pankaj Sareen, Mr. Money Khanna, Mr. Rajan Mittal.
FSAI has over 3,300 members including leading 400 global and Indian corporates and large number of professionals including leading architects, consultants, and end-users. FSAI has 16 Chapters across India and Chandigarh is 17th Chapter including Mumbai, Delhi, Kolkata, Chennai, Bengaluru, Hyderabad, Gujrat, Pune, Visakhapatnam, Mumbai, Kochi, Goa, Rajasthan, Madhya Pradesh, Nagpur and Coimbatore which regularly conduct programs and events for the benefit of the members and spreading awareness about safety and security.