450+ exhibitors and 200 + new products expected.
Live demonstration of more than 500 woodworking machineries, technologies at DelhiWood 2017
Technology Up-gradation, Capacity Expansion, Skill Development &much more at DELHIWOOD 2017
Chandigarh: The fifth edition of the woodworking industry's eagerly anticipated biennial event, DelhiWood 2017, will be held from 1-4 March 2017, at the India Expo Centre & Mart in Greater Noida, India.
More than 450exhibitors from over 30 countries will showcase modern cutting-edge technologies, machinery, tools, fittings, accessories, raw materials and products for furniture production and wood-based manufacturing, housed in a whopping 30,000 square metres of space. Organised by PDA TRADE FAIRS andsupported by Eumabois, the 14-country federation of European woodworking machinery manufacturers, the 2017 edition of DelhiWood proudly announces an unprecedented 40% growth in size. Besides the customary presence of the world's leading woodworking technology companies, DelhiWood 2017 is rich in international presence with over 60% international exhibits occupying the total space.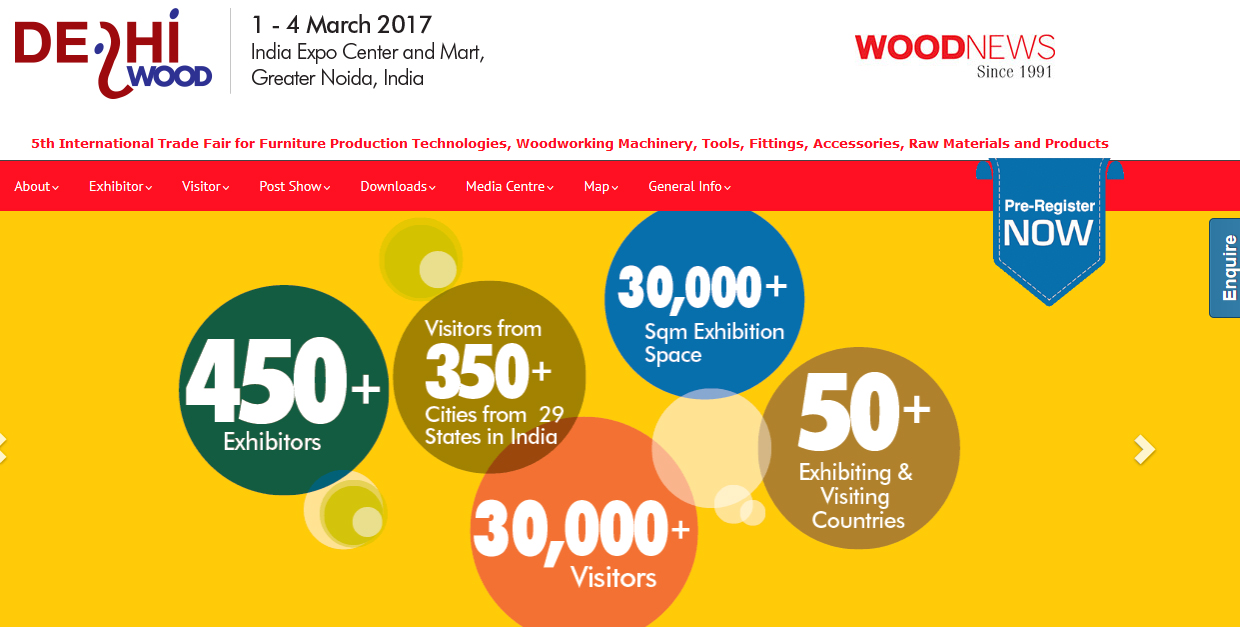 DelhiWood has, over the last 4 editions, evolved to be one of the largest industry-specific events, offering a 360-degree experience for furniture and wood-based manufacturing industries. DelhiWood, initially conceived to cater to the Northern, Central and Eastern Indian woodworking industries has, over the past three editions, grown to be recognized as an international event,drawing visitors from across India and from the SAARC & Gulf regions.
The international flavour of DelhiWood is reflected in the many country pavilions at the show.  Participating pavilions from Canada, China, France, Germany, Italy, Malaysia, Russia, Taiwan, Turkey and USA will showcase their home-grown innovations and products at DelhiWood 2017. Offering a platform for converting potential to commerce, DelhiWood 2017, showcasing modern automated solutions in furniture and wood-based production technologies, will open opportunities to the projected US$-35-billion by the year 2020 in the Indian wood-based furniture and products market.
Among other highlights, DelhiWood2017 is hosting an International Timber Forum that aims to bring furniture manufacturers, builders, architects, interior designers, civil engineers and construction project consultants to connect with international timber suppliers to understand the different species of timber suitable for India, engineered wood and their properties and availability. While dissemination of latest technologies is one of the biggest achievements of the show, skill development of small furniture manufacturers, carpenters and craftsmen will be actively addressed in the current edition of DelhiWood 2017 in association with the Furniture and Fittings Skill Council (FFSC). According to a report of the National Skill Development Council (NSDC), India's furniture and furnishings industry will need 11.3 million skilled workers by the year 2022. The FFSC is driven by the NSDC to a raft of training programmes and schemes toward meeting this demand without diluting the expected quality standards.
DelhiWood 2017 is being seen as the ideal platform to further this agenda,andFFSC will be conducting a 4-day Orientation Programme for furniture manufacturers and carpenters at the 4-day trade fair.
DelhiWood 2017 will deliver robust business interactions for all involved in uplifting India's dynamic furniture manufacturing and woodworking sectors amidst its shift towards a technology based industry.