First Mako Robotic-Arm Assisted Technology for knee and hip replacement launched: Amritsar reached an important milestone in knee and hip replacement with the launch of the world's most widely adopted US FDA approved Mako Robotic-Arm Assisted Technology.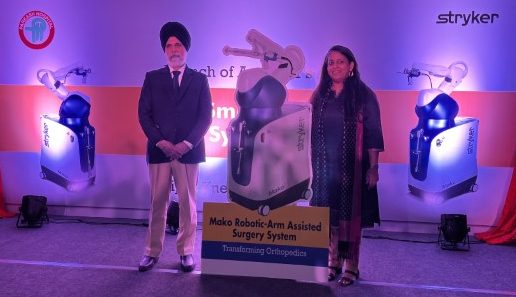 The Mako SmartRobotics System has been installed at Parkash Hospital, said a press release jointly issued by Stryker India, a leading global medical device company, headquartered in the US, and Parkash Hospital, a renowned hospital in the city of Amritsar.
The launch comes as an important milestone for Parkash Hospital and Stryker, in their endeavor to bring the most advanced technology and treatment for patients suffering from knee and hip joint disorders. Mako Robotic-Arm Assisted Surgery enables surgeons to deliver more predictable surgical outcomes with increased accuracy.
Speaking on the launch and elaborating on the difference between conventional and Mako Robotic-Arm Assisted Surgery, Dr. Parkash Singh Dhillon, Medical Director at Parkash Hospital, said: "One of the challenges with traditional surgery is that surgical accuracy depends mostly on the surgeon's experience and technique.
Mako SmartRobotics System allows us surgeons to make precise bone cuts on the diseased joint, every single time. With Mako, we are able to know more about our patients than ever before and are able to cut less. First 22 patients we have operated on have shown encouraging results."
"While conventional knee or hip replacement surgeries have been improving life of patients effectively over last three decades, Mako will scale up our accuracy significantly. As suggested by the literature and our experience with initial surgeries, we have seen tremendous patient benefits such as precise planning and bone cuts, more bone and soft tissue preservation, less post-op pain, faster recovery, quicker discharge and less blood loss.
This technology has the potential to transform the way joint replacement surgeries are performed. We are very proud to bring advanced technology with Mako SmartRobotics to the doorsteps of patients in Punjab," Dr. Dhillon added.
Each patient's bone anatomy is different, and arthritis further tends to alter the diseased joint. In case of a knee or hip surgery, Mako System's software helps create a 3D model of the diseased joint based on the patient's CT scan. The software then allows creating a personalized virtual surgical plan for each patient, based on their specific disease condition.
This planning, done even before entering the operation theatre, helps in deciding the most accurate bone cuts and alignment of implants. The technology, with its insightful data analytics, allows the surgeon to modify the plan during the surgery, if required. And once the plan is locked, the Mako System assists the surgeon in executing the bone cuts in the operation theatre.
The unique Accustop™ haptic feedback technology ensures that the surgeon remains within the virtual boundaries created. Since the robotic arm cannot be physically moved outside the virtual boundary, it enables preservation of the soft tissues. This allows most accurate bone cuts, positioning of implants and protecting any injury to soft tissue.
Mako is a robotic platform that facilitates partial knee, total knee, and total hip replacement on the same platform.
Congratulating Parkash Hospital on this important milestone, Ms. Meenakshi Nevatia, the Vice President and Managing Director of Stryker India, said, "We are very happy to partner with Parkash Hospital and it is indeed a proud moment for Stryker. Our common vision of bringing newer innovations to improve patient outcomes and making healthcare better makes our partnership with the hospital very special. We are truly excited about the potential impact Mako will bring in improving patient outcomes for joint replacement across Punjab."
The largest global install base approaching 1,500 Mako Systems, over 615,000 Mako procedures across the globe and more than 300 publications in published, peer reviewed studies establish the clinical prowess of Mako Robotic-Arm Assisted Technology.
Know More About Stryker 
Stryker is one of the world's leading medical technology companies and, together with its customers, is driven to make healthcare better. The company offers innovative products and services in Medical and Surgical, Neurotechnology, Orthopaedics and Spine that help improve patient and healthcare outcomes. Alongside its customers around the world, Stryker impacts more than 100 million patients annually. More information is available at www.stryker.com.