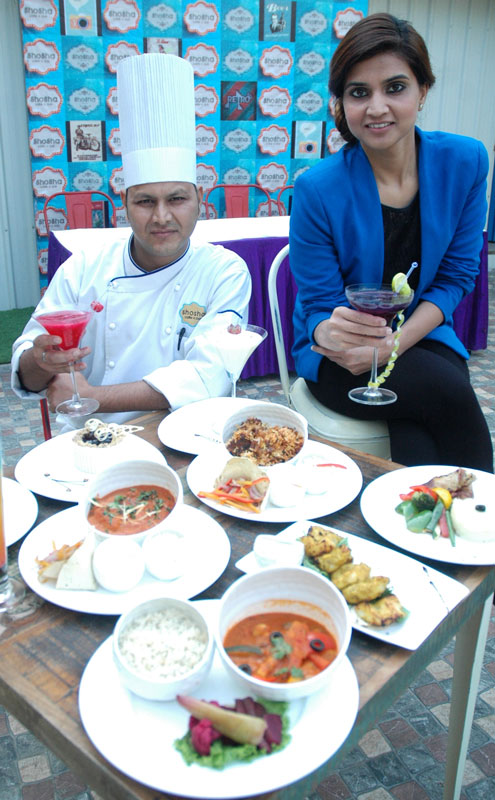 NewZNew (Chandgarh) : Shosha Café n Bar, The first Retro bar today opens in Chandigarh. There is no better place to enjoy the very pleasant lounge at S.C.O. 20 (Backside), Sector 26, Chandigarh.
Shosha Café n Bar makes it possible for the guest to create their own unique retro perception with relaxing, stylish, décor with seating of 150 people indoor and open roof set up. The entire place is shielded from natural elements with grown up trees. Our well designed and equipped kitchen provides innovative mouth watering appetizers and enriched gravies from breakfast to mid night meal.
Shosha will be entertaining the entire guest from Monday to Sunday through amazing live band performance along with in house DJ every evening.
Our Bar tenders give immense pleasure to the entire guest to creates in house infused drinks and flambé shots. Great selection of single malt, wines, spirits and cocktails enhance the test and give a WOW factor to the entertainment.
Walk-into be greeted by courteous friendly and well managed staff all the time. The suggestive and helpful staff creates the excellent environment for all the guest like "HOME AWAY FROM HOME". People will enjoy their evening with their family in cozy place with nice selection of food & drinks.
Youngsters will hang out and enjoy the place with live band performances & get together with their friends & remember their friendship era. Shosha Café n Bar bakery provides sizzling desserts from morning to evening, from kitties to big gathering.
On occasion of launching Mr. Neeraj Bansal & Mrs. Monica Bansal, Managing Director of Shosha Café n Bar said, as Chandigarh like to think of himself as forward thinkers and consumer. They are constantly searching for the newest and hottest, most stylish decor.  According to the scenario of Chandigarh it is necessary to give some change to the city.
Services
Retro is familiar for rustic, huge and open air space and has the seating capacity of 150 people.
Retro stands out for its great, airy rooftop ambience open from all three sides.
Party, relax, repeat with the 'real' spirit of Chandigarh!
Shosha Stories.
Celebrate the best time of the year way you want it, the shosha way!
With one-of-a-kind Cafe and Bakery that you will love. Throw your kitty with your friends or come over for a couple kitty at our magnificient café n bar!
Shosha special Cocktail and Mocktail connections to get you started.
Couple Dine-in under the stars in our open air cafe, this one you will come back for Shosha Time.
Chef Navin will whip his delectable treats for you to splurge on.
For those who like it healthy, our menu is designed with you in mind!
Low Calorie and high nutrition food and desserts on the menu.