DR. CHEEMA GUIDED CANADIAN DIPLOMAT REGARDING DEVELOPMENT ORIENTED INITIATIVES OF PUNJAB GOVERNMENT
SHOWERS PRAISE ON VOCATIONAL & SKILL TRAINING STEPS OF PUNJAB GOVERNMENT
NewZNew (Chandigarh) : The First Secretary (Political Relations) of Canadian High Commission, New Delhi, Mr. James Stone today called on the Education Minister, Punjab, Dr. Daljit Singh Cheema. During the interaction, both personalities exchanged information about the culture and traditions of Punjab and Canada.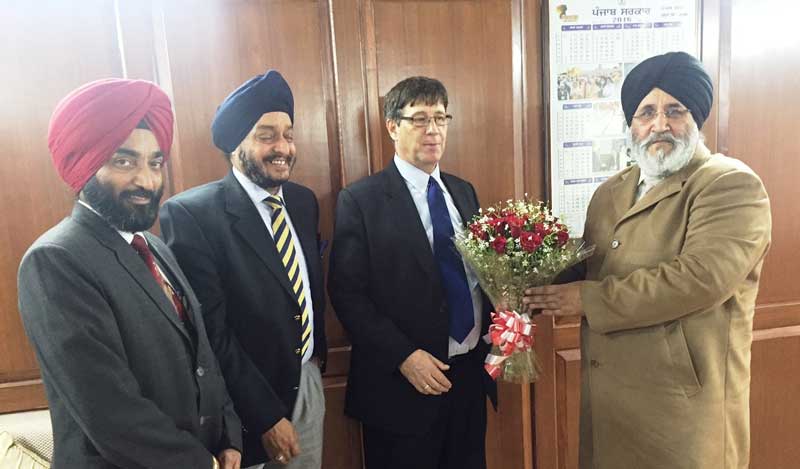 During the discussions carried out on wide gamut of issues, Dr. Cheema briefed the Canadian diplomat about the various development oriented initiatives of the State Government. Mr. James Stone appreciated the vocational and skill development steps formulated by the Punjab Government. The Education Minister said that while on one hand, the state government has taken path breaking to create a state of the art infrastructure, on the other hand top notch vocational and job oriented training is being provided to the youth besides attracting them towards sports.
Divulging about the economy of the state, Dr. Cheema said that the state government gave much needed impetus to the industrial and economic development in order to put the economy back on track after the turmoil filled era of terrorism derailed it. In pursuance of economic development agenda, the state government organized 2 grandly successful investor summits. Dr. Cheema further told the Canadian diplomat regarding the various power projects to make Punjab, a power surplus state. He also said that the main initiative of the Chief Minister is to maintain peace and harmony in the state.
On his part, Mr. Stone lauded the novel initiatives undertaken by the Punjab Government and also specially made a mention of the contribution made by Punjabi people towards the all round progress of Canada. He said that he learnt a great deal about Punjab during today's interaction.