NewZNew (Chandigarh) : Carrying its campaign forward, the Joshi Foundation in collaboration with MCM DAV College, Sector 36, organized an "Anti-drugs Pledge Program' in the college Gymnasium Hall, here today.
With an aim to sensitize girls, who play multiple roles like a daughter, a sister, a mother, a mother-in-law and sister-in-law, about the drug abuse, a workshop was also organized on the occasion.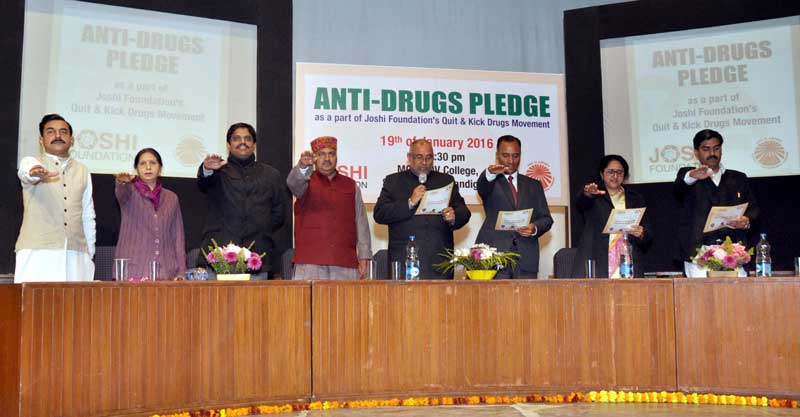 The key speakers including  Vijay Dev, Adviser to the Administrator, Chandigarh, Avinash Rai Khanna, MP Rajya Sabha and National Vice President of BJP, Ajit Balaji Joshi, Deputy Commissioner, Chandigarh, Dinesh Kumar, State general Secretary, BJP Punjab, Dr Nisha Bhargav, Principal, MCM College, Vineet Joshi, Chairman, Joshi Foundation and Assistant Media Advisor, Punjab Government & Saurabh Joshai Councillor , chandigarh shared their views and motivated the students to say no to drugs.
In his address Vijay Dev said that the women could play an important role in curbing the menace as they have to play many roles in their lives and thus being a major change in the society.
He also asked the girls to stay away from all different substances of addiction. He said, "You (girls)) are the torch bearers and as a member of family there are immense responsibilities on your shoulders. So remain healthy in all prospective."
Avinash Rai Khanna, advised the students to remain firm on your decision –not allowing any member of the family take any kind of drugs- besides educating them about the consequences of drug additions."
He also asked the teachers to develop a strong teacher-student bond and motivate their students towards other physical and recreational activities instead of following the wrong tracks.
The students could prove the best ambassadors in spreading the awareness among masses, he pointed out.
The UT Deputy Commissioner, Ajit Balaji Joshi, threw light on the burning issue – Drug menace- in Punjab. He said the villagers on the Indo-Pak border and those in the interstate are most vulnerable to substance abuse. He held the politicians, police and bureaucrats responsible of this sharp increasing trend among youngsters.
Vineet Joshi, however, claimed that poor parenting in our society was one of the main reasons for compounding the menace. He said the parents must keep a close watch on their wards and they must share each and every moment with their children instead of keeping them aloof. Saurabh Joshi, Gen Secretary, Joshi Foundation, thanked the speakers and college principal Dr. Nisha Bhargav for making the event a success. Khanna & Vijay Dev Administered Anti Drug Pledge to the students in the end.