Fortis Hospital Mohali holds 7th Endovascular & Ultrasound-guided Venous Intervention Course-2021: Today, Fortis Hospital Mohali in collaboration with the Venous Association of India (VAI) (under the patronage of the Vascular Society for Limb Salvage) organized a hybrid (physical and virtual) skill-based workshop on the management of varicose veins and their advanced treatment options.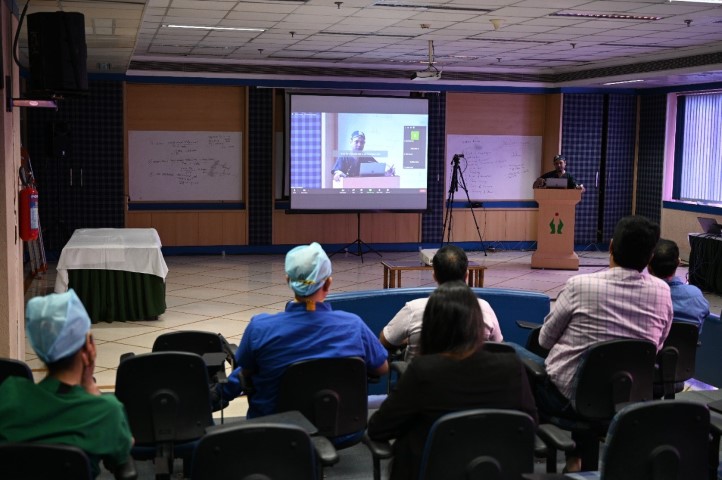 The session was a part of the 7th Endovascular & Ultrasound-guided Venous Intervention Course-2021 (held on the 27th and 28th of August) and led by Dr Ravul Jindal, Director, Vascular Surgery, Fortis Hospital Mohali.
Foreign delegates included Prof. Jean Francois, Dr. Jean Patrick Benigni, and Dr. Pascal Filori from France; Dr. Sergio Gianesini from Italy; Dr. Wassila Taha from Egypt; Dr. Suat Doganci and Dr. Ahmed Kursat Bozkurt from Turkey; and Dr. Mark Whiteley from the UK delivered lectures online. National faculties, comprising Dr. D B Dekiwadia, Dr. R Pinjala, Dr. M Patel, Dr. S Padaria, Dr. R Varghese, Dr. HS Bedi, Dr. D Selvaraj, Dr. S Desai, Dr. Gulshanjit Singh, Dr. UP Singh & Dr. Ladbans Kaur also delivered lectures online. The course was also attended by varicose vein service providers, sonographers, and other allied healthcare professionals.
Dr Ravul Jindal, Director, Vascular Surgery, Fortis Hospital Mohali said, "The objective of the two-day course was to spread awareness about the symptoms, causes and treatment options of varicose veins. Patients suffering from the health condition have visible dilated veins in legs which cause pain, swelling, itching, and bleeding. Some patients also experience skin pigmentation and ulceration in the leg. Varicose veins are diagnosed through clinical examination and Duplex Ultrasound; and there are various procedures to ablate these veins.
He adds, "Over 20 cases were operated on live to provide hands-on training to all delegates, enhancing their understanding of venous ultrasound physics and instrumentation, venous lower extremity ultrasound evaluation, mapping for vein ablation procedures and management of venous diseases.
The course included vascular ultrasound theory and practical training on models and patients; USG guided puncture of IJV/Femoral Vein/ Popliteal Vein/ Femoral Artery/ Axillary Vein/ Long Saphenous Vein and Short Saphenous Vein; medical stockings and four-layer compression stockings; practical training of advanced treatment of varicose veins with live demonstration of EVLT/RF/Foam Sclerotherapy; live demonstrations of DVT thrombolysis and IVC filter; cosmetic varicose veins treatment; live demonstration of stem cell & PRP therapy, mechanical chemical ablation of varicose vein (MOCA), glue techniques and other latest procedures which were demonstrated live."
Know More About Fortis Healthcare
Fortis Healthcare Limited – an IHH Healthcare Group Company – is a leading integrated healthcare services provider in India. It is one of the largest healthcare organizations in the country with 36 healthcare facilities (including projects under development), 4000 operational beds, and over 400 diagnostics centres (including JVs). Fortis is present in India, United Arab Emirates (UAE) & Sri Lanka. The Company is listed on the BSE Ltd and National Stock Exchange (NSE) of India.
It draws strength from its partnership with global major and parent company, IHH, to build upon its culture of world-class patient care and superlative clinical excellence. Fortis employs 23,000 people (including SRL) who share its vision of becoming the world's most trusted healthcare network. Fortis offers a full spectrum of integrated healthcare services ranging from clinics to quaternary care facilities and a wide range of ancillary services.