Fortis Hospital, Mohali hosts the 'PSYCH-ED 2019' Zonal Finals: Fortis Hospital, Mohali organized the Zonal Finals of the 4th edition of its national psychology quiz programme 'PSYCH-ED, 2019'.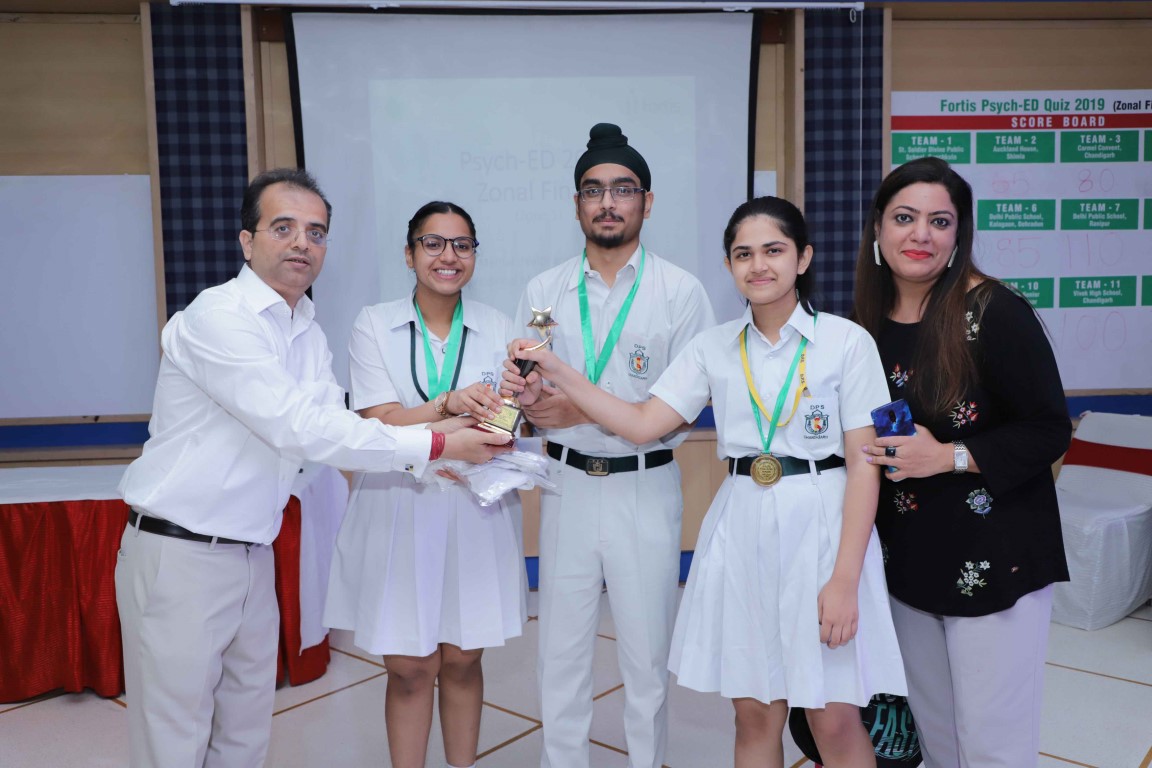 Tanvi Saxena, Aishwarya Goyal, Gurkeerat Singh Nayyar from Delhi Public School, Sector 40-C, Chandigarh battled other schools in the zone to enter the national finals.
Psych-ED, the national level annual psychology quiz by for school students organized by Fortis Healthcare, saw a participation of more than 4000 teams from 7004 schools in its 4th edition held earlier today. As the online round of Psych-ED went live, more than 10,000 participants from over 200 cities across India participated in the quiz simultaneously. The quiz is designed for students from Class XI & XII, aiming to test their knowledge of Psychology and its concepts.
The quiz was conceptualized and executed under the aegis of Dr Samir Parikh, Director, Department of Mental Health & Behavioural Sciences, Fortis Healthcare Limited.  The objective of the quiz is to impart learning while ensuring that the subject remains engaging and fun for the students. The initiative is supported by GD Goenka University, Project CACA, Gracia Raina Foundation, Rupa Publications, Intex, Skybags and Gaana.
The schools that qualified for the Zonal Finals were Delhi Public School, Ranipur, Delhi Public School, Chandigarh, MGN UEII, Jalandhar, Delhi Public School, Kalagaon, Dehradun, Spring Dale Senior School, Amritsar, Vivek High School, Chandigarh, Saint Soldier Divine Public School, Panchkula, Yadavindra Public School, Mohali, Carmel Convent, Chandigarh, DAV Public School, Amritsar, Auckland House, Shimla.
The initiative was supported by Mr. Ashish Bhatia, Chief Operating Officer, COO, Fortis Healthcare Ltd., and Mr. Abhijit Singh, Zonal Director, Fortis Hospital, Mohali.
Speaking on this unique initiative, Dr. Samir Parikh, Director, Department of Mental Health & Behavioral Sciences at Fortis Healthcare Ltd., said, "The quiz presents students with the opportunity to hone their ability in objectively creating a juxtaposition between theory and practicality. We will be using testing tools such as crosswords, audio-visual elements, buzzer rounds and rapid fires. The quiz will challenge teams to step outside their comfort zones and dig deep into their knowledge and understanding of the human mind. The purpose of our efforts is to advocate for a much larger cause – sensitization of the masses with respect to good mental health. In this perilous time, where suicides and mental health illnesses are at the forefront of India's healthcare crisis – it is important to make people aware. As professionals in this field, we need to give these tabooed and stigmatized issues a platform on which they can be showcased without any filters."
Mr. Ashish Bhatia, Chief Operating Officer, COO, Fortis Healthcare Ltd., said, "PSYCH-ED is our endeavor to equip and enrich young minds, as we believe that great minds build a great nation. We hope to reach out to many more young minds in the next season."
Tanvi Saxena from DPS said, "We were so excited about the quiz. It was a really fun experience and we enjoyed participating. We are now looking forward to the national finals now." Aditi Ahluwalia, a teacher from DPS, Chandigarh, said, "I believe more schools need to be a part of this. We got a lot of help and support from our teachers and parents and the department of mental health also helped us giving us guidance on what to study and where to read things from."
Know More About Fortis Healthcare Limited
Fortis Healthcare Limited is a leading integrated healthcare delivery service provider in India. The healthcare verticals of the company primarily comprise hospitals, diagnostics and day care specialty facilities. Currently, the company operates its healthcare delivery services in India, Dubai and Sri Lanka with 43 healthcare facilities (including projects under development), approximately 9,000 potential beds and over 400 diagnostics centres.