Fortis Mohali launches comprehensive bariatric campaign: Bariatric Surgery provides the most effective long-term solution for weight loss when other methods have failed, said Dr. Amit Garg, Bariatric & Metabolic Surgeon, Fortis Hospital, Mohali while addressing a press conference at Chandigarh Press Club here today.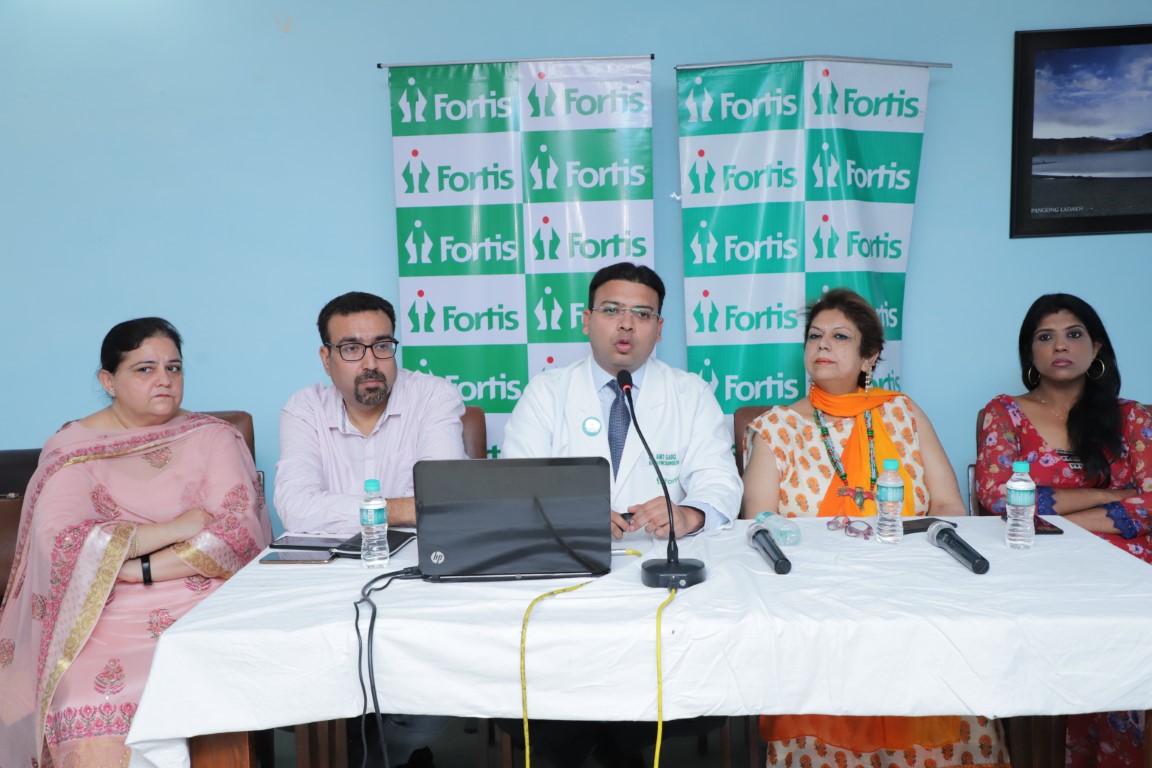 Meanwhile, Fortis Mohali has launched its comprehensive Bariatric Campaign. A team of Specialists, a Bariatric Surgeon, a Dietitian and a Gastroenterologist will be offering complimentary consultation to overweight patients. During this period, Fortis Mohali will also be organising Health Camps across different locations.
Dr. Garg said, "On average, people can expect to lose 60 to 70 percent of excess body weight, which can be 40 kgs  or more." Like any weight loss plan, patients have to make lifestyle changes to make it work including exercise and adopting healthy eating habits.
"One of the key aspects of the program that makes it different from many others is that we take a holistic approach to our care and follow our patients for life," says Dr. Amit Garg. "After surgery, we follow them closely for the first 18 months and then annually to help keep them healthy and motivated. We work closely with their primary care doctor to check weight and nutrition, recommend labs and address any issues such as nutritional deficits, medical issues and any excess weight  gain so we can help our patients stay on track."
We also understand that a successful transition to lifelong healthy living requires more than just losing the weight and may require the support of other specialists, said Dr. Garg. As a result, the Bariatric Center also includes medical nutritionists, an exercise specialist and a clinical psychologist to support a patient's medical, physical and mental health throughout the process.
In addition to weight loss and improved quality of life, there are other reasons a patient and his or her physician may want to think about weight loss surgery. "Increasing evidence shows that it can help reduce a person's risk for a number of serious diseases like diabetes, heart disease, arthritis and cancer," said Dr Amt Garg. He added, "Morbidly obese patients having type 2 diabetes and other problems who don't lose weight with all efforts are advised bariatric and metabolic surgery".
All of the surgeries are performed laparoscopically, which means they involve making several small incisions that are closed with only a few stitches, resulting in fewer complications and a much quicker recovery time for patients, he added.
"The health and quality of life benefits these patients receive from bariatric surgery and other weight loss methods are tremendous," says Dr. Amit Garg. "They are more mobile, feel better about themselves, have less depression and have better family, social and work lives."
At the press conference some patients who have undergone bariatric/ metabolic surgery at Fortis Hospital, Mohali shared their success stories. Mr Vinod Bansal, 47 yrs old Journalist from Bathinda, who got Metabolic Surgery by Dr. Amit Garg at Fortis Hospital, Mohali shared, "I had a long history of poorly controlled diabetes with HbA1c of 14.3 and was on daily dose of insulin. After metabolic surgery I am off all diabetes medicine and lead a normal life."
Another patient, Mrs Poonam Singh, 40 yr old Punjabi Film Choreographer shared," After diabetic surgery by Dr. Amit Garg, now I am not taking any diabetes medicines. I feel lighter and energetic and able to keep up with my hectic work schedule."
Mrs Dipika Swarup, 53 yrs old from Gurgaon who lost 104 kgs in 18 months and was crowned the biggest loser 2018-2019 shared, "Being morbid obese with BMI of 68, I was rejected for surgery in some of the best hospitals of Delhi/NCR. After undergoing bariatric surgery my self-confidence is boosted in every step I take and now feel very independent and motivated."
Mrs Monica Mittal, 44 Yrs, Educator from Lucknow said, "I had diabetes, hypertension, high cholesterol and sleep apnea and was taking 90 units of Insulin and oral medications but my diabetes was still not controlled. I got Metabolic surgery done after suffering for eight years. Immediately after surgery, my blood sugar levels came to normal. Presently I am not taking any medicines and HbA1c is now 6.5. I feel very energetic with weight loss which was a bonus of diabetes surgery."
Rosy Phul, 47 yrs, Entrepreneur, Chandigarh, "I had severe case of hypothyroidism and endocrine disorder and being in beauty industry, it was kind of setback to me professionally. I underwent bariatric surgery by at Fortis, Mohali and now I not only lost weight but my other health issues are also resolved. I feel very confident, light and energetic with my new self."
Globally 39% of adults aged 18 years and above are overweight and about 13% obese (WHO factsheet 2016). By 2025, India will have over 17 million obese children and stand second among 184 countries where the number of obese children are concerned, according to a study.  According to NFHS Survey 2005-2006, Punjab topped the list of the rate of obesity in entire India with 30.3% of males and 37.5% of female being obese.