Women who fought kidney disease honoured on Women's Day
Dialysis patients and their family members gathered for a special event to mark 'World Kidney Day' organized at Fortis Hospital Mohali today. The interaction was held under the aegis of 'Sahaayak', a get-together of patients of kidney failure undergoing dialysis. Those who have undergone kidney transplant also attended the event. The day was made special by recognition of the valiance of women battling kidney disease.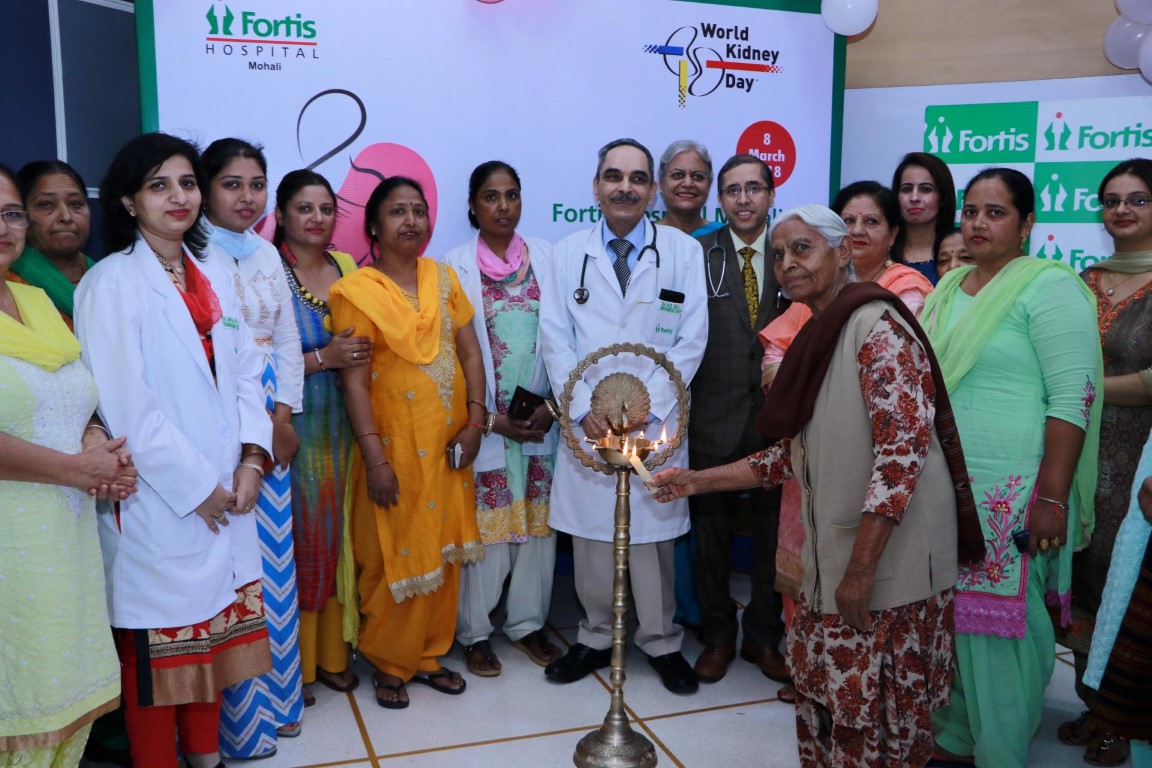 Mrs Vandana Mehta is one such Super Woman whose life took a turn for the worse when she was diagnosed with chronic kidney disease (CKD) and had to undergo dialysis three times a week. This resilient mother of two kids did not lose hope. She underwent a kidney transplant last year after which she is back to a normal schedule with her boundless zest.
The event was inaugurated by Dr (Col) HJS Gill (Senior Consultant – Nephorology, Dialysis & Kidney Transplant). Dr. (Prof) Mukut Minz (Director – Transplant Surgery), Dr Amit Sharma (Consultant – Nephrology, Dialysis & Kidney Transplant), Dr. Sunil Kumar (Consultant – Transplant Surgery) and other key members of the Nephrology and Transplant Unit at the hospital were also present.
Throwing light on this year's theme of World Kidney Day, Dr Amit Sharma said that chronic kidney disease is more common among women than men. It is the 8th leading cause of death in women causing more than 600,000 female deaths a year. Some kidney diseases such as Lupus Nephritis and kidney infection are more common in women. The prevalence of CKD is rising and may affect 3% of women in childbearing age group. He elaborated that women who have CKD during pregnancy are at increased risk for adverse outcomes for the mother and child.
Introducing another Super Woman, Mrs. Sukhpreet Kaur, who gave birth to a baby girl last month after undergoing a kidney transplant in 2014, Dr. Gill explained that fertility can be restored in women with successful kidney transplants. Dr. Sharma stressed on the need of close monitoring of pregnancy in transplant recipients to ensure the well-being of the mother, her transplant kidney and the baby.
Doctors urged the audience members to keep a check on risk factors of kidney disease like diabetes, high blood pressure, urinary stones, infections etc. They emphasized that women should have universal access to healthcare, including for kidney disease. Greater awareness is needed of the link between kidney disease and pregnancy related complications. Early screening for hypertension and kidney disease should be offered to all women during preconception and prenatal visits. Greater awareness and access to quality education for women and girls will improve health outcomes across generations. Focus on women's health will give impetus to lay the foundation of a healthy society.