Free Healthy Diet Helpline Launch/Diet Tiffin service Launched: Chandigarh is becoming a Diabetes Capital City, although Chandigarh is a green city and residents follow active lifestyle but still  life style diseases are increasing, are we all eating right? said Shreya renowned dietitian  as we are getting rich , we are paying price too , we have become too busy and instead of cooking, we  end up eating  ready-made food like cornflakes with milk, bread, jam, butter eggs, packaged  food.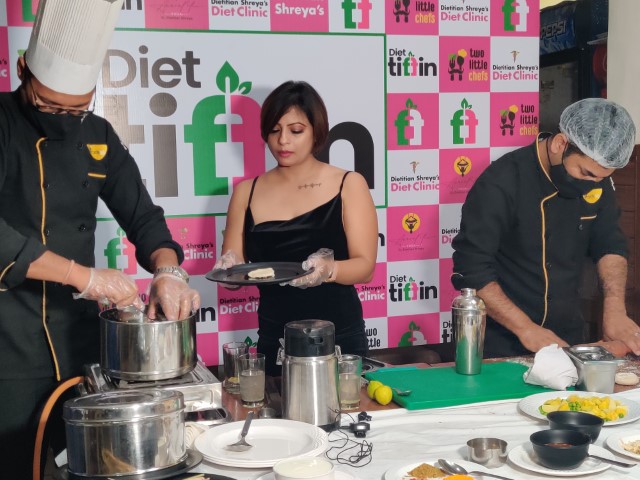 Younger generation  are short of time and not money, most of the people are living in nuclear family and cannot find time for cooking.
We should keep nutritious food in our food menu or tiffin, which can increase our immunity and make us healthy and protect us from all kinds of diseases, nutritious elements like vitamins, minerals, proteins, fats in the food, increase our immunity. So we are taxing our bodies , that is why we are bringing the concept of Diet Meals i.e. Diet Tiffin, this information was given by renowned dietician Shreya at Chandigarh Press Club during World Health Day Celebration.

Shreya said  that Indian women, especially Punjabis are  in habit of making fried and fat rich food , so it is important that we keep nutritious food in our food menu or tiffin, which can protect you from all kinds of diseases . Our team of chefs and dieticians will work together to serve customised food at your doorsteps .
In today's busy routine, we ignore our food. Most of the women are also working nowadays, so due to the life of Bhagam Bhag, they are often unable to pay full attention to the things included in their lunch box brought for lunch. Does not even care whether there is a balanced and nutritious food in the lunch box.
Due to lack of time, she either takes the shortcut route or at times does not bring lunch from home and relies on snacks or food available in the canteen or does not refrain from adopting instant instant food, which makes her Or the tiffin of the whole family becomes harmful rather than nutritious. Due to this negligence, we all fall prey to many serious and minor diseases.
If we do not eat a balanced diet, we feel tired, weak, irritable, angry at talk. Symptoms such as skin, hair and nails appear. They also suffer from diabetes, osteoporosis, obesity, malnutrition, cholesterol, blood pressure, hypertension, heart problem.
In view of this, on the occasion of World Health Day today, for the first time in North India, in our high tech hygienic kitchen for everyone, according to them
Starting a diet tiffin service, with an executive chef overseeing a qualified dietician, your customized dishes will be delivered daily to your workplace or home: Shreya said that due to a busy routine, we can either eat street food or fast food.
We fill it mostly, which includes momos, samosas, kulche, bhatura, burgers, pizzas and when we gain 10 to 20 kg weight, it is not known, along with diabetes, BP, thyroid, PCD Also fall prey to Shreya told that in the beginning this service is being started in Tricity for working class, elderly, housewives and sick people also to get favourite  but healthy food, and to make society healthy in future, we in the whole country Services will also start for individual businesses and hospitals and corporates.

Today, on the occasion of World Health Day, free health diet helpline @ 7307303835 was also launched.

The Executive Chef of Dietician Shreya's Kitchen also gave a live demonstration of healthy and nutritious food, which included,  ginger pickle, oats chapati  nut mixer, Non fried Dahi  bhalle, chia seed and goond  katira mixed lemon grass weight loss drink etc. .