Freemason has no secrete, in fact Freemason serve only for society-HS Ranauta : Freemason has no secrete, infect Freemason serve only for society. It is saying by Grand lodge of India's Grand Master HS Ranauta while address media today in sector 27. H S Ranauta is also Vice President of Indian nation of United Nation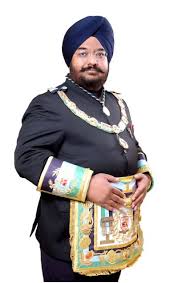 Ranauta said that Freemasonry is an international organization. It's all over the world. "Freemasonry is a wonderful organisation which teaches to you to be charitable, to be kind to people and also to be a better man and practice good values in life. This is what we teach people, fraternity is our principle," he added.
The Grand Lodge of India (GLI) is the main governing body of Freemasonry within India, it was officially constituted on November, 24, 1961.
He added that  our freemason do various work  for society. But our main work are Mukti , Invisible prisoners, Senior's day care centre. Apart from this every year freemason Organize Asia Pacific Masonic confederation conference. This year freemason Asia Pacific Masonic confederation conference on 6th October in PGGC-46 in Chandigarh with the theme of Role of freemasonary for word peace.
MUKTI – SOCIETAL RESPONSE TO FEMALE BIOLOGICAL CLOCK
Ranauta said that The adolescent girls in the rural areas are generally found to be neglecting their personal hygiene.  This is reinforcing due to their innocence, ignorance and the practice of conventional methods of handling the situation.  The Northern Region of Grand Lodge of India has started this project in the rural areas of Patiala, Chandigarh and Ambala.  The necessary items of sanitary napkins have supplied for one year and during this period, the girls are prepared and empowered to talk about their needs and related demand to handle it.
INVISIBLE PRISONERS
Ranauta said that Sometimes the child accompanies the mother when she happens to come in conflict with the law.  Either the child is so small that he/she cannot be separated from the mother or there is no one to look after the child at home.  Under these circumstances the child, though she/he has not done anything but has to accompany the mother into the jail.
This child has special needs in terms of health and hygiene, food and nutrition and education and recreation.  And as per the current situation there is not much available in the jail as per the needs of the child.  In Northern Region of Grand Lodge of India has started three centers within the jail complex at Patiala, Ludhiana and Sangrur.  the child stays in the center from 9.00 am to 4.00 pm, where all the three categories of needs as mentioned above are looked after by the center. The objective is that the child should feel during thee hours that he/she is not in the jail.
SENIOR'S DAY CARE CENTERS
Ranauta said that Some of the rural areas of Patiala and Chandigarh, some places have been identified where the senior persons generally assembled in formally, under the shade of the tree or some other common places.
The quality of such informal gathering of the seniors has been upgraded by the masons of two citi3es by supplying them with some play material such as radio set and some supporting equipments.  there is also a plan to organize their periodic health check up. Each center is supervised by one mason to meet the day to day requirements of the centers of the masons.