Meenakshi Chaudhary dazzles in Pink on the cover of Lifestyle magazine! : This Chandigarh girl has won a million hearts with her charm and has set a milestone for many other girls in the region!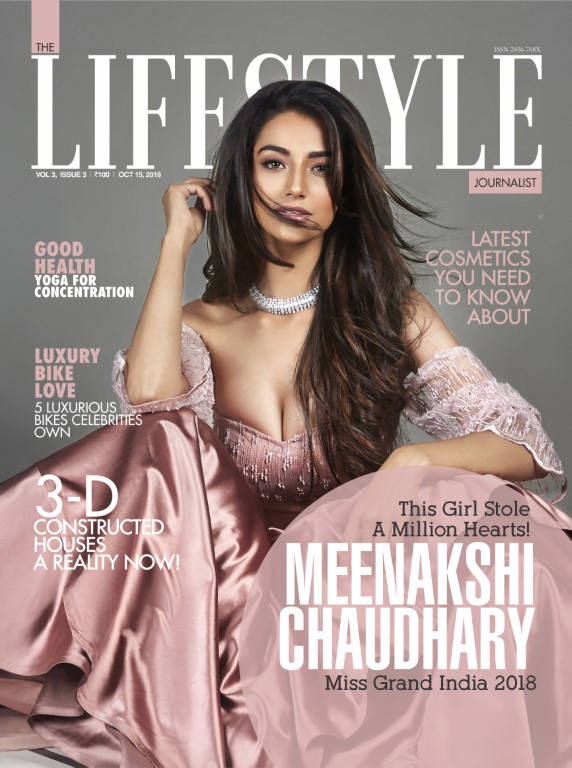 Meenakshi Chaudhary, the first runner up of Miss India (Miss Grand India) 2018, who is all set to represent India at Miss Grand International 2018 at Myanmar, got featured on the cover page of the Lifestyle Journalist Magazine October 2018 issue.
Her expedition from studying dentistry to being crowned Miss Grand India 2018, Meenakshi's story is thrilling and inspiring. Talking about her life experiences and her journey  she said that she is a simple girl from Haryana who is trying to fulfill her 'big dreams'. It was her dream to
become Miss India someday and her dream did come true!
She recalled telling her mother in her childhood days that one day she will have a crown on her head. She believes that her journey of becoming Miss Grand India is a journey of self-realization and her professional journey in the real sense has just started. There is more in store for her to explore!
'It was always a dream. I always used to cut those photographs of Femina Miss India from magazine and used to paste them in my cupboard. I always looked up to them. It started off very young, the passion and the dream and today my dream has turned into a reality!'
"Meenakshi looks perfect in a pastel pink designer outfit with just the right expressions to gauge her mood for the future aspirations. We wish her all the best in making India proud," said Ankur Vadhera, Founder and Creative Director of the Lifestyle Journalist Magazine.
While her entire focus is now aiming the bigger crown, she spoke about her efforts on representing India at an international level (in Miss Grand International 2018).
She shared that it is her top priority right now (to aim for the crown) and she is working hard on it. With the crown come a lot of responsibilities, she opines. "Not as an individual but as a representative of the nation," she added during the magazine interview. Meenakshi is a lover of adventure and thrill! To the young models who aspires to become a model, Meenakshi advices that, 'Be who you are and embrace it. Do not try to fit in, rather create your own style!'