From Salesforce Administrator to Developer: 3 steps You Need to Take: There is no denying that your current designation is a good one. You are an administrator for Salesforce – a Customer Relationship Management platform.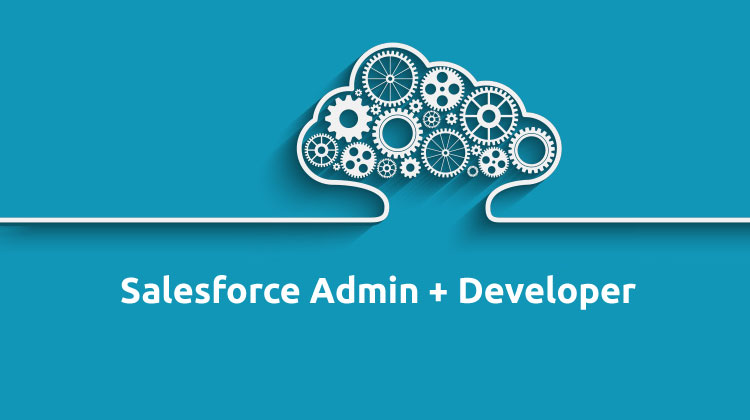 Your job involves dual responsibilities with an aim to keep the users of this platform happy. You also aim to build a super-efficient team to manage the platform successfully.
Now, once you achieve success in both areas, what would you like to do next? Your answer would be – Become a Salesforce developer, of course!
It is imperative to adhere to three steps for fulfilling your ambition.
Develop a 'Developer' Mindset
At the outset, imagine that you have already become a developer. Otherwise, believe that you are on the way to becoming one. What will happen?
You will attend to your routine duties in the role of a developer, instead of an administrator. Naturally, your performance will gradually undergo a drastic change. Even your productivity will improve.
Sure, you comprehend this very well. However, how exactly do you push your feet into a developer's shoes? Only when you stand in his/her shoes, will you cultivate his/her mindset. It may be possible when you understand the diverse aspects of this role.
For one thing, you must refuse to spend valuable time performing repetitive tasks. Instead, it should be easy to automate them with the aid of a code. Two, you must adore challenges!
The thought of giving up should not even enter your mind. Never mind how many hours you have to spend on a difficult task. Just bring all your intelligence and skills into play, for finding a feasible solution. Your third task is to build and customize applications for the Salesforce platform. To sum up, let code be your best assistant!
Take One Step at a Time
As a Salesforce administrator, you tend to experiment with various methodologies too. One of them is point-and-click. It works in several scenarios. Similarly, it may not work in others. What will you do then?
Discard your administrative cap, and don the hat of a developer instead! There is an Opportunity on display in Salesforce. Sometimes, its status displays Closed-Won. Then, your team's sales agents must insert the Closed Date too. The sales manager has discovered that they keep forgetting to do so.
Therefore, the column is always blank. As an administrator, you opt to apply a validation rule. This rule comprises a single line revealing a formula within it. In other words, it is an error message. This should suffice to take care of the matter. 
Now, suppose you cannot access any validation rules at all. What will you do? Go on; call upon your developer mindset hovering in the background! Pester your brain with some questions!
Can you bring an apex trigger into play? Will an apex class have to do otherwise? Will it be possible to automate this task? If the answer is in the affirmative, you may reduce the time and effort spent on mundane activities.
After your brain supplies the answers, you may decide to experiment. Take hold of a lone validation rule. Work out a simple apex trigger for it. The law converts into code. Similarly, you may explore apex triggers that are already in place. In short, practice coding as much as you can!
Continue your Education
Are there ways to enhance your knowledge of coding? Yes, indeed, there are at least four valuable ones!
Learn while you Earn
True, you remain occupied with your administrative responsibilities. However, there is nothing stopping you from learning during your free time. You need not enroll yourself in a structured class to gain knowledge. Go in for self-learning.
For instance, you have come across a code — practice reading and comprehension. If you still face difficulties, approach an experienced Salesforce developer within your organization for help. Let this individual be your tutor. Listen to this person patiently. Do not be in a hurry to learn everything at once. Work on a lone piece of the code in the beginning. Then, move on to the next. Ultimately, you will understand the whole picture. Practice writing codes too. This way, coding concepts, and patterns will prove easy to comprehend. When the executives observe your sincere interest, they will not hesitate to throw learning opportunities in your way. 
Link up with Salesforce Communities
You should be able to find a group or groups, comprising of Salesforce users. They will not hesitate to befriend you if you express your desire to become a developer. Let them know that you are an administrator at present. Every meeting will teach you something. Additionally, you will gain new friends who share your interests.
Apply for Online/Offline Courses 
It could be that you have to adhere to hectic schedules at work. Naturally, finding time to learn to code may prove impossible. Therefore, you will have to go in for structured education. If it is possible to attend classes after work, apply for admission at a reputed establishment. Alternatively, you may prefer to study online. Browse blogs and forums for advice on this matter. A third option is to request your organization to sponsor you for a class. Salesforce offers paid sessions, wherein you can train to become a Salesforce developer.
Get Certified
Prior to acquiring a job as a Salesforce administrator, you had to display a valid certificate. Maybe, you had obtained a diploma in Advanced Administration too. Now you will need to present a new document. This is for the role of Salesforce developer.
You might start with Platform App Builder. Both administrators and developers may avail of this certification. This is just the foundation. Naturally, you may not learn much about coding. Therefore, you will have to go for PD 1 and PD 2. They are two separate certificates. PDI refers to platform developers. They go all out to test your coding skills and experience with codes. Later on, you may go for advanced certifications.
Thus, the key to your success is code and coding! You have to read and write as much as you can. Just imagine that you are going back to kindergarten in school!