Binnu Dhillon Visits Cleopatra Salon & Makeovers: The mood was Punjabi and ambiance was eclectic as Punjabi movies current heartthrob and actor Binnu Dhillon paid a visit to Cleopatra salon and makeovers in Sector 9, Chandigarh.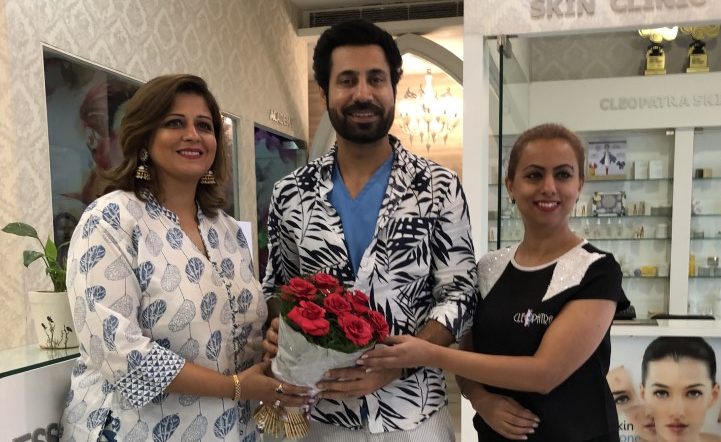 The star had chosen the day for indulgence in the salon routine and also graced the occasion that marked the launch of Cleopatra's festive beauty carnival.
He joined  Richa Aggarwal, owner of Cleopatra and beauty expert  Harveen Kathuria to flag off the carnival that aims to promote eco-friendly ways to attain beautiful looks and staying away from the use of chemical-laden beauty products.
A month-long festive beauty carnival aims to build awareness towards celebrating the festive season by opting to go eco-friendly. 
As the festive season approaches Richa Aggarwal kicked off festive friendly beauty therapies that are eco-friendly and organic in nature, the salon also unleashed the campaign by distributing plant sapling for a month.
Tips were also shared on adding green nd organic nutrition to diet and food and embracing it for skincare. BINNU DHILLON stated, " Its always good to invest time and efforts towards reasons and causes that spread the message of leading a healthy lifestyle and promoting wellness. 
Cleopatra is well known for its penchant towards promoting green and organic approach towards attaining good health and beauty. I am happy to be part of this festivity that encourages people to adopt healthy living. 
Speaking on this occasion Richa Aggarwal stated, " Festive season calls for celebration and jubilation, but sadly people also indulge in practices that cause pollution and noise, we through this carnival have begun to create awareness towards adopting eco-friendly means for celebrating the festivity.
Carnival would include lifestyle modification sessions, diet, and lifestyle counseling, knowledge of beauty products according to the skin and complimentary skin analysis.