VYRL Original's new track "Koi Nahi" released: VYRL Originals brings to you a quintessential yet an exuberant track 'Koi Nahi', a contemporary song represented by Rupinn and Lisa Mishra.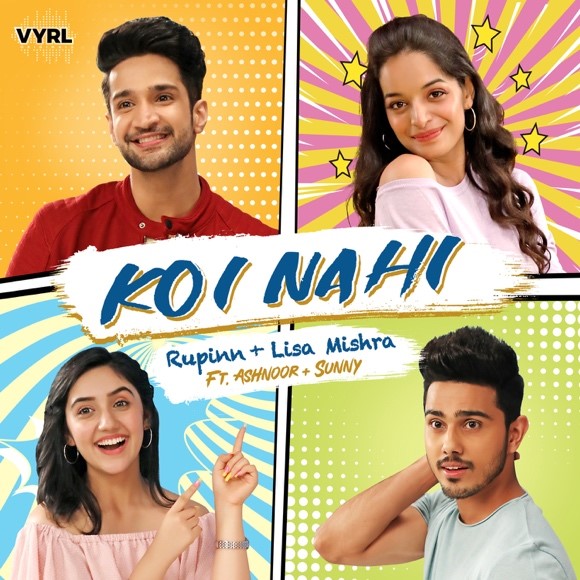 Every relationship is built over a period and around incidents, memories, quirks and sweet nothings among two people. 'Koi Nahi' is a track that portrays how these sweet banters are enjoyable moments from everyday life. When such sweet banters are countered with a simple 'Koi Nahi' it makes every relationship special and the bond stronger.
It is a fun track that is relatable irrespective of age, gender and circumstance because of the playful lyrics written by Rupinn which will surely put a smile on your face and make you groove to it on a loop.
Directed by Prayrit Seth, the video is urban, youthful, colourful and perfectly  epitomises 'modern relationships'. Despite the adversities a couple may face, a fun and forgiving 'Koi Nahi' attitude keeps the love alive.
The video also features the youth heartthrobs Ashnoor Kaur and Sunny Chopra as parallel leads. Ashnoor has been seen is two Bollywood movies 'Sanju' and 'Manmarziyaan' and is currently is the lead face of 'PatialaBabes' on a leading GEC.
While Sunny is a model/actor and a Tik-Tok influencer with a huge fan following and has worked with Bollywood personalities extensively and others in the past.
Speaking about the track release, Vinit Thakkar, Senior Vice President, Universal Music India & South Asia, shares, "VYRL Originals strives for two things which is great collaborations and always pushing the envelope.
We have long known Lisa and Rupinn for their versatility and varied music sensibilities. This unique collaboration has resulted in an amazing track for the young audience. The video with its fresh visuals and clutter-breaking style is sure to redefine pop culture in Indian music space."
Speaking about her new track Lisa Mishra shares "This video concept was something I imagined a few months ago with our team prior to hearing the track. Once Rupinn played the song for me, I was immediately on board. I'd envisioned a vibrant and energetic single to contextualize a colorful, multi-set visual.
I really think we've done both the audio and video justice, and I hope the audience thinks likewise… I also think it's incredible to finally be able to work with the man behind Tareefan, which launched both of our careers – it feels like we've come full circle."
Talking about the release of his new track Rupinn comments "We have a plethora of songs about falling in/out of love, but I felt the crucial chunk in the middle, the meat of any relationship hasn't been explored as much. Maybe it seems too run-of-the-mill but there is beauty in every little thing when viewed from rose-tinted glasses and that's how the relationship sustains or rather thrives. And in today's fickle world, we need a lot more 'chalta hai koi nahi's and a daily minimum dose of 'tere jaisa koi nahi'.
I had sung the original demo for Tareefan (a fact not many people know) and I loved Lisa's interpretation of it in the reprise version. As soon as I finished the composition and penned down the lyrics for Koi Nahi, I knew she'd be the perfect voice for this fresh, fun, youthful song. 'Lisa jaisa 'koi nahi' "