Fybros unveils its newest range of switches and accessories- FOUR-X Modular Series: Fybros, a technology-led Fast-Moving Electrical Goods (FMEG) company, announced that FOUR-X Modular Series spanning all the styles and the designs would be available from 11th April 2021 in Chandigarh.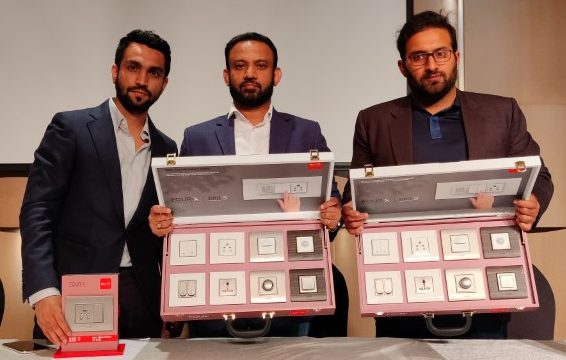 Exclusive F-Touch Switches, G-Sphere Switches, Glide Switches, Grace Switches, along with the complete range of accessories, contribute to the broadest and deepest retail launch line-up in the history of smart electrical products. The new innovative switch range named FOUR-X Series will completely transform traditional electrical switches and the way we look at them.
Adding to the already tremendous lineup of Fybros products, the FOUR-X Series has reinvented the innovation wheel by having grace and aesthetics beyond imagination.
The Need of the Hour
Speaking with media persons, Mr. Parasmal Jain, Managing  Director, Fybros said,  "This is the era of the next generation, the era of technology and innovation. From phones to jackets to automobiles, every industry is improving and moving towards the smart segment of gadgets. Why not electricals, then? Electrical switches add to the beauty of your home or office. Not just style, not just grace but from safety to beauty, Fybros switches are there to add a pinch of perfection to your home or office decor."
You might not have ever thought of having designer switches but gone are the days when your electrician used to suggest you the best switch for your home or office. This is the digital world. Do not wait for blind hits (and misses). Surf, search, try and then buy. Fybros makes this super easy by introducing a wide range of switches that are easily accessible from its website. Choose the best switch for your home and office from the comfort of your home.
The Industry Scenario
 Mr. Bilesh Jain,  Director Fybros  Said, "The consumer in India still believes that stylish is not durable or safe, and this is where traditional boring switches are still gaining some importance. The industry needs to reanalyze and rethink. Manufactured in India and tested on all the safety measures, Fybros products have proven to the safest in the market irrespective of their style or design. So rethink your walls with Fybros."
At Fybros, innovation leads the way to reach a place where products are built as per the market demand. With a dedicated R&D hub and a team of experts, Fybros is known to lead the market and deliver products that not only serve as per the need but have also been stylish enough to grace the complete decor.
Know More About Four-X Modular Series
The FOUR-X is a series of products that keeps reinventing itself to adapt to the modern demands of life. Aspire, Grace, Glide, F-touch, and G-sphere are not just the names of the switches covered in the Four-X series, these are the components to add elegance to your walls. Accessories like pop-up night lamps, motion sensors, electric buzzers, and other accessories are also redesigned to showcase luxury and class. The entire range is crafted with perfection and is not just functional but also a style statement.  Let the walls do the talking and flaunt themselves with style.
Know More About Fybros
Fybros is a renowned name in the industry of electrical switches. With more than 5 decades of experience, Fybros has been known to deliver innovation, aesthetics, elegance, durability, and safety for all its products. Fybros offers a wide range of switches, fancy lights, wire cables, and other electrical accessories. All the products by Fybros are stringently tested for their build quality and performance and are served to the market if they survive all the tests and quality checks only. Precisely, with Fybros, you never have to worry about safety and quality. That's assured.